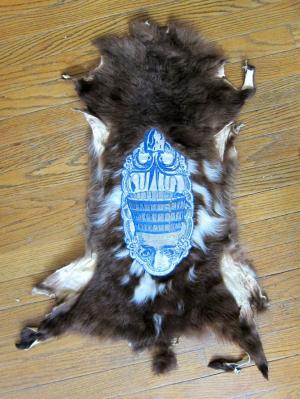 Work It: Curated by Katherine McQueen, "Worked"—on display at ATHICA through May 12—explores the processes involved in creating art through exhibiting pieces that are labor-intensive or revolve around issues of class and labor. The three-dimensional, mixed-media installations by Laura Tanner Graham, embroidered collages on animal hide by David Ross Harper and repetitive graphite patterns by Leslie Snipes are all extremely detail-oriented and meticulously constructed. In "Chinoiserie (Domestic Tableau)," a wallpaper-like tapestry of people holding slogans from textile worker history, Lauren Adams explores the linked histories of American and Asian factory labor. "Give You My Heart," a hollow pink-and-gold organ decorated with farm animals playing instruments by Maria Lux, is based on the "pig organ," an instrument created for King Louis XI in which pigs of various sizes were inhumanely utilized for their varying pitches of squeals. Elizabeth Barton's hand-dyed, contemporary quilts of surreal industrial landscapes and Scott Ingram's urethane foam cinder blocks are both reflections on mankind's construction of environments. Special events include an "Artists Talk" with Elizabeth Barton, Ted Kuhn and Leslie Snipes on Tuesday, Apr. 9, at 7 p.m., two installments of Ted Kuhn's performance series "Give the People What They Want" on Thursday, Apr. 18, at 8 p.m. and Saturday, May 4, at 6 p.m., and an afternoon gallery tour and art project for kids on Sunday, May 11, at 2 p.m.
Worldly Wonders: "Climate Change: Conveying Realities"—currently on display through Apr. 27 in the eco*art*lab—features works by over 30 visual, sound and video artists attempting to communicate issues surrounding global warming, climate change and ecological stress. Curated by Chris Cuomo, UGA Professor of Philosophy and Women's Studies, the exhibit balances informative, literal pieces with more conceptually driven works such as the soothing sound file "Sonification of Global Temperatures, 1850–Aug. 2012" by Scott Lindroth and "Tidings of Great Things," an interactive video installation by Chris Cassidy in which visual and audio footage of an incoming tide is programmed to react to participants' sound levels. The eco*art*lab space itself, a new pop-up environmental art gallery within The Bottleworks building located at 297 Prince Ave., contains several intimate, windowed rooms that allow for multiple sound and video installations to play privately and simultaneously without muddling the acoustics of the entire space—a rare feat for a gallery. The show is open 11 a.m.–6 p.m. on Thursdays, 11 a.m.–1 p.m. on Sundays and 11 a.m.–4 p.m. on remaining days, excluding Monday. For more information, check out www.ecoartlab.wordpress.com or email ecoartlaboratory@gmail.com.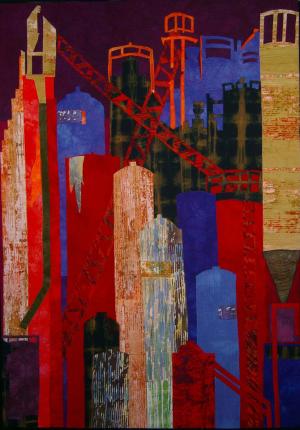 Snapshot Spotlight: Modeled after a similar #WeLoveAtl project, "My_Athens"—an exhibit of Instagram photos also displayed within the Bottleworks building Apr. 6–20—was conceived as a way to celebrate and visually recognize aspects of local art and culture, while simultaneously creating a means for social media to re-integrate into a live event. While the Internet and social media provide a platform for discourse on topics and the promotion of events that occur in the physical world, it also exists as a self-contained virtual space to "hang out," often replacing invaluable in-person activities.
"Without a doubt, that is one of the most exciting aspects of pulling this event together, which is to say, fostering community in a world that is increasingly driven digitally. The other primary driver was the celebration of the city, of the people and of the things that people are doing in the 'real world,' like music, art, food, culture [and] ideas," explains organizer Greg Gilbert.
For the exhibit, Instagram users were invited to tag their locally shot photos with the hashtag #my_athens, and the best 200 out of well over 2,000 submissions were selected; images varying between native flora, iconic landmarks, entertainment and distinctly local experiences. Beginning on Saturday, Apr. 6, prints ($10 for 5″x 5″ and $20 for 8″x 8″) will be available for purchase, with all proceeds benefiting the Athens Area Habitat for Humanity. Various events are scheduled in conjunction with the exhibit, including live music on Apr. 10, 12 & 19. To keep up with My_Athens' future projects, follow @my_athens on Instagram or Twitter, or visit www.myathensis.com.
Printing on Pulaski: Smokey Road Press, a letterpress and book bindery that has operated out of owner Margot Ecke's Winterville home studio for the past three years, has officially opened within the historic Leathers Building, located at 675 Pulaski St. Letterpress has experienced a noticeable renaissance within the past decade, yet printing presses are cost prohibitive for individuals to own. Ecke, who holds a BFA from Cornell with a concentration in printmaking and an MFA from the Rhode Island School of Design in printmaking, hopes that local book designers, illustrators, artists and poets will be able to take advantage of the shop for their printing needs.
"As digital devices become more and more standard, the need for traditional skills and the understanding of these old machines become more important. The introduction of this working museum to the heart of Athens is an important reminder of our basic skills as human beings. To be able to conceive, to design and set-up and to craft at a high level is paramount to the human condition and something to be celebrated. Smokey Road is honored to make this our mission," she explains.
The shop offers custom services for special occasions (weddings, baby announcements, business cards, etc.), contract work for artists seeking someone to print their projects, and access to book arts archives and research materials. Introductory classes in letterpress printing, calligraphy, book repair, various methods of binding and more can be registered for through Etsy or by contacting smokeyroadpress@gmail.com or 315-283-1538.
Like what you just read? Support Flagpole by making a donation today. Every dollar you give helps fund our ongoing mission to provide Athens with quality, independent journalism.