In her second exhibition curated for the Gallery@Hotel Indigo, Didi Dunphy gathers six Athens-based artists to present "The Flower Show.†Each of these women, working in different media, explores a single theme to transform the space into a garden of blooms. Photographer Rinne Allen documented an early spring day in "March 9, 2012,†a collection of photographs in different sizes and arranged on the wall as hazy fragments of memory that reminded me of the cinematography in Terrence Malick's film The Tree of Life. An overcast sky is the neutral canvas for pink and green redbud branches just coming into bloom, fuzzed-out cherry blossoms and bright yellow forsythia. One photograph shows a dandelion that has already been wished on, a symbol of the hopefulness that spring brings.
In sharper contrast are Susan Hable's striking black-and-white drawings in ink on paper. These larger-than-life-size images are simplified silhouettes of a fiddlehead fern or poppy, allowing us to appreciate the graceful forms as pattern rather than primarily as flora. Abstracting the form of flowers, Carol John's "Chrysanthemums†series is comprised of four paintings (each 4'X4′) that are brightly painted in purple, pink, turquoise, green and black. The paintings become something other than depictions of flowers at this size. Instead, the dozens of florets transform into a mandala, drawing you into a meditative gaze as you trace every petal. John's smaller "Drangsong†series is also a part of the exhibition.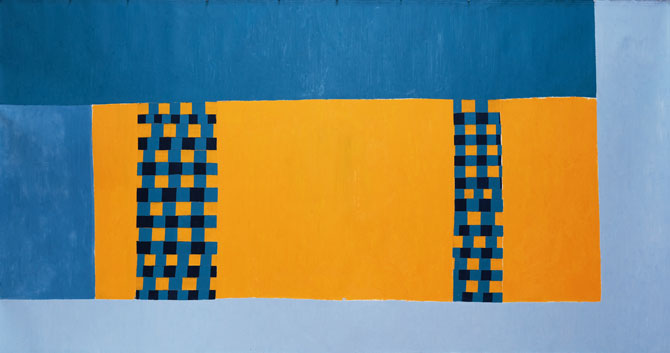 Chrysanthemums are also a favorite of Lou Kregel, who has covered Athens homes and businesses with her huge flower murals, like the one on the tin roof of the Jittery Joe's Roaster. Kregel notes that these flowers are symbolic of longevity and happiness, and she wanted to festoon our town with this image to "surprise or inspire†us as we go about our day-to-day lives. For this exhibit, Kregel has covered one wall with Pop Art flowers on medallions and decorated Michael Oliveri's "Look for Light†installation in the Glass Cube gallery at Hotel Indigo, adding a bevy of flowers to his dancing butterflies.
One of my favorite paintings, "Foxy Lady†by Kim Deakins, returns to public view in Dunphy's show (lauded in Art Notes Nov. 9, 2011). Next to it is "Blue Braid,†another intricately composed and colorful work full of mysterious symbolism. Framed in a black, carved neo-Victorian frame, this painting is a good example of Deakins' love of both the "florid and romantic†and "myth and science fiction.†Pink-and-black-striped horns emerge from the mouth and eyes of a blue figure as a blue braid wound with pearls and entwined with pink-and-purple flowers twists up to reach the top of the frame. I can't profess to know what it all means, but it is as beautiful as it is fascinating. Another favorite of mine is Imi Hwangbo's three-dimensional drawings cut into translucent mylar. First drawing the flowers—which she explains are images from Korean wrapping cloth called "pojagiâ€â€"Hwangbo cuts into each sheet of mylar by hand and builds the flowers' dimensions by stacking multiple sheets on top of each other. This process creates an effect that is part drawing and part sculpture and a unique approach to depicting these iconic images.
The image of flowers has been a part of feminist art historical context for some time; think Georgia O'Keeffe's flowers as celebrations of female sexuality or Judy Chicago's "The Dinner Party†installation of the 1970s. In correspondence with the curator, I asked what she thought the subject of flowers meant for the contemporary female artists in her exhibition. Dunphy said, "While the bloom is married to the female, whether a metaphor for the life process, the historized feminist context or a critique of the male gaze, I am more apt to think the current interest in the flower form to be more from design … and the process of the art show. [Tattoo artist and painter] Kim Deakins adorns men with her floral style in tattoos, Carol John clocks in at her studio every morning as a laborer might. Imi Hwangbo's process certainly can be looked at as 'labor.' Susan Hable utilizes authentic gestures ending in the textile industry, Lou is a 'house painter' as the town of Athens is becoming rather populated by the flower murals she is painting on properties.†She also noted how flowers are all around us in design or in nature, and that this is what seems to inspire the artists in "The Flower Show," as it will be sure to inspire those who explore this garden of artistic delight at Hotel Indigo, on view through June 1.
This Weekend: Visit the Athens Indie Craftstravaganzaa to find your own masterpiece to wear or add to your art collection. Touted as "the most diverse and largest handmade arts and crafts market of its kind in the area,†the two-day market will include jewelry, pottery, fine art and fashion. Check out the website at www.athensindiecraftstravaganzaa.com for more details.
Like what you just read? Support Flagpole by making a donation today. Every dollar you give helps fund our ongoing mission to provide Athens with quality, independent journalism.