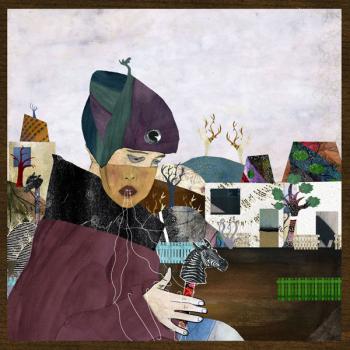 For many, this time of year is full of nostalgia. Rituals like Thanksgiving help us mark time in our lives and remember family holidays past. Sometimes these are warm recollections, but sometimes the past is recalled with cringing regret or longing for an impossible perfection that never was…
No Place Like Home: This kind of dream world is one Nina Barnes has created in her "Tilted Series": 15 mixed-media pieces on display at the Faculty Building at Gainesville State College's Oconee campus. Norwegian artist Barnes, who is of Montreal mastermind Kevin Barnes' spouse, describes the inspiration for these artworks as they occurred between the release of two of Montreal albums. She says: "It was, to a degree, a reaction to years of working towards realizing other people's visions and wishes."
The scenes she has developed in this series are wonderfully colored and textured. Often, a figure at the left foreground engages our focus. These characters' faces are made up of layers so that it appears they wear masks, and the way Barnes has constructed their visages makes it unclear which is the "real" flesh and what is the disguise. Most of the figures stand in front of geometricized houses and picket fences simplified into visual metaphors for "home." Trees and mountains in the background stand against skies textured with stylized snowflakes or blue craquelure. Barnes says that these images represent "a troubled longing for belonging – the nomad that has nowhere to return. The houses are just dreams, not in reach; it's the Other's safe haven."
Her artwork has a heartbreakingly beautiful melancholy about it. "Tilted Travel," for example, shows two figures alike in appearance holding a red thread between them. Perhaps siblings, perhaps two parts of a single self as in Frida Kahlo's self-portrait "The Two Fridas," they stand in front of a small house, the thread connecting them both to the home. A memory of childhood connects them, even though they seem to occupy different places. The idea of how we revise memories over time meshes perfectly with Barnes' creative process. She says, "The process begins with watercolor and hand-drawn figures, which are combined in collage format. Layers and layers of texture are added and then printed – only to be altered again with watercolor and ink."
This exhibit was coordinated in conjunction with the "Georgia Roots" exhibition on the GSC's Gainesville campus, which highlights the transformation of music from its traditional beginnings to its contemporary state. Barnes' work will be on display at the Oconee campus through Dec. 8, with an artist's reception on Dec. 1 at noon. Contact Gallery Director Beth Sale at bsale@gsc.edu for more information.
Sand and Spices: Back in Athens, Mohammed el-Ganouby's paintings in encaustic are on display at ARTini's Art Lounge on Broad Street downtown. Though working in completely different media and styles, el-Ganouby's work is also concerned with nostalgia, nomadism and the idea of "home." As an Egyptian now living in the American South, his work explores how culture creates a collective identity.
"A recurring feature of my paintings, installations and mixed-media pieces is the use of raw materials – sand, wood, spices and wax – chosen both for their association with rural southern Egypt, where I grew up, and for their suggestion of primitiveness. The use of such materials draws on my own individual memories of time and place, speaks to collective local histories and plays with common stereotypes of Egypt's rural population as being both backward and the living embodiment of authentic Egyptian culture," he explains.
Reminiscent of Mark Rothko's paintings, el-Ganouby builds up color and texture in rectangular planes to create what appear to be doorways or portals. The image on the canvas is a threshold, sometimes occupied by vague figures scratched into the pigmented wax and other times vacant. Though not really figurative, one untitled painting appears to be an abstracted landscape. The lower portion of the canvas is dominated by pigment textured like oxidized rust while the blue sky hangs above, the two squares connected by cross-hatching and the barest outline of trees or reeds incised into the wax. El-Ganouby's paintings are exhibited opposite portraits and rural scenes by Madison, GA painter Cheryl Whitestone. On view through early December.
The Art of War: The intersection of our public and private selves is the subject of the current issue of The Georgia Review. In addition to essays and short stories on this theme, the fall issue includes images of artwork by war veterans titled the "Combat Paper Project."
Mindy Wilson, Managing Editor, describes the project: "The 'CPP' is an organization devoted to helping war veterans try to make some peace with their battlefield experiences by teaching them how to make handmade paper out of their old uniforms. The work we published is a series of prints these vets made, featuring their interpretations of traditional war images on this so-called 'combat paper.'"
Check out the portfolio at http://garev.uga.edu/fall11/artintro.html and look for the fall issue in bookstores.
Like what you just read? Support Flagpole by making a donation today. Every dollar you give helps fund our ongoing mission to provide Athens with quality, independent journalism.