The Repertory Company of Canopy Studio will commemorate the aerial art space's 10th anniversary with a reflective, multi-faceted performance, appropriately titled "Evolve.†Developed from individual routines created by experienced dancers, which were reviewed for visual fluidity and sequenced into a precise order to best relate a story, "Evolve†will highlight the most significant moments of the studio's past and explore its future growth.
"Attendees can expect to see references to our show history and a celebration of what's to come for us. We've evolved from an aerial dance studio that focused primarily on dance trapeze to a studio that is known for innovative fabrics, trapeze and invented apparatus,†says Executive Director Melissa Roberts.
Founder Susan Murphy, who envisioned a community arts center at which everyone, regardless of age or physical ability, could learn the art of aerial dance and performance, established Canopy in 2002. Murphy, who holds a master's degree in modern dance from Mills College in Oakland and is a certified movement analyst through the Laban Institute for Movement Studies in NYC, has over 30 years of experience in aerial arts and has spent the better part of her life teaching workshops across the country. After a few years of teaching modern dance at UGA, she finally set out to create her own space with the support of husband and builder Don Carson, who transformed the then-vacant Chase Street warehouse into a dream studio complete with state-of-the-art carbon-fiber trapezes.
Murphy and Carson have since moved to the Georgia coast to build a second studio, but Murphy will return for a guest performance in "Evolve." Canopy is now in the hands of Roberts, who—in addition to teaching trapeze, fabric and lyra classes to all ages, directing five, large-scale productions annually and continuing her own education through various circus schools—doubles as an adjunct professor at the UGA College of Environment and Design.
As a 501c3 nonprofit, Canopy Studio strives to provide movement education and affordable, high-quality aerial lessons to everyone interested in learning. Outreach programs range from scholarships to summer camps and ongoing classes, free community performances and workshops, and collaborations with Athens musicians. The studio also contributes thousands of dollars worth of in-kind donations to a handful of local organizations each year, with recent beneficiaries including Prevent Child Abuse Athens, the Jeanette Rankin Foundation and the Clarke County Mentor Program. In the fall of last year, Canopy restructured its staff to create a position for an outreach and children's coordinator, filled by Ann Lily-Woodruff. One of the first goals on the new agenda was to establish a relationship with Chase Street Elementary School.
"As part of our 10-year anniversary, we wanted to re-dedicate our commitment to the community and outreach initiatives, and we feel like providing an after-school program to our neighborhood school is a big step in the right direction,†says Roberts. The program, which offers weekly lessons at no cost to the school or students, gives children an opportunity to be active and learn new skills. "Many of the kids that come through the program have never been on a trapeze, and it's really incredible to see how transformative trapeze work can be. It's building confidence, creativity and healthy behaviors that translate in meaningful ways.â€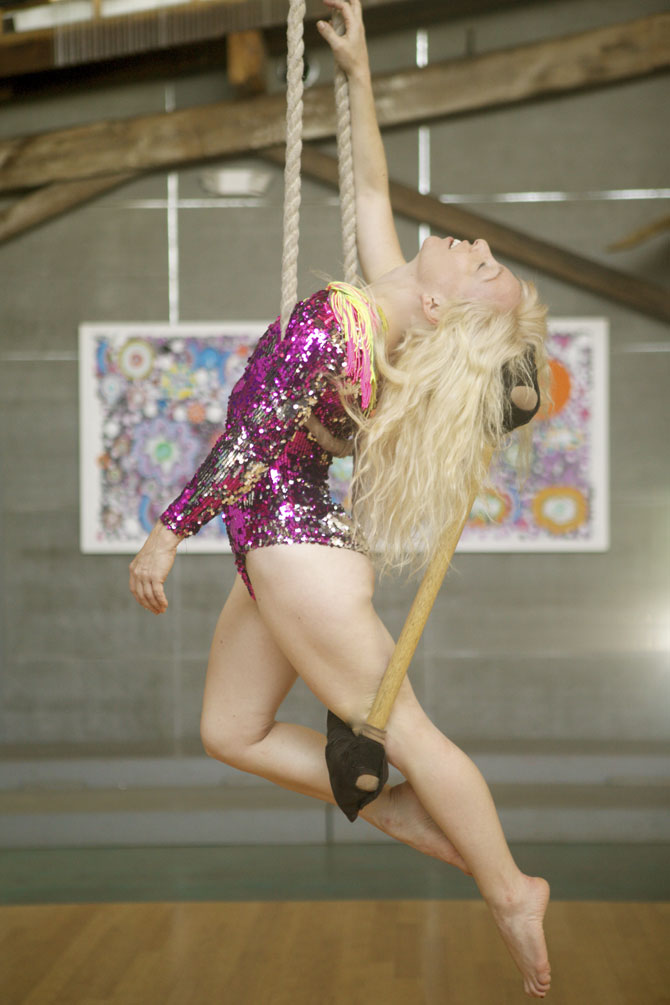 The studio also provides private lessons to a handful of individuals with disabilities as another extension of its outreach program. Roberts elaborates: "Trapeze is a tactile experience, and children with autism, sensory processing disorders or other disabilities can find great skills through this work. It's calming; it creates opportunities to sequence tasks and it gives lots of kids the courage to take risks. They learn to feel good about themselves because there are physical goals that can be accomplished.â€
In the true spirit of artistic collaboration, over 50 of Athens artist Carol John's large-scale paintings will be used to create a vibrant backdrop for "Evolve.†John's artwork, which includes boldly hued abstract and geometric designs, will transform the studio's 25-foot walls into a vivid kaleidoscope of color. Performers from other local dance groups including Floorspace, Leap Trapeze and Balance Pilates will also participate in the show, emphasizing Canopy's dedication to community involvement.
"Canopy has developed a real sense of community over the last 10 years, and the Canopy community acknowledges that we're  fortunate to live  in a place like Athens: great music, art, food and aerial dance. Yet, this town is still small enough that you can make a difference artistically and socially," says Roberts. "So, yeah, I think that collectively Canopy recognizes the broadening 'quality of life' in Athens, and we understand that we play a role in that big picture.â€
The Canopy Studio Repertory Company will perform "Evolve" on Friday, Apr. 13 at 8 p.m., Saturday, Apr. 14 at 4 & 8 p.m. and Sunday, Apr. 15 at 2 & 6 p.m. Tickets are $6 for children, $10 for students and $15 for adults and are available online at www.canopystudio.com or at the door 30 minutes prior to showtimes.
Like what you just read? Support Flagpole by making a donation today. Every dollar you give helps fund our ongoing mission to provide Athens with quality, independent journalism.