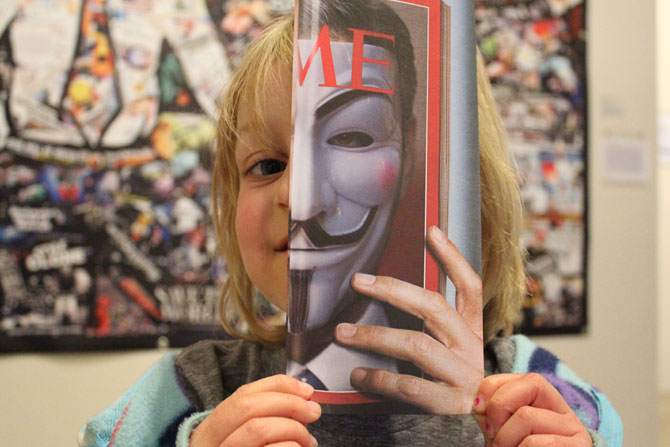 A few weeks ago, we hosted a touring band for a concert in our living room that was as much art as it was music. My husband and I bent the rules on our daughter's bedtime and she, along with some friends, was able to watch as The Music Tapes made a plastic snowman sing and a box of mice play magical bells. The kids were enthralled.
Fast-forward to a few days ago, as my daughter is playing in her dollhouse. A quartet of plastic pastel dogs is lined up along one wall, and a bevy of smiling dolls sit and watch. "They're having a concert in their living room, Mommy," she tells me as she moves their instruments in place. This time, I was enthralled.
The living room concert was more than just a fun thing to do. It was also a chance for Sofia to experience art, even if she didn't think about it as "art." It's something I think about more often as our kids become more involved in the world around them. Every interaction becomes a chance to open a door, and every visual cue might settle into the subconscious. The more places we can provide them a chance to expand on the ordinary—even just a little bit—the more opportunities we'll offer them, down the road, to think creatively.
My sister lives in Massachusetts, in a town surrounded by five colleges; we visited there over the holidays. The area prides itself on its arts scene without being smug about it. Instead, a bridge welcoming you into town is a rotating canvas for large-scale murals and other art projects. As you walk down the main street, you see planters made out of corrugated tin. In front of City Hall, a bench's unique square shape is enough to make my daughter walk over and start playing on it.
"We fancy ourselves an arts town, so wherever it can show up, the better, I think is the attitude," says Bob Climan, director of Northampton's Arts Council. "I think people here are sort of proud of the fact that the town is perceived as an arts community."
Since elementary school-aged kids (and younger) do better with hands-on "arts" experiences, it made me start thinking about places around Athens that integrate art into the town's aesthetic. Of course, there are the bus shelters in various spots, thanks to our own Athens Area Arts Council; just recently, Sofia and I played in the shelter along Prince Avenue adorned with metal screens and colored panels. Southeast Clarke Park's World of Wonder playground has a fun dragon peeking out of the ground next to the castle play structure; you'd be surprised how much fun a child can have simply by climbing, and the dragon just adds to the creative adventure. At the State Botanical Garden, seven bronze statues of children ("Field Trip") have always fascinated my daughter, even when she could barely walk up to them—I think part of it has to do with the fact that she can touch them, then run around the grassy lawn among them.
And, if you're looking for a more "traditional" art experience, there are any number of reliably great places for kids to see a variety of paintings, sculptures and other pieces. The Lyndon House Arts Center (293 Hoyt St.) just wrapped up a great kid-oriented show by local students, which was a great lesson for my daughter in how to keep practicing with her crayons. (By the way, why haven't crayons made it into mainstream art? We'll have to work on that.) The next exhibit, the 37th annual Juried Exhibition, opens Feb. 19 and features some of the best artists in the area.
ATHICA (160 Tracy St.; www.athica.org) always incorporates kid-themed activities into its exhibitions. Stop by Feb. 19 for "Stitching Stars," where Hope Hilton (you may have seen her in action at Treehouse Kid & Craft) will guide kids through making a paper quilt, and tell a story, too. And of course, the monthly Family Day at the Georgia Museum of Art (90 Carlton St., www.georgiamuseum.org) is always a kid-friendly way to introduce a trip to the museum. We were at the most recent Family Day Jan. 21, celebrating GMOA's partnership with Michelle Obama's "Let's Move" campaign, with lots of activities integrating art and movement into simple, fun crafts and activities. The next Family Day, "Discover the Decorative Arts," is Feb. 18, which will incorporate the furniture of Athens native Henry Eugene Thomas.
I should note that I'm referencing "art" in the most general sense; I feel like there is a tendency for people to think of random sculptures (or bulldogs) as "public art." While that's partly true, it's only one sliver of artistic expression that can be on display for the greater community. Marilyn Wolf-Ragatz, chair of the Athens Cultural Affairs Commission, recently reminded me that "public art," more or less, is simply art that's placed in a public space, accessible to everyone; it's not necessarily paid for by the public: a private developer or investor can also put up a piece for all to enjoy. And often, people think of outdoor pieces when thinking about public art, when in fact it can take many different forms and functions, including performances in a park.
"It can be as temporary as a two-hour event, or can be designed to last for hundreds of years," she said. "It can be a sculpture, a beautifully designed fountain, a bench, a framed painting or an outdoor mural. The list of possibilities is unending."
Which means I haven't even begun to explore the free performances at the University of Georgia, or even the myriad musicians who hang out downtown and play for spare change. And if it makes my daughter spontaneously dance on the sidewalk, even better—it's improving her world, and the world around us.
Like what you just read? Support Flagpole by making a donation today. Every dollar you give helps fund our ongoing mission to provide Athens with quality, independent journalism.