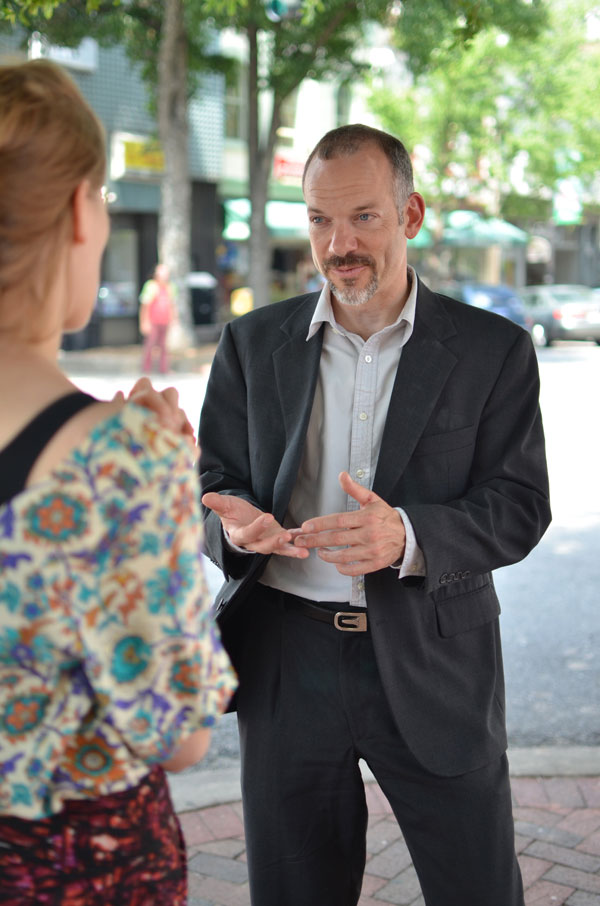 Athens-Clarke County Commissioner Kelly Girtz represents a "superdistrict†which encompasses half the county, and he is also Director of the non-traditional Classic City High School. Like many people, he came to Athens to pursue graduate studies at the university and has been here ever since. He lives in an intown neighborhood and enjoys walking or biking downtown, where he frequently hangs out with fellow commissioners.
On being an ACC commissioner:
To do a good job you have to be attentive, do a lot of research, answer a load of email and, hopefully, talk to your colleagues pretty often… I think the voters have a really great opportunity for access to us in this town, just because geographically it's a small town, and we tend to be in the same places as the people who are interested in what we're doing… I'm not happier ever, really, than when I'm strolling through town and somebody's willing to come up and talk on the street.
On his vision for Athens:
I would hope that, to whatever degree, I can help introduce segments of Athens to one another. An environmentally friendly town, a town that's esthetically pleasing, a town that allows you to do lots of things pretty close to one another, a town that is economically vibrant. Things like the much discussed river project are a chance to tie some of those threads together: better employment opportunities, some of which might be arts-related, to do a good job with land use, to emphasize consolidating our resources where we have infrastructure. And, you know, a neighborly town, where people are willing to speak to one another…
On what makes Athens special:
Not only is there a top-notch university, but there's a vibrant arts community here, too… I look for links, you know—between developers and environmentalists, between the wealthy and the poor—I really do believe we share a common fate, and I know I do my job better when my ears are open to a lot of different people… I like being part of the day life and the night life of Athens, and it's amazing how many of the same people you will see at seven in the morning out for a cup of coffee and at one in the morning out wrapping up the night. It's not too uncommon at all.
Like what you just read? Support Flagpole by making a donation today. Every dollar you give helps fund our ongoing mission to provide Athens with quality, independent journalism.