Dance & Performance Art
Athens Vertical Pole Dance Academy
160 Tracy St., Suite 6A (inside Canopy Studio) • 706-347-3708 • www.avpda.com
Athens Vertical Pole Dance Academy (AVPDA) is a local, woman-owned small business seeking to bring a new dance dynamic to the vertical pole as a fitness opportunity for people of all ages and abilities. Workshops are available.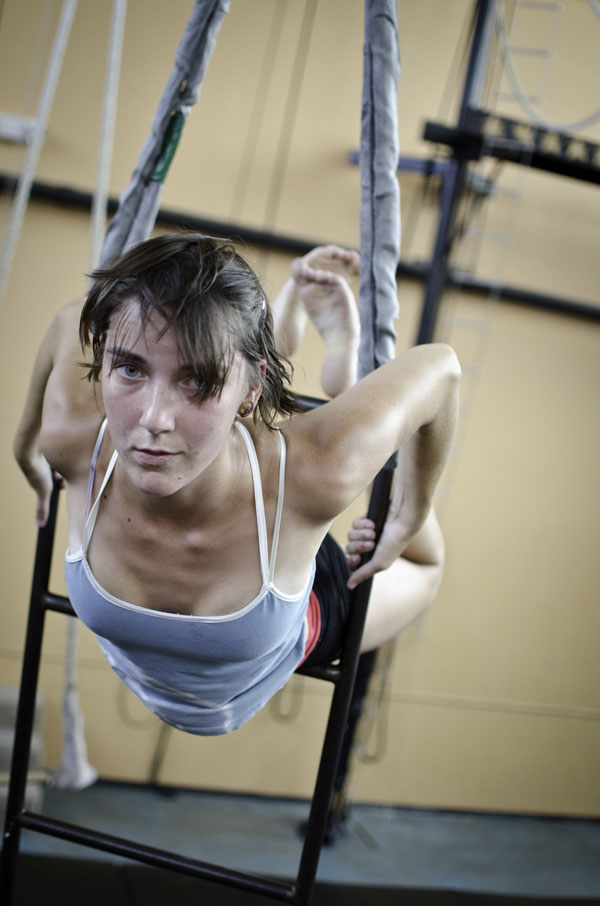 Canopy Studio
160 Tracy St. • 706-549-8501 • www.canopystudio.com
Highlighting the talents of its own students and instructors, Canopy trapeze studio performs "aerial cabarets" in its dramatic warehouse space. Highlights are its Repertory Company Fall and Spring Shows. A variety of dynamic movement classes and workshops are also available for both kids and adults. Located in the Chase Street Warehouses.
Floorspace Movement Arts Studio
160 Tracy St. • 706-372-1833 • www.floorspaceathens.com
Located between Canopy Studio and ATHICA, Floorspace is primarily a dance studio, with a range of movement and fitness classes including bellydance workshops, Nia, Capoeira and Poi. Floorspace occasionally offers performances which are often collaborations/ multimedia projects with other regional dance companies, theatre troupes, filmmakers and/or visual artists.
Pamoja Dance Company
404C Memorial Hall • 706-542-8468 • www.facebook.com/pages/Pamoja-Dance-Company/118956017105
Based in UGA's Memorial Hall, and now in its 40th year, this dance troupe was founded for UGA's non-dance majors and interested locals. Pamoja celebrates the works of African-American dancers and choreographers with performances of both original and reinterpreted works. Shows are usually held at the Morton Theatre.
The University of Georgia Department of Dance
1030 Sanford Dr. • 706-542-4415 • www.dance.uga.edu
UGA hosts several resident companies, including the CORE Concert Dance Company—specializing in modern, post-modern and theatrical work. The UGA Ballroom Performance Group, UGA Ballet Ensemble and UGA Concert Dance Company also perform throughout the academic year, and the Young Choreographers Series fosters the work of aspiring student choreographers. Most performances take place at the UGA Fine Arts Theatre and the New Dance Theatre.
Venues Around Town
The Classic Center
300 N. Thomas St. • 706-357-4444 • www.classiccenter.com
Athens' largest local venue, the Classic Center's 2100-seat theater serves primarily as a performing arts destination, hosting a wide variety of touring shows. Its state-of-the-art technology and acoustics ensure that its season always includes several touring productions of Broadway musical hits and big-name performers. Trade shows, conventions and other special events round out the calendar.
The UGA Performing Arts Center
212 River Rd. • 706-542-4400 or 888-BUY-TIXS • www.uga.edu/pac
Athens' premier location to enjoy internationally renowned performances. Comprised of the 360-seat Ramsey Concert Hall and the 1100-seat Hugh Hodgson Concert Hall, located on the east side of the UGA campus, the beautifully appointed center routinely books such greats as the Academy of St. Martin in the Fields, along with many acclaimed individual artists, dance companies and youth symphonies.
The UGA Fine Arts Building
255 Baldwin St. • 706-583-0200 • www.drama.uga.edu
The main building for the UGA drama department, the Fine Arts Building houses both the Fine Arts Theatre and the smaller Cellar Theatre, where a variety of productions from classics to comedies can be seen throughout the academic year. The box office is open noon–5 p.m. Mondays–Fridays and one hour before showtimes. Tickets are also available online. For a complete list of shows, schedules and showtimes, see the website.
The Seney-Stovall Chapel
210 N. Milledge Ave. • 706-542-5041 • www.cviog.uga.edu/about/chapel
The Morton Theatre
195 W. Washington St.• 706-613-377 • www.mortontheatre.com
These impressive buildings are Athens' best loved and most historically significant venues. Built in 1882 and 1910, respectively, they both host community-oriented cultural events such as plays, concerts and lectures. Owned by UGA, the Chapel is a common venue for university theatre performances. Owned by the ACC government, the Morton is currently the home of the annual Flagpole Athens Music Awards show in June.
Like what you just read? Support Flagpole by making a donation today. Every dollar you give helps fund our ongoing mission to provide Athens with quality, independent journalism.