Our invitation for Ort's friends to contribute reminiscences about him of course resulted in a much greater response than Flagpole's pages can accommodate. Fortunately, everybody's words and pictures have been collected here for wide reading now and in the future. And such great contributions they are, accomplishing the near-impossible task of capturing glimpses of his great spirit.
We know, of course, that during his last illness Ort's expenses mounted, and those who want to contribute to squaring his accounts with the world can help at gofund.me/63f81b66. A celebration of his life will be held at the 40 Watt Club on Saturday, Feb. 4 at 2 p.m. with doors opening at 1:30 p.m.
"Men must endure their going hence, even as their coming hither: Ripeness is all." Ort left us as he lived among us, comprehending us until the end—and he endures in our hearts. [Pete McCommons]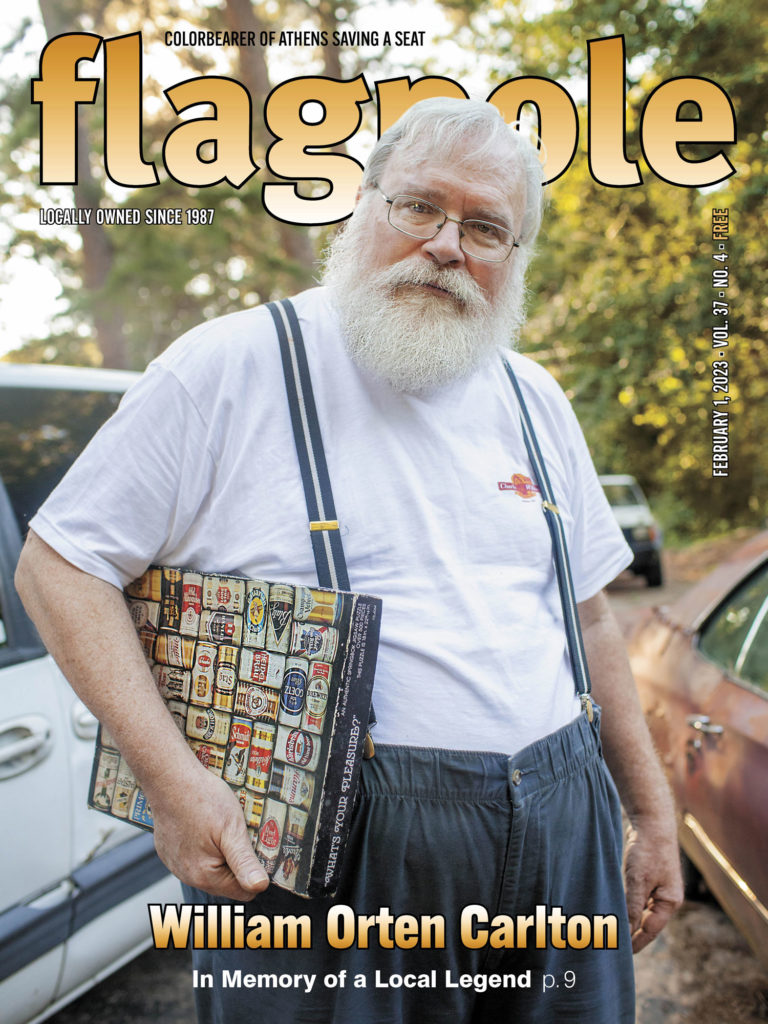 Judy Long
ort, noun
Origin: Carlton, William Orten (Ort), a beloved, inimitable and irreplaceable resident of Planet
Earth, changing forever the environs of Athens, GA.
1. a benevolent soul finding kinship and common interests with every human encountered,
in every establishment entered
2. a walking encyclopedia of every topic the human mind can fathom—from craft beer to
the Spandex viral vortex
3. a Ph.D in the field of DJ
4. a tireless promoter of every person to ever pick up a guitar, mic or pen
5. a lover of dirt roads, barbecue and backwoods cafes
6. one who leaves behind more than enough memories to fill the vast void in the hearts of
thousands
ort, verb
1. to fill another's mind with so much information they leave a conversation feeling
intoxicated
Sentence example: Darlene orted me when I asked her about the history of the Quonset
hut in the American South.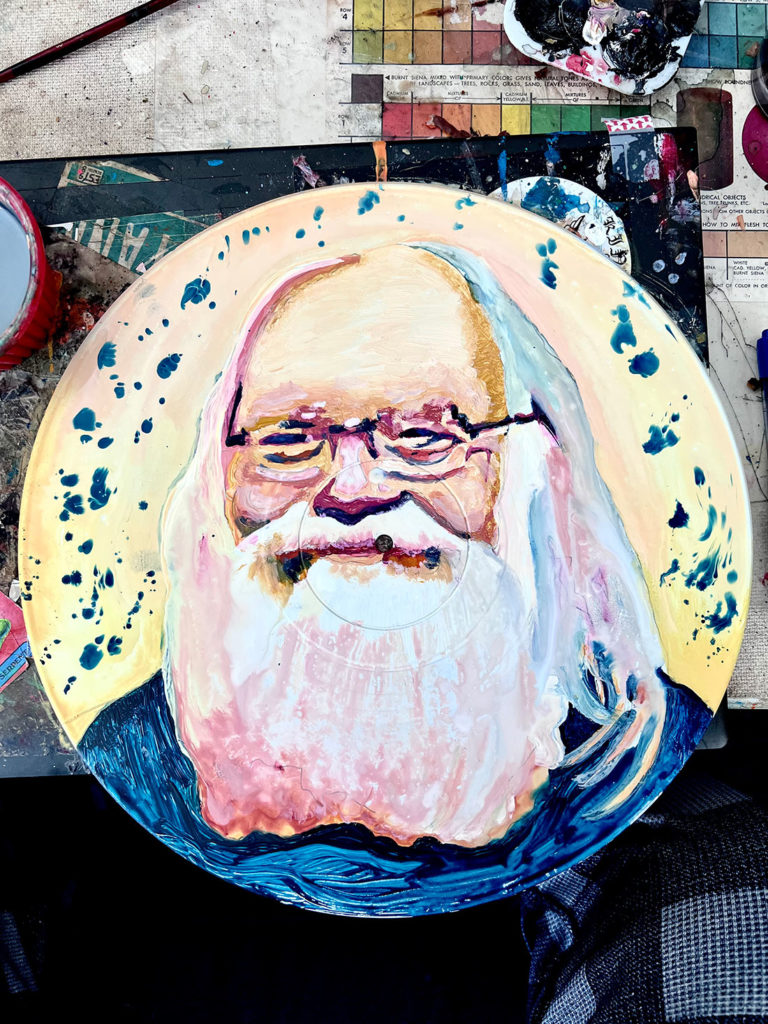 Robin Littlefield
As managing editor of Flagpole, it was my job to pull together the moving parts of the magazine each week. It's inaccurate—and insulting—to reduce Ort to just another one of those parts. Indeed, he was the beating heart of the magazine… and of Athens. It's impossible to bifurcate Flagpole and Ort, or Athens and Ort, or ANYTHING and Ort. I called him William, because I like the name and because I wanted to be special to him, and I was, and he told me so. He would sense when I was in a swivet (always!) and say, "Someone in here needs a hug," and envelope me in Ortness and mimic my Lumpkin County accent: "Ah jess luvv tha wayyy yew tahlk." I'm a lawyer now, so I kept in touch and helped him with various legal scrapes which seem so unimportant now, and he'd call me "the Robinator" and thank me for standing between him and the bank or the state of Georgia. William, rest well, delight in the rockabilly radio station that Heaven surely has, and form that angel band that we decided would be called Let's Stay Hat. Take care of Mama, reunite with your beloved Melissa, and hear the stories firsthand of the victims of the Terminal Hotel fire. Love, your Robin Kathleen, currently of 37214, formerly of 30601, but eternally a 30533 girl.
Jason NeSmith
There is hardly a more homegrown experience than flipping through long stacks of 45s in Kurt Woods' garage in close proximity to Ort, being audience to his soliloquy which only occasionally became dialogue. He would announce treasures as he happened upon them ("Bunker Hill—Hide and Go Seek! Who needs this? I've got a stock copy AND a promo copy at home."), and hand off records from his stack if he found a better copy. The talk often diverted into the artist's hometown, what else that town was known for, the best radio station in that area, local delicacies, etc.
As Athens' official greeter (which he played to perfection in Athens, GA: Inside/Out), he was generous with his time and knowledge. I once had (still do) the ambition to make the great Athens music box set. I went to the source of knowledge and sat down with Ort at Normal Bar to get his take. Over two hours of whimsical history was my prize. A great and charismatic library has been lost. We must all endeavor to be more Ort-like.
Eddie Whitlock
In 1980, I was a 21-year-old goober from Griffin who had come to the big city of Athens. My friend David Moore took me to Russo's Gyro downtown for lunch one day. There was a crowd gathered in one area of the bar, listening to a big bearded fellow lecturing on music. He saw us, waved and boomed, "Hello, David!" David replied, "Hey, Ort!" Thirty-five years later I was back in Athens, working at the library, when I became honored that Ort knew me by name. When Joan moved here and we married, Ort quickly knew her by name, too. Being called by name by Ort? That's how you know you've made it in Athens.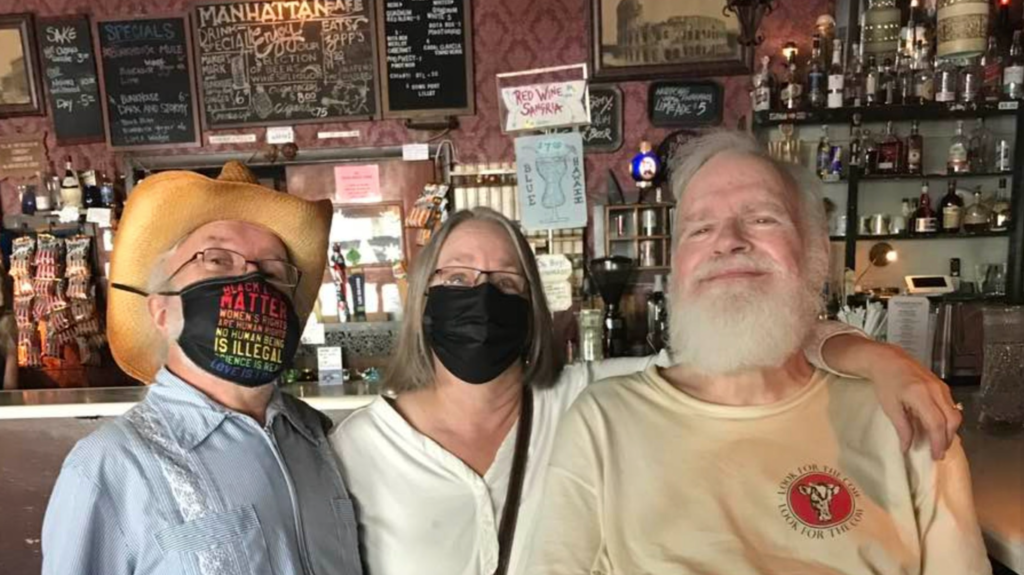 Dena Watkins Chandler
When I moved to Athens in 1976, Ort was one of the first people I met. I was downtown with a friend, also newly arrived, and we were admiring the facade of an old building. Ort noticed us and walked over to tell us all about the structure. And I do mean all about it! Everyone knows Ort had a photographic memory for seemingly every music record ever made, but he was equally genius at remembering the owners, date constructed and usage of every historic Athens building. We walked all over with Ort talking nonstop in exhaustive detail, his love for this city obvious.
Bill King
I first heard of Ort when my brother Jonathan told me about this funny guy named "BC" who lived around the corner. I really got to know Ort when I was in college. He was running Ort's Oldies and found obscure Beatles-related singles for me. Through my mom writing for the Observer, Ort somehow knew my full name and would greet me in that booming voice, "William Parry King!" I ran into him at Wax 'N' Facts in Atlanta one time, and it was vintage Ort, as he regaled me with the history of some obscure Georgia radio station. Ort transcended generations, too. When my son was at UGA, Ort once complimented him on his taste in beer at a local watering hole. In later years, we'd converse via Facebook, usually when I was writing something about Athens of old. Ort was one of a kind, and I'll miss him.
Steve Fitzpatrick
Ort told me, as I printed posters for my experimental, over-the-top band at Kinko's, "This is music that makes you GROW!" in a stentorian voice. Meaning, be strong and go against the current of conformity and comfort. All music is good. That will stick with me forever. Also, one night after some party I was in an "altered state," just kind of standing around alone thanks to crappy social skills or whatever. Anyway, he asked me to join him in riding around and doing some errands, mailing things off, etc. We talked of old radio towers, ancient records, obscure music… We visited the far-off lands of the Georgia countryside. In that car that night, it was like being in some alternate universe in an outer space of sublime concepts. I no longer felt alone. The weirdness is powerful, vital and good! Ort was the acid! RIP sweet friend!
Steve Nichols
I met Ort more than half a century ago when I wandered into his shop on College Avenue, looking for a 1967 recording by Sagitarrius, an obscure California studio group.
Ort said that he didn't have it, but that he knew where to get one. "Watch the shop for a few minutes, will you?" was all I heard as he left the building, leaving me to watch over his place.
Fifteen minutes later he returned with the record. "That'll be a quarter," Ort said. I asked how he knew I wouldn't rob him blind in his absence. He said that anyone who knew about that record couldn't possibly steal from another collector.
Over the decades as I floated into and out of Athens, I would always run into Ort, and we'd talk music and records, with me getting the benefit of the conversations.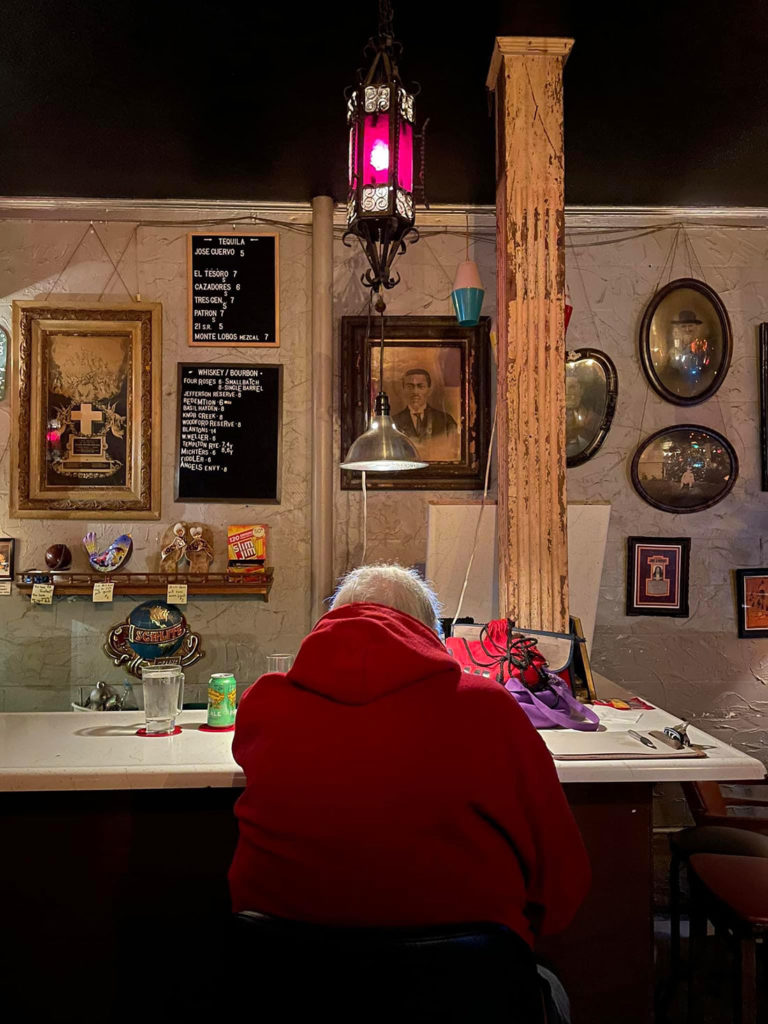 Melissa Audy
One evening I was waiting in line to use the ladies bathroom in Copper Creek. Ort walked up and was waiting in line for the gentlemen's bathroom. We stood there waiting awkwardly together in that hallway making small talk about life or some such, when he dropped a line that has stayed with me ever since: "There is no excuse to not have fun." I have often remembered that, and it has affected my life and even daily decisions. There is no excuse to not have fun! So go have fun!
Vickie Person Bettis
My sophomore year at UGA, a group of us would regularly gather in the late evening at the Brumby Hall help desk to play Scrabble. Ort never missed a game. In my mind, he was the "older" man in our group, and he was a take-no-prisoners player. Whenever he would "create" a word, I would be the first to point out to him the "word" he had created didn't exist. Ort's response to me was quick and to the point: "Vickie, this is a word ONLY used in South Florida, and clearly, you've never been to South Florida." From then on, I stayed quiet. Ort was the most exotic creature this 19-year-old Cobb County UGA student had ever met. I smile whenever I think of him.
Joseph Rollins
I didn't know who he was at the time, but Ort came up to me one night as I was leaving Little Italy, pointed at my shirt and exclaimed, "Keith Haring, motherfucker! You can't fool me!"
It was unprompted, and I was a little befuddled—but also excited. I had worn my shirt with Keith Haring's art on it for years, and nobody had recognized it. We had a short conversation about the artist, and I got to tell him of a Jacksonville, FL street artist that went by the name "Keith Haring's Ghost." He said, "I'll have to look him up," and I anxiously walked away without getting his name.
It was only yesterday that I was able to put a name to the face, so I spent the day reading Ort's works and learning all about the man that made me smile that one night at Little Italy.
Stella Smith
I met Ort at Copper Creek. He would wander in, notebook in hand, wearing his CCBC tee and suspenders, while he juggled between cleaning his glasses and stroking his beard. He had a hearty "hello" and a good laugh for all those near him. Ort shared his thoughts with everyone, and I listened because he was interesting. He shared the history of Athens, and of Georgia, in minutiae—he knew the details and history of every street, building, artwork and band in Athens year-by-year from 1785 until the Tuesday you were sitting beside him. As for Georgia, he knew the provenance of counties, towns, unincorporated hamlets, breweries, radio stations… and so much more.
Ort was a wealth of information, much of which is now gone with him. More importantly, he was a friend to many Athenians and his good nature and friendly smile will be missed more than his knowledge. Ort embodied Athens; he was a legend and an icon; may his legacy continue.
Sandy Cole
We have lost part of the soul of Athens. It'll never be the same to go downtown without running into Ort. I considered him to be my best friend and brother from another mother. He was my beer guru and boon traveling companion. Telling an Ort story would be like a road trip with him. Where to start and where to end by taking the most circuitous route to get there without missing any thrift stores or off the wall eateries or points of interest along the way. They say there's no beer in heaven, that's why we drink it here. My guess is that Ort is preparing an ethereal microbrewery there stocked with music from Ort's Oldies. See you down the road, Ort.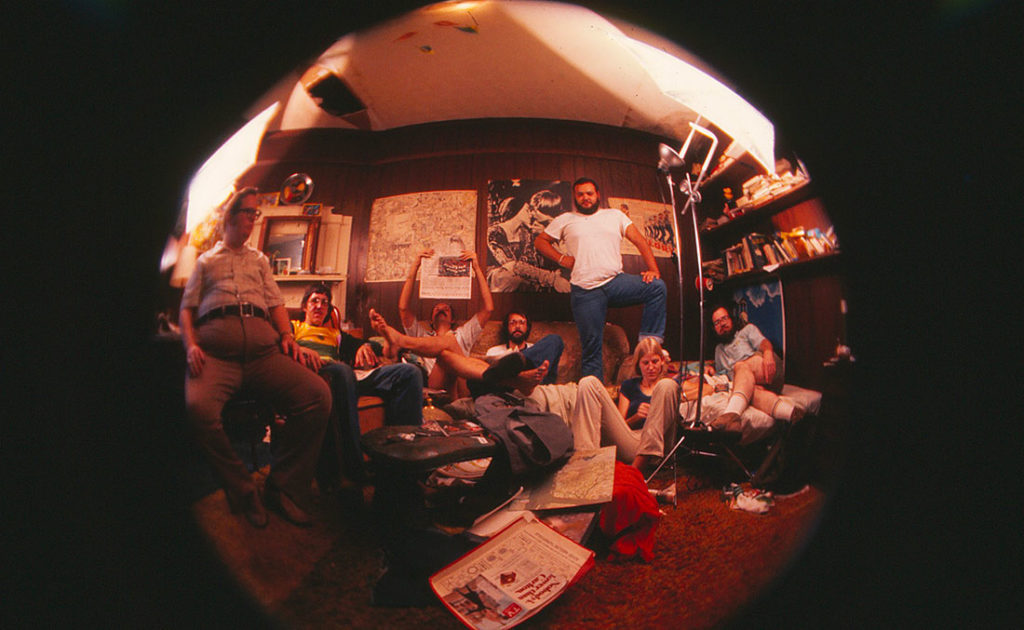 Gregory Nicoll
Ort was a beer connoisseur decades before the current craft brew trend. Back in the '70s you mostly discovered regional suds by checking the coolers at the gas stations during your road trips. I'll never forget the incredible epic conversation Ort had with my father when he visited my parents' print shop in Augusta back then. They literally talked for hours about the relative merits of now long-forgotten watery domestic pilsners such as Buckhorn, Schmidt's and Old German. For years afterwards, whenever Dad scored a six-pack of some obscure new specimen, he'd always tuck one can into the bottom rack of the shop's refrigerator "for trading with Ort." Mom was constantly pushing me to help get rid of these. Whenever she learned I was headed to Athens for a concert, she'd invariably ask me, "Will you be seeing that 'Ort' person?"
Vanessa Briscoe Hay
I first met Ort around 1976. Athens was a much slower-paced town back then. The population has since tripled, and the student population has doubled. He couldn't have survived, much less thrived, except in a college town like ours where it was possible to be accepted by a decent percentage of the local population. My first husband Jimmy Ellison and I initially met him at his record shop Ort's Oldies on Jackson Street. (Fred Schneider worked there.) We gradually became friends, and we even met his mom and step-dad Buddy. His car at the time had a name, which I have unfortunately forgotten, but he was always ready for an adventure in that car. (Once, we drove out on Highway 78 into Oglethorpe County to see where a band's tour bus had gone off the road on a curve—the Platters? I can't remember.)
He's gone, but will not be forgotten. I told Ort the last time I saw him that thousands of people love him, including me. It made him so happy that he kissed my hand.
Brenda Sloan
Back in the '80s, I worked for Kinko's. Ort stopped in regularly on his rounds downtown. He always changed the energy in the shop, and I always heard something interesting from eavesdropping on his conversations. I got transferred to the Baxter Street store which wasn't on his beat. One early 2 a.m., I got a call from the Athens Police Department. It seems the Broad Street store had a fire and someone needed to come downtown. When I got there, the firefighter explained that Ort had called in the alert. I saw him standing nearby. He had been walking down the street and noticed the windows looked iced up. He put his hand to the glass and discovered it was fire. The firefighter told me that the way all of the buildings on that block were built, if the fire had gotten out of hand, the whole block would have gone up. Ort the hero and savior of beautiful downtown Athens!
John Webster
The last time I spent time with Ort was in mid-November, when I was walking down Hull Street to a show at Flicker and saw bright lights through the window of Manhattan Café illuminating Ort at a table in the middle of the bar. I went in, and he was being interviewed for some production. The L.A.-based film crew told me they were doing it as a part of a documentary on the B-52s, and that Fred Schneider told them that they had to interview Ort if he was going to do the project. We listened to the interview while Ort told detailed stories of going to Fred's house for dinner and conversations with Fred's mother. After the interview, Ort spun records on a small turntable, with commentary of course.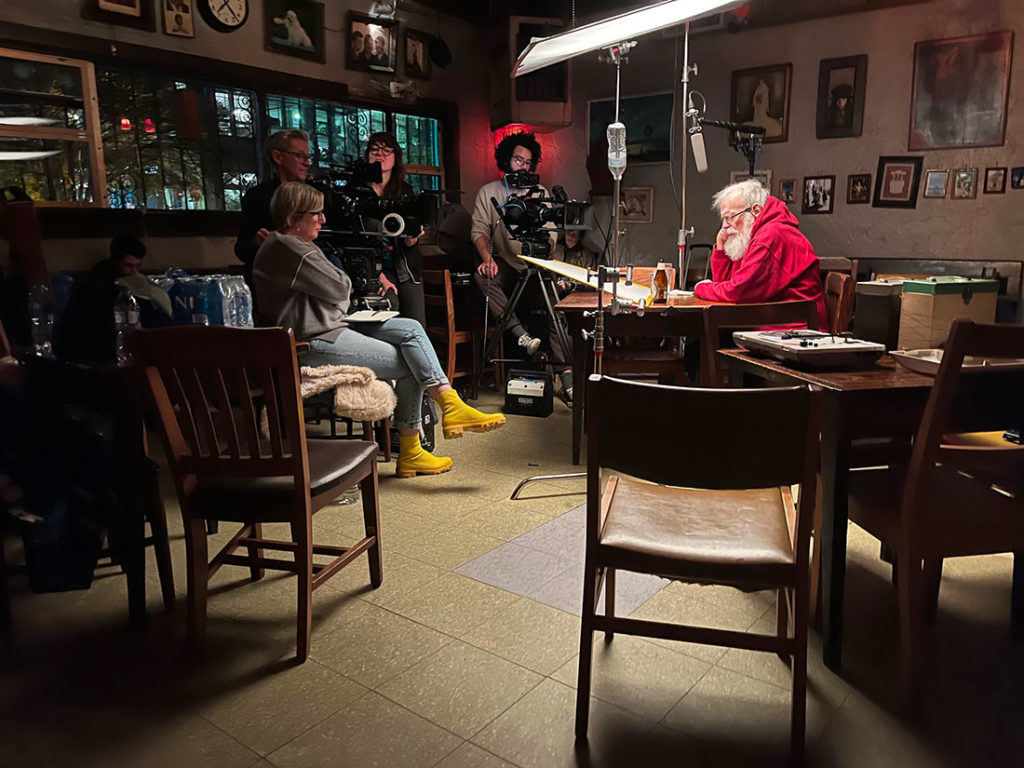 L.J. Anderson
How will Athens keep his memory alive? Will there be a statue, a music festival, a scholarship, a photo over a restaurant booth, a library chair or bar stool inscribed with his name, a beer named after him? ("My favorite type of beer would have to be an India pale ale with at least 5.6 percent ABV. It's gotta have that bite to it, or it's just a pale ale to me," he told Sarah Rucker of the Grady College of Journalism in 2016, adding "My favorite IPA is only found in Kentucky, in a small town that still does not allow beer sales on Sunday.") Now I'm on a hunt for Ort's favorite beer. I think he mentioned it by name in at least one of his Flagpole articles, but there are a lot to sift through. If any readers know what it is, please name it and where it can be found. If no one knows, then hey, local craft brewers, get to work!
D.J. Hack
At the Syracuse Beer Can Collectors of America CANvention, we took a bus tour to Utica and back in order to tour the F.X. Matt Brewing Co. On the bus, Ort kept up a monologue (as he was wont to do) loosely directed at me, but also to anyone else within earshot (which is to say, most of the bus). In the evening, another collector accosted me while alone and said, "That guy you came with: How do you stand him?" When I told Ort this later, he laughed with delight. I advised this collector of Ort's passing and this was his response:
"I literally just received the BCCA notification that Ort had passed away and although I didn't really know him, I was heartbroken."
Ort was certainly an individual, who once you met, you never forgot. An extremely intelligent individual with a wealth of information. To meet him once and have that lasting impression says a lot about an individual. May Ort rest in peace.
Frank Russell
"Dearfolk," I met Ort when I was a teenager in the 1980s; 1987 if my memory serves correctly. Through the years, I would become one of Ort's many friends that he would always remember. I enjoyed visiting with him in the store where he once worked; Oracle I believe it was. I loved hearing him read at The Downstairs. I enjoyed the fun of Ort's Oldies on WUOG. I would often see him at the record stores. As we both got older, we stayed in contact on social media. I enjoyed helping him find hard to find records. My teenage son Franklin and I visited with Ort the week that he passed. He told my son that he would like to pass the baton on to him. I learned two days later what he meant by that. We honorably accept the baton! We love you, Ort! "Wholeheartedly."
Jim Kvicala
During my college years at UGA, I did not encounter Ort, but when I returned to the area in 1991, he seemed everywhere and writing about everything—AM radio stations and their transmitters, beer cans, records, the Winecoff Hotel fire, his beloved Melissa. To me, he seemed famous, and when I bumped into him one night at ABC Package Store, I was hesitant to bother him. Confessing ignorance about good beer, I asked him as a connoisseur what he'd recommend. He did not make me feel dumb, nor did he immediately tell me to buy something HE'D like. He asked what kind of beer I liked and tailored his recommendation accordingly. Ort personified everything unconquerably eccentric, gracious, inclusive, bohemian, eclectic and kind about late 20th century Athens. It is exceedingly sad to see him go.
Bowen Craig
A friend from out of town came to visit me a few years back. He'd never been to Athens and felt that the way to discover the essence of this town was a downtown bar crawl. We never made it past the first bar. Instead, we calmly joined an organically formed group of students of life, sitting at the mildly tipsy feet of Ort. It was one of those nights that just clicked into place, because of Ort. Though he was, of course, holding court, as he did, eventually the discussion opened into Georgia history dating back to colonial times, philosophical connection points between different fields of study, music, sports, politics, everything. Time lost all meaning. As I said, we never made it past the first bar… and my friend did, indeed, accidentally discover the essence of Athens. We will miss you, Ort. Athens is less than what it was.
Clint McCrory and Sue Custance
Ort was the first person to greet us when we arrived in Athens in the summer of 1980. As we pulled into a parking space on Broad Street in front of campus, an odd-looking character approached along the sidewalk, noticed our Rhode Island license plate, and exclaimed, "Narragansett Beer!"
Robb Holmes
It always sounded like the control room was a crowded place when Ort was on the air, thanks to the multitude of voices he produced. Frequent guests were the Dean of All Deans, a convincing impression of UGA's retired Dean of Students, William Tate, and the Other Dean, based on the retired dean of the Journalism school, John E. Drewry. My favorite was the aging announcer, Lester S. Estes, whose dentures whistled every time he had to say the letter "S."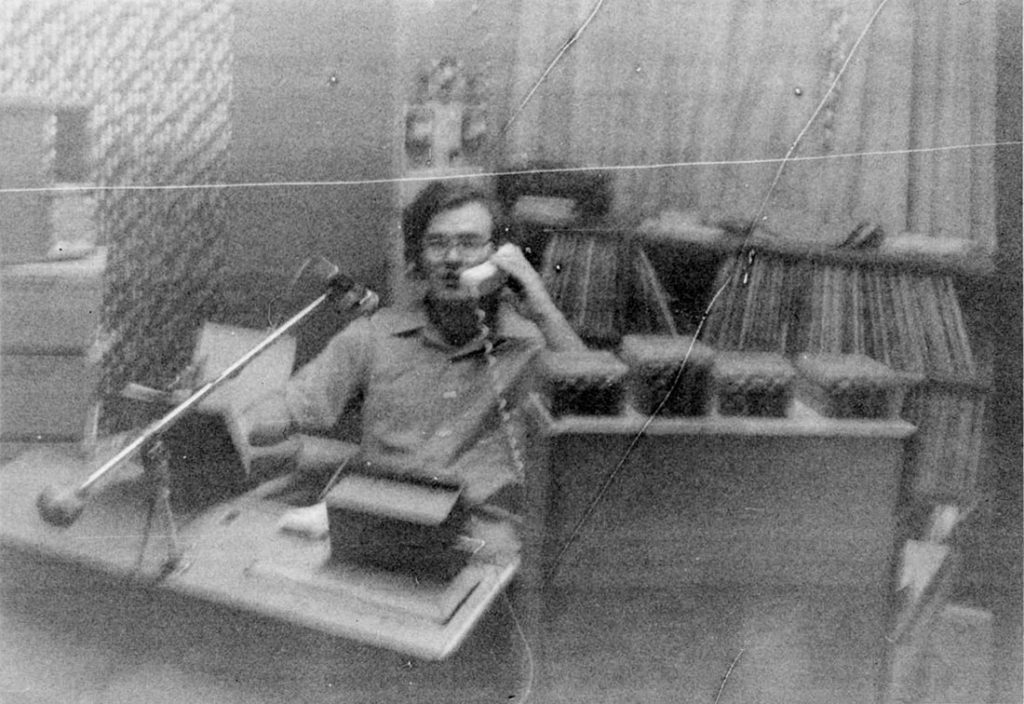 A Andrews
I don't know when I met Ort. It was probably at Burntstone Brew House. I didn't get an Ort hug the first time, but I subsequently received many. It wasn't unusual afterwards for me to go to Adams Optics to get my post-Ort-bear-hug bent glasses straightened.
After several visits to Jim in a short period of time, he looked at me quizzically. He didn't even ask the question, but I knew the answer he wanted. I just said, "Ort." Jim nodded, knowingly, and straightened the frame.
The next time Ort started to give me a hug I stopped him. I explained that I was having to get my glasses straightened after some of his hugs. While I welcomed his hugs, could he give me
hugs without bending my glasses? He jammed after that. Jim never had to straighten a frame again because of an Ort hug.
Jason Ganesh
Over all those shiny pennies at Copper Creek, his legal pad perpetually full of notes and plans, Ort taught me about early R&B b-sides and defunct AM radio stations over countless pints. And even after 20 years of acquaintance, he could always remember where I worked but not my name. Hah!
The term "rare bird" comes to mind; Ort was a rare, awkward, magnificent bird. Although he's no longer here now, I can easily imagine him saying, "Oh, I flew the coop ages ago." May you find a comfy roost, beautiful bird.
Julia Cochran
One night, watching television in the lobby of a friend's dorm, we saw Ort walk in. I decided he was the most interesting person in the room. We immediately scheduled our first killer Scrabble game.Thirty years later, a voice caught my daughter's [attention] at the Manhattan. She had to ask, "Is your name Ort?" He didn't even have to pause to remember her mom, and so another generation was blessed with wonderful conversations. One evening last year, listening by livestream to Ort's Oldies, I called WUOG. Ort picked up with a goofy greeting, and once again, there was no need to jog his memory. Never being forgotten was one of the joys of knowing Ort. That gifted brain was a gift to us all, because to be remembered is to be real, to exist and to belong. Of all that Ort gave us, this is, for me, the greatest treasure.
Juana Gnecco
When our daughter Ana was little, we started taking weekly walks from our home in Normaltown to Copper Creek, where Ort, of course, was a regular. He would be sitting at the bar, drinking and writing, and would pause to chat about the serious and the banal, making it all interesting, especially in our child's mind.
For a kid that had never been to Disney World and watched no TV, Ort was a magical celebrity, and she happened to know him! Once, when asked, "Ana, what do you want to be for Halloween?" She was brief and resolute: "ORT!" Her self-designed ensemble included: a pillow for a belly; curly white hair and beard, wire-rim glasses, her dad's Copper Creek T-shirt, high-belted faded blue jeans, and an empty six-pack for candy collection. She wore it proudly and was a little dismayed when people wouldn't recognize her. Mickey Mouse and Spiderman, who? For a night, she was Ort, the one and only, our own magical celebrity.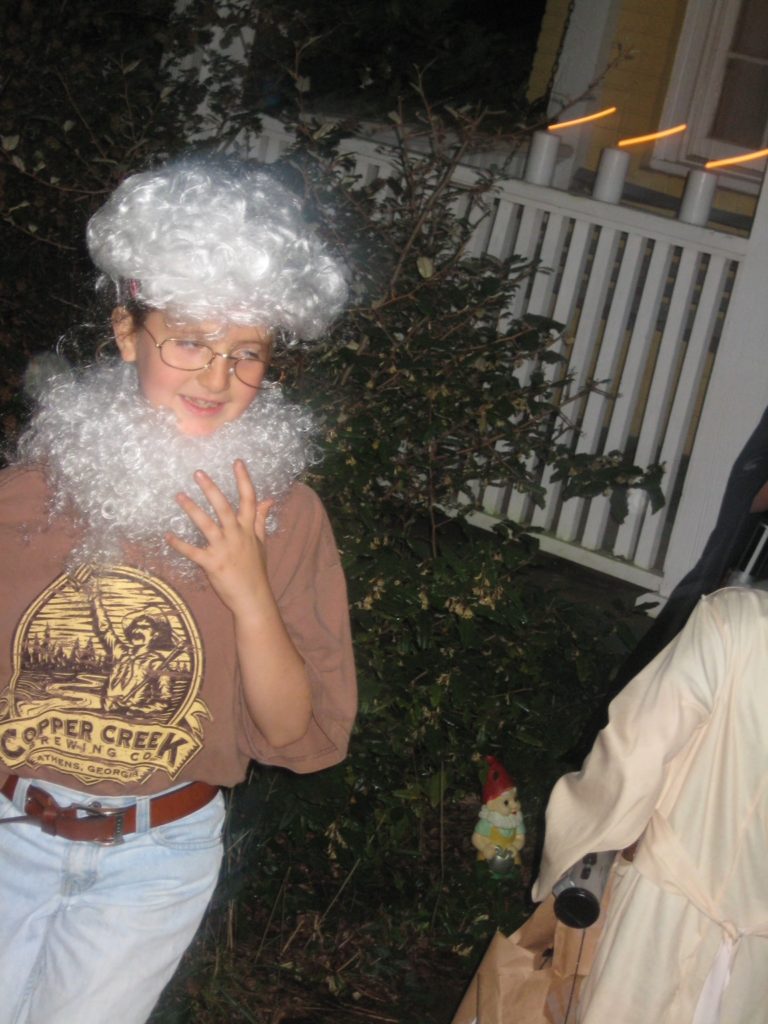 Jarrod S. Lipshy
Ort was a fixture. Any time you paid him mind, wherever he was, he had wisdom to share in spades, as well as random musings that bubbled out of his head to infuse with the ambience. His knowledge of old midwestern record labels was unmatched. I'll always admire his enthusiasm, and I'll never see an empty barstool in Athens without thinking of him. RIP to a legend. I hope there's a jukebox in heaven you can load up with bops… even if they may be a bit crackly.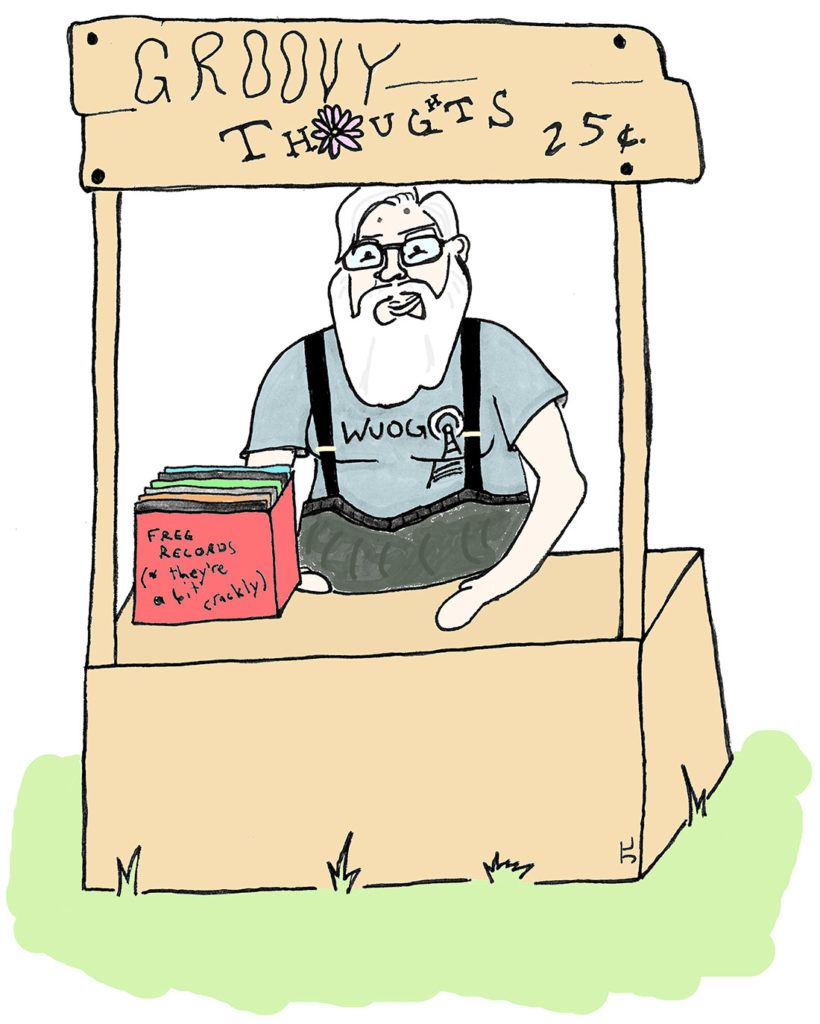 Bill Mallonee
What a treasure you were (and still are!). Our loss is Heaven's gain.
Someone mentioned the yellow legal pads that you always kept close at hand filled with Ort-notes, beer reviews and joyous ephemera.
I knew Ort from his old record store days. If my memory serves, I think his storefront was on Broad Street in the late '70s near the Gyro Wrap. We'd run into each other. He always, without fail, would have something kind and/or interesting to share. He knew SO much about SO many things. On street corners and in bars, he'd "hold forth" on some new discovery. He held knowledge as a gift and his friendships as "sacred trust."
And THAT is what true education should render within us.
And that's what I will always cherish about Ort.
His world was perpetually filled with wonder.
Dow Scoggins
Met Ort for the first time in 1990 in a bar (imagine that). I remember seeing him on the streets of Athens and giving him a great big bear hug and picking him up. Suddenly, [I] realized that I threw out my back, but I could not let him know it. He never knew.
Dena Chandler
After Ted Harty was murdered, my husband Chip Chandler became a partner in the business. The bar/restaurant had glass mugs embossed with the T.K. Harty's logo, and drunk frat boys were stealing them as souvenirs. Ort offered to stop the problem, so Chip made him guardian
of the mugs and paid him in beer and chocolate chip cookies.
Ort could be intimidating when it was needed.
FBM
I was on my first date in the summer of '86. We were having dinner at the gyro place downtown when an excited bearded man walked up and told my girl he had something she just had to see. Befuddled, I followed them out of the shop and down the street. The dude had some memorabilia from The Police in his car that he absolutely had to show her. After discharging this duty, he apologized for interrupting our evening. That was my first, but not only, experience with Ort.
Rick Crelia
I didn't know Ort well, but we saw one another enough around town that we'd always nod to the other, sometimes he'd bow slightly. For me, he was an ever-present gentle guardian force downtown, seen or unseen. Our first real conversation in The Globe, I sat down next to him one afternoon, escaping the heat, and we shared the next hour, with me mostly listening, and buying a round or two. I don't recall the details of our conversation now (this would have been the early/mid '90s), but I remember it being lively and can still hear his softly booming laughter. When he offered counsel, it was easy to listen. This happened once, maybe twice more before I left Athens several years later. I am fortunate for these few chances to be present with Ort, and wish him well on this next leg of his incredible journey.
Chas Kalus
I met Ort in '73ish. If not for him, I wouldn't know about Budwine, the tree that owns itself, Swamp Guinea, Paralyzed, Alice's Krazy Korner Kafe and so much more. Nor would I have spent hours in Ort's Oldies record store. My most unforgettable character by far.
Rocky Raffle
My Ort moment: I had the honor and privilege to personally deliver his emergency ballot in the hospital on Election Day back in November. The look of joy on his face was something I'll never forget. He was able to exercise his right to make his voice heard at the ballot box.
April Allred
I met Ort working at Harry's Pig Shop in the Beechwood Shopping center. I moved to Athens from Salt Lake City, UT, and when Ort was not educating me on where to grab the best beverage or meal in Athens, he was quizzing me on what Salt Lake City was like, and his memories of traveling to the midwest. I looked forward to his daily visits, sitting and chatting with him about what Athens used to be like. He helped [me] get to know Athens and feel welcome here. WE LOVE YOU ORT!
Sydney Wagner
I remember having a heart-to-heart with Ort about one of our favorite musicians: Phil Ochs. From that moment on, he would always give me napkins with music that I would like. And I will cherish every song he suggested and every album he gave me. Truly an inspirational man and a friend to all! Definitely my favorite bar regular. I am going to miss him dearly.
Keith and Erin Harris
Yellow legal pads, a bar stool, a beer and an ear, all Ort ever needed. My wife and I are of the "graduated and never grew up" variety. Our first job happy-hour destination was Copper Creek. Matt managed to cook the books and pump ABV above the blue laws of the time. We appreciated it, and so did Ort. I'll never forget 45-minute conversations that meandered from dear mother to Ralph David Abernathy, to an obscure radio station broadcasting out some crap town in Texas. Knowing Ort could be complicated, sometimes difficult; he may have loved my wife's hair a little too much. Still, you couldn't stay mad because…Ort. Cheers, buddy. I hope you found a stack of pads and a stool wherever you ended up. You will be missed.
Jim Baird
I was in Ort's J-school class in the day when not everyone had a typewriter. There was a big room full of those, not heavily used, so it was a good place to catch a desktop nap between classes if I had no pressing typing work. I often saw Ort there, banging away on keys.
When I asked him, naptime ruined, what he was working on, he told me he had a brother with whom he exchanged "gobbledygook letters." Letters that made zero sense. Way before David Byrne advised us all to stop it!
With such a title of course I did not ask to see.
But I was glad when he left the room so I could catch a few Z's.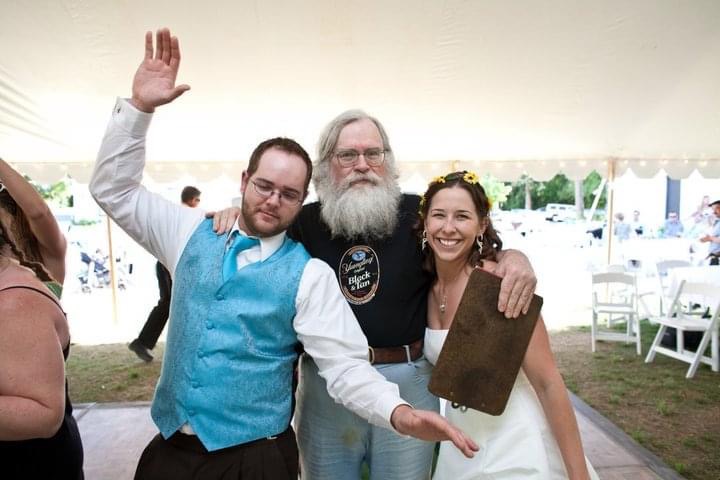 David Ferguson
Good Night, Ort
He was a man of great enthusiasms,
A genial, ambling dinosaur,
Cheerfully oblivious
To any extinction mandates.
A whole city's avuncular ambassador,
He knew your name and the county where you were born
Five minutes after you set up your gear and played your first opening set at the Downstairs.
He was a man of run-on sentences and long tangents,
An old school barstool sage.
He spoke an ecstatic glossolalia of RFDs, P.O. boxes, and zip codes
Deep into the night and morning.
He threaded the needle of being as country as a plate of scrapple
And as cosmopolitan as a wall of encyclopedias.
He was a man of great enthusiasms
Of expansive welcomes
And reluctant goodbyes.
He said things like "Golly!" and "It's a lollapalooza!" and meant them
From the tips of his toes.
He was a roaming homing beacon
And without him, it will be
That much harder
To find our way home
At the end of the night.
Good night, Ort.
Thank you for being.
Fred Schilling
When I was a young REM fan in the late '80s, my friends and I went to Athens to check it out. We'd pick up Flagpoles and read them voraciously, including Ort's regular column. I wrote Ort about my love for music conceived in Athens, and he was kind enough to write back and regale me with stories about the B-52s, Love Tractor, REM, etc. Other letters were about obscure and whimsical topics of his choosing. Included with his letters would be stacks of old Flagpoles for my brother and I to read.
Eventually, I attended UGA, but amazingly I never saw him during my stint in Athens but ran into him after the Georgia Theatre Beck show in 2006. He remembered me from two decades earlier. Growing older and wiser, I realized how integral he'd been in stoking my love for music, and for that I'll be forever grateful.
Meg Patton
"Ort. You know, Ort. He's Athens' Santa Claus, but his gifts are nuggets of wisdom and anecdotes." That was my first introduction to the legend. Not 20 minutes later I was serendipitously flung in conversation with the man himself at the counter of Little Italy. He had come to see my boyfriend who worked there, the late Matt Hudson, and grab a half sandwich. The two were in debate about some historical events' significance, and he turned to me with a quip and a smile and laughed his full belly laugh and introduced himself. "Hey little lady, I'm Ort. Didn't mean to bore ya, have you tried their fine $2 Miller High Life here? Best in town!"
That started a wave of bumping into Ort all around town. That man was always plastered with a smile, and always had a smart fact to share, and always left you feeling like you were somebody! He was a die-hard supporter of all things Athens. He was a die-hard supporter of the pursuit of knowledge, and he was a die-hard supporter of every single person he met in passing, whether he knew you or not. So Athens, live like Ort and you'll be living alright.
Tracy Stroud
Two of my most prevalent memories of Ort involve our dog Sophie. Christmas Day on 2018, we took her for a walk down Boulevard. Ort drove by and exclaimed, "Merry Christmas, Tracy! Merry Christmas, doggie!" It was such an Athens moment.
On Apr. 8, 2019, I had just received news that my sister who had [been] missing for over a week had been confirmed as officially passed. She wasn't a bad person; she was just broken. I was hysterical when I found out. My husband suggested that we get some air and walk Sophie. Ort was leaving Pulaski Heights BBQ. She barked at him, and we explained how she had been rescued from an abusive environment. Ort replied, "No need to apologize. We don't know her past entirely. She just needs to be given a chance and be loved." It was the perfect analogy for my sister. Thank you, Ort.
Austin Childers
I believe that each of us is a story, and we each play parts in other's stories. Every story is unique and lovely in its own right, but some stories can be so powerful and beloved by so many that they become something greater.
They become myths. They become legends. They become tales of epic proportions. They define cities and nations and cultural identity. They grow to exist beyond time and space.
Those who have woven Athens into their own stories would be hard pressed to tell it true without Ort commanding a scene, or act, or two.
So let us pause to recognize how much Ort has brightened our wonderful community. How positive and lasting his presence has been, how many stories are richer because he was in them, and how he has already transcended space and time in so many hearts and minds.
Rhys Lindquist
I almost can't believe the news about Ort's passing. I worked as a cashier a few years back and had the pleasure of meeting him many times. He always asked for the hand sanitizer that was at every register and used globs of it (and this was pre-COVID!) so much that I knew to have the bottle ready when I saw him. He would tell me that the card reader should have Basque as an option in addition to English and Spanish. Truly, truly a loss for this town.
Charles Names
Memories of Athens begin with going downtown to have a look around. At a shop where books could be found. The used variety and quality were sought. The Iliad and The Odyssey read back to back at my cave on Reese Street. Living in it. The cyclops, sirens and lotus eaters. The classics for pleasure and adventure. I kept going back to talk to this gentleman who was full of abundant knowledge and stories. Apple Cider to Frank Zappa, 14th birthday present being allowed to call his favorite composer. That's just a few. People didn't know the philosopher king they had until the king is no more. Athens was lucky to have him. Let there be plaques and an anniversary to celebrate this man's life. You only get one Ort to help golden your life for the better. Cherish him going forward.
Mark Weathersby
William Orten Carlton was a friend of mine whom I cared for a great deal. We spent lots of time together in Kurt Wood's garage digging for records or hanging out at Wu Og during our Community DJ shifts or while we Seized The Airwaves. He was always so kind to me.
My favorite moment in our friendship was one day at WUOG during a Seize The Airwaves DJ gig, he played a song I had never heard of. It was a soul song that had a familiar feel to it. When I asked Ort about it, he showed me the picture sleeve of the 45. It was a single by a duo named Derek & Cyndi. The name of the song was "You Bring Out The Best In Me," and it was produced by Thom Bell, who is my favorite music producer of all time! I had no prior knowledge of the song, and Ort told me the history about it and its chart history. I told him how much I loved Thom Bell and what a great track it was.
Fast forward to several months later, and we were hanging out at WUOG again for another Seize The Airwaves DJ gig. Ort came to me and said in his Ort-like exclamative voice, "I had a gift for you!" and it was a copy of the Derek & Cyndi 45 that he played. He said he had another copy and wanted me to have the record because he knew how much I loved Thom Bell. It's a gesture that was very touching and a moment I will never forget and will forever love him for.
Thank you so much Ort for your friendship and the wonderful times we had hanging out. You will be missed.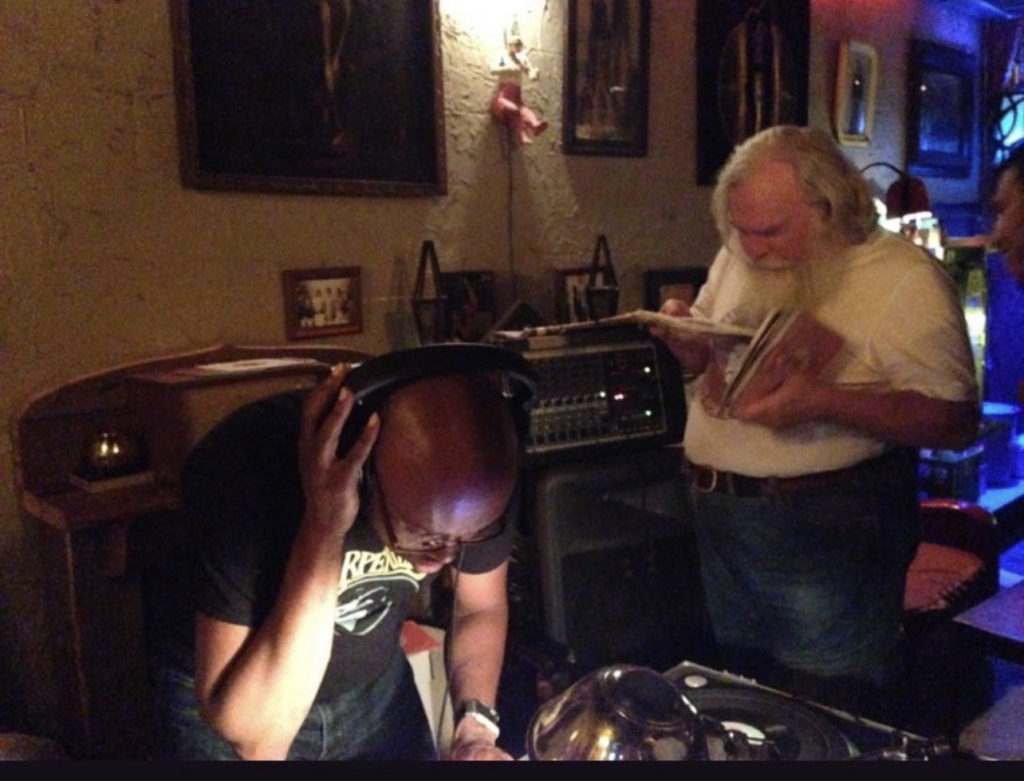 Jeff Fallis
Sometime in the summer of 2009 or 2010, I heard rumors about a huge donation of records that had shown up at the old Potters' House at Prince and Barber, mostly R&B and hip-hop 12-inches and LPs from someone who had worked as a radio station DJ in the '80s or '90s—lots of weird promo-only stuff, the sort of unlikely vinyl stockpile that emerges rarely, if ever. DJ Mahogany and I ventured to the Potters' House early one Saturday morning to do some digging and see what we could salvage from what hadn't already been picked over. I was feeling good about our early arrival time, but we quickly discovered that someone had beat us to the record crates in the back of the store: Ort.
He was sweating profusely and digging deep into the record piles, offering up loud, learned commentary about what he was uncovering (song titles, producer information, esoterica about label origins, etc.) as he flipped through the bins. I wasn't exactly sure if he was talking to me, or to us, or to himself, but the patter rarely ceased.
Somewhere during the second hour of excavation, we were startled by an extraordinarily loud and ecstatic exclamation from Ort's direction. If I had to render it phonetically, it would be something like ooo-OOO-ooo-OOOOO-OOOOOO—OOOOOOOOOOOHHHHHHHHHH!!!!! It was booming, rapturous, transported and honestly sort of unsettling: The kind of expression of pure, unadulterated joy one rarely hears from adults. Ort had apparently located an obscure 45 that he had been looking for for 32 years or something like that, and he rattled off the name of the group, the song and the record label (and perhaps the date it was recorded and released) in an only slightly less euphoric anaphora. (I can't remember any of the specific information, of course, but suffice it to say that no one had ever been as happy about locating this particular record as was Ort.) I remember looking over at some of the other shoppers who were slowly moving away from his radiating weirdness, unsure about where to go or what to do.
My interactions with him over the years were few, but I will never forget the sound of that howl of joy over whatever holy vinyl grail he had uncovered in the stacks of moldy oldies. Godspeed and R.I.P.
Steve Sacco
It's 1982, and I'm walking downtown, heading to the Mayflower for lunch. I suddenly noticed a classmate from high school that I had not seen in over three years. Delighted to see her, I ran up, and we embraced. We talked excitedly for a minute or two, then this big, bearded man she had been sitting with began to roar, shall I say, unpleasant vocalizations at me. It quickly became obvious that he fancied my friend, and that he was most unhappy I had shown up.
As any self-respecting hot-head is obligated, I roared back, throwing in some wild Italian gesticulations that would have won solid approval from my grandfather born on the southern end of the boot. Back and forth we went, teeth gnashing and spit flying. His prowess at hurling insults was staggeringly impressive. I hope he thought I was a worthy match, but it was easy to see that he had uncommon verbal aptitude. We angrily parted ways, my friend looking none too happy.
That is how Ort and I met one sunny day in the shadow of the Confederate monument downtown.
Occasionally we'd see each other someplace, like Barnett's News Stand or perhaps outside The Grill. Whenever we crossed paths, our hostilities would pick right up where they'd left off. This went on for over 20 freakin' years. Twenty.
One day he drove by me on Broad Street. His windows were down, and I plainly heard him shouting at me. It wasn't planned or contemplated; it just came out of my mouth somehow. I yelled, "Ort, friends, not foes!" He looked at me like I was a nutcase.
Months later I walked into Copper Kettle and saw him sitting at the bar. I walked up and sat next to him. He turned and stared. We stared. Eventually, I asked him what was on tap and what he recommended. He told me as if nothing had ever happened between us. We began to talk. And laugh. His knowledge of beer was remarkable, and so was his yellow pad full of scribblings. He'd been to my hometown in Connecticut some years before and even told me the name of the record store just off Main Street. The brews were on me that night.
And so we became friends. I saw him often. Neither of us ever mentioned the rocky 20-something years we'd experienced. We just did what friends do: drank beer, told funny stories and debated things like which record was better than another.
I say now of my once longtime enemy: Ort was a unique and intriguing soul. He was a real friend with a kind and loving heart. He was a man of towering intellect. He was a true treasure of Athens.
Bradley Spaulding
"Hold on, I'll be right back," Ort said as he shuffled out of the oversized red metal doors. When he returned, he was grasping a can of baked beans. According to Ort (and my 70-something-year-old parents) this particular brand of beans is the best in the country.
My family and friends were having drinks at Manhattan Café on a steamy June night in 2022 when I saw Ort walk in. He anticipated me flagging him down to talk and abruptly cut me off. "Hold on! I have to pee," Ort said while scurrying past the popcorn machine to the bathroom. When he came out, I introduced him to my parents.
As they chatted, a shared connection to upstate New York became apparent. At one point my mom mentioned that the best baked beans she had ever had came from upstate New York. "Grandma's Baked Beans, Mexico, NY," Ort declared.
I thought I would have to scrape dad's jaw off the sticky floor with the edge of my beer can. "Nobody knows about Mexico, NY," he said. As the conversation lingered, the topic turned to COVID and how the pandemic had caused the factory that makes the beans to shut down. "You just can't get them anymore," mom exclaimed.
Little did she know that Athens fixture William Orten Carlton kept spare cans of the flavorful legumes in his van. For what reason? Besides a chance encounter with baked bean aficionados at the Manhattan Café or a late-night snack, I don't know. But, within minutes he had gone to his vehicle and retrieved a rare and elusive can of Grandma's Baked Beans from Mexico, NY and handed it to my parents.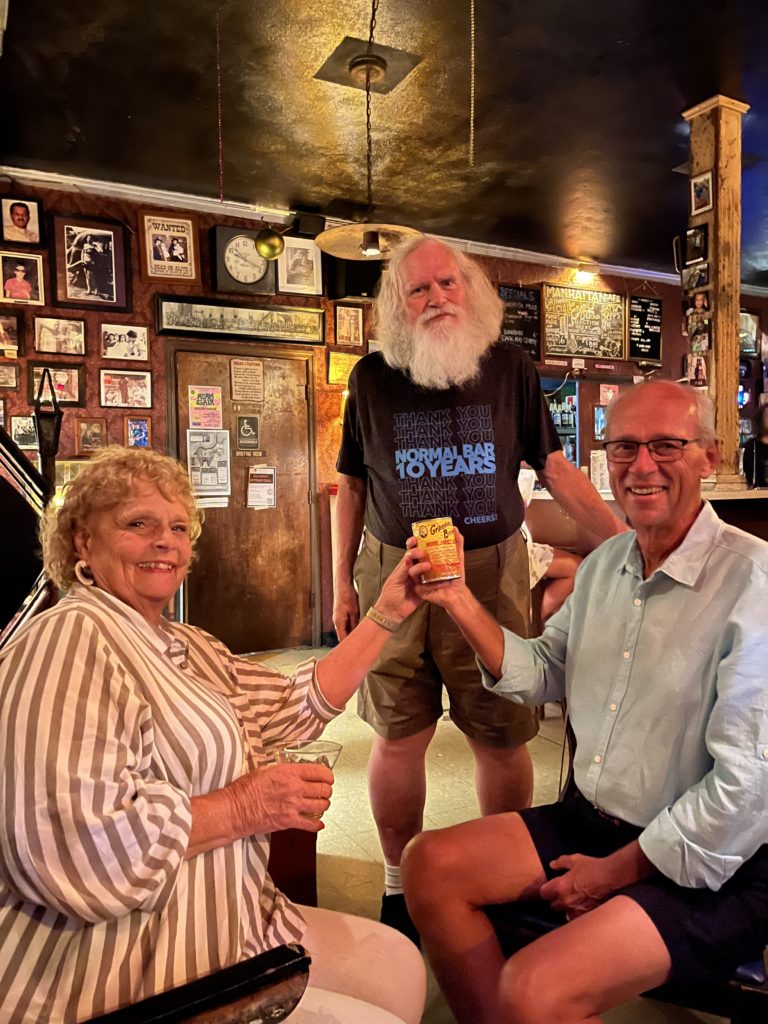 Katherine Kirbo
A friend from out of Georgia asked me about my post about that Ort guy and who was he and how it's blowing up social media. I found it challenging to fully and honestly explain Ort. He was sort of like a living, breathing mascot for all that is Athens, but it's more complicated than that. Ort was certainly an eccentric character you might read about in a book of Southern literature. I mean could you even think up a better Southern character than Ort?! A goofy mascot with a heart and brains… a big brain like a steel trap. (Ort knew every zip code in Georgia and beyond, encyclopedic knowledge of music, records, among many other subjects such as cemeteries and the people in them. Ort was always eager to tell me when he'd seen a Kirbo in a rural cemetery.)
He was certainly an ambassador for Athens and early on, especially for the flourishing music scene by his appearances in movies, TV interviews and a subject of paintings and photos. In the early days, Ort's rituals with his clipboard, collection of band flyers and set lists, meandering through all the music clubs every night seemed very business-like and clinical, but it really was his love of music and all the people in the bands that gave him the drive and discipline to do that every night for years. (Mixed in with some OCD.)
I learned he loved the individual musicians, too, in his own Ort way. Back in the day, late '80s or early '90s, my band Greenhouse was playing at the Georgia Theatre. (I'm not certain, but I think we were opening for the Violent Femmes.) Ort yelled at me from across the street saying he had been looking for me all over. He had something important he wanted to tell me. I thought he was going to say something terrible had happened. He wasn't sure if he should tell me or not, but he just had to because he hoped it would help. He heard through reliable sources that a BIG record company (major label) was coming to our show that night that was serious about signing the band. He wanted to make sure we gave it our best effort, and he was hoping to introduce us if it was cool with the club. He wanted to help and wanted us to have the best chance. That made me realize that Ort really cared about the people in the scene—the townies. He was like an ambassador for Athens, inspiring people to visit here, but he was also our champion. It seems that Ort's essence, or the word quiddity works well for him, got even deeper as the years went by. He was a symbol to many who have lived in Athens of why they love Athens. Ort never met a stranger. There are no truer words, and he was probably the most authentic real person I can think of—all quiddies and all. His friend-to-everyone quality was amazing really. He collected friends just like band posters and records. He touched the hearts of many near and far. Ort was really an elegant man for this quality—the divine collector of friendships. When listening to Allen Flurry's "Unscripted" interview with Coleman Parks on Rumi, he talked about the glory of friendship, and I thought Ort was a friendship savant and the best ambassador Athens ever had.
Sasha Snyder
Libraries are magical places. I should know; I am a librarian. It was in a library that I met William Orten Carlton. Those who knew him from a young age called him Billy, but the rest of us knew him as Ort.
It was 1997, and I was a student employee working the late-night shift at UGA's Main Library. This was the early days of the internet, and a middle-aged man with a beard would come in late at night and search the web. He'd occasionally chat with people, but for the most part he was there to absorb information. As we all know, he was a sponge and soaked up everything he learned. One night he offered to walk me back to my car. I declined. After all, I was 21 years old, and walking in the dark to my car with an older man was the stuff of Lifetime crime dramas. I mentioned it the next day to one of the librarians, and she said not to worry. He's Ort. Sort of a local celebrity. I'd probably learn some really interesting things from him. When he offered again, I took him up on it, and learn from him I did!
At first he would just walk me to my car, but over the months it evolved into me dropping him off downtown, where he planned on finishing the evening, and eventually I'd occasionally join him. We'd often sit in the car for a few minutes, playing a game of musical trivia, where I'd sing a few bars and he'd guess the song (always correct). Other times he'd tell me a story about something interesting that had happened in Athens. Sometimes recent, sometimes a hundred years before. He had stories! I don't remember a time though when the stories ever portrayed someone in a poor light. Never gossip, always history.
Back then I drove a gold Saturn, and he cranked up the bass so high to Nitty Gritty Dirt Band's "Fishin' in the Dark" that it blew out the speaker. "They don't make speakers like they used to," he laughed. I told him once I'd fallen in love, and asked him for a beer suggestion to get my boyfriend. Ort asked what he liked to drink, and I said quite honestly that I didn't know. He laughed, patted me on the back, and said, "Well girl, if you don't know what type of beer he likes, you probably don't know him well enough to marry yet!"
Ort knew everyone, and as the years went on, the amount of people that knew and loved him continued to grow. He would road trip for beer and music, and share his adventures with us through his writing. I moved away from Athens, as so many of us do, but nine years after I'd last seen him, I bumped into him—in the library again—on North Campus. This time early on a weekday. He remembered my name. We hugged hard and grabbed a bite to eat to catch up. Five minutes after we parted, he sent me a friend request on Facebook. Ort's story took on new life via Facebook! He'd post where he was headed for a beer, or to catch up with some people, or who he'd seen. I'd drop into town to visit and check his post to see where I could find him, for a few minutes to chat and learn something new.
In 2015 he ended up in jail overnight for a messy yard, and I wonder if that was the first time he realized just how many people's lives he had touched, as the support for him was immediate and tremendous. The community rallied around him. His yard was cleaned. Some beautiful photographs were taken of him. And there was one more story to add to the many of Ort in the history of Athens.
There is a line in Midnight in the Garden of Good and Evil, and although it is about Savannah, I feel it applies to Athens as well. "The ordinary became extraordinary. Eccentrics thrived. Every nuance and quirk of personality achieved greater brilliance in that lush enclosure than would have been possible anywhere else in the world."
Here in this enclave of music and knowledge and southern hospitality, a city was gifted with the beautiful soul of Ort Carlton. His personality achieved greater brilliance with each life he touched, with each story he told, and with each person that went on to have their own story of the man, the myth and the legend. Our friend in the random T-shirts and suspenders, with a beer in hand and laughter in his voice.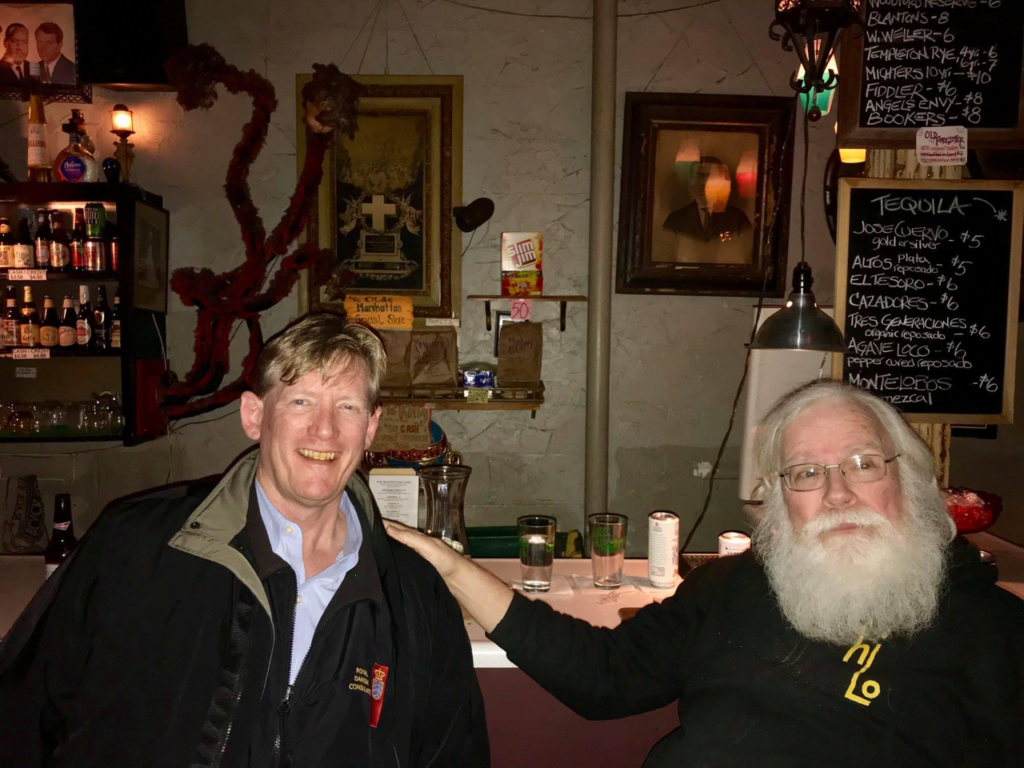 Diane Aiken
I met Ort in 1982, I'm guessing. I was a bright-eyed but shy freshman who didn't know a soul, struggling to find my place in Athens. It may have been at Barnett's, my favorite place to hang out and read obscure magazines, especially anything about music. I always loved music, being heavily influenced by my decade-older hippy siblings (all were art majors at Berry College in Rome). I was just beginning to discover the music scene in Athens, eventually finding my home away from home at the 40 Watt (my father asked me if I got my degree there). Ort, who never met a stranger and collected friends like he collected arcane vinyl en masse, immediately took me under his voluminous, often sweaty wing. When he found out I was from Wisconsin and came from a long line of brewers, he was doubly delighted and adopted me as his own. I grew up in Whitefish Bay, a suburb of Milwaukee where my dad worked at Miller, but both my parents were from La Crosse, where my grandfather was the president of Heileman's. Dad sent me a bunch of obscure old beer cans, including a few very rare cone tops to give Ort. He was ecstatic and proceeded to tell me everything imaginable (as Ort was wont to do) about each brewery, town and particular beer.
Ort and I worked (if you could call it that) together at Tasty World with whoever founder and editor David Pierce could get to work and/or write for free—Kurt Wood, Kathleen O'Brien, Clare Butler (her hysterical "Dear Dixie" advice column), to name a few. Still a painfully shy music lover, I wrote under my nom de plume D. Loring Aiken because I didn't want anyone to know who I was. Anyone who knew or sort of knew me just called me Diane. But Ort always and forever called me Loring. Sometimes, D. Loring. He would always bellow "LORING!" like I was the one person in the world he wanted to see and talk to and give me an enormous (((HUG))) (as Ort would always write it) that would literally lift me off the sidewalk. I cherish the memories of those massive bear hugs. Alas, I eventually graduated, reluctantly grew up and left Athens for Atlanta. But I'd still find any excuse to make regular pilgrimages to Athens over the decades, especially for a good rock show. But a trip to Athens wasn't complete without a de rigueur visit with Ort. And, of course, a giant hug and a beer or three.
The last time I saw Ort was at The Manhattan the night of [the] Wax n' Facts midnight party celebrating the 40th anniversary of R.E.M.'s "Radio Free Europe" first single. He, as per usual, gave me a huge hug and regaled me with some story I now wish I could recall. He was so happy to see me and for me. He told me to bring my husband Greg the next time I came to Athens so he could hug him, too, for making me so happy. This is the picture and memory of Ort I want to remember—joyful as usual, hopefully healthy and as always full of love.
I went to see Ort at St. Mary's the morning after I had danced to every song front and center in the pit to B-52's show and seeing countless old friends. I ran into the B's soundman, Frank, leaving the hotel. He told me they had live streamed the show especially for Ort in his hospital room. This and Fred dedicating "Rock Lobster" to Ort made me so happy. But when I got to the hospital, a nurse told me he was in surgery. I burst into tears, not knowing why he was in the OR. I asked if I could leave a note, which I was writing in his room when another nurse came in. She saw me crying and told me (HIPPA be damned, I guess, but I was grateful) that he had broken his arm. I was so relieved, I started laughing and said, "No doubt dancing too wildly to the B's!" I wanted to and [had] every intention on coming back that afternoon, but my girlfriend had to get back to Atlanta for work. I called the next day; he was still sharp as a tack and ever articulate, but tuckered out. I'm glad I got to hear his voice one more time, weak as it was—not the bombing bombast I'll always hear in my head. But it breaks my heart that I didn't get to say goodbye in person to my dear friend.
The day Ort left this mortal coil, I had spent the morning in my basement going through boxes of Athens ephemera, sorting stacks of dusty Tasty Worlds, postcards and cryptic notes—anything and everything Ort to compile a stack o' stuff to take to him. When I read the devastating news, I wept—hard, ugly, sobbing tears. I had missed saying goodbye. I was/am devastated. The day I dreaded had come—and I still wasn't ready. I've cried about a million tears since that sad day. I am forever grateful to friends who kept in touch to keep me updated about our beloved friend—patron saint Orten of Athens. Athens, nor I, will never be the same without him. I'm forever thankful for the honor and privilege of calling Ort my friend.
Rest well dear man. I will see you eventually, sooner than later. Save me a stool.
Wholebrokenheartedly,
Loring
Dustin Emenhiser
Seventeen years ago, not long after my older/old-enough friends during the tail end of the muddy-ish 2000s era of Athens' music, bar and bike nights at Baldwin Street Blind Pig had deemed me just smart enough to bring me along for drinks at our now faded favored memory hangouts.
It was Hi-Lo where Ort first got my attention, and he did so purposefully in the friendliest and only manner that Ort himself was unique enough to do. At the time, I'd been sporting a foot-or-so tall liberty-spiked mohawk, likely dyed using random Kool-Aid packets (that said because it will be relevant soon). I'd sat down at the bar, ordered a howdy, and was drawing on a napkin waiting for a friend before ordering the usual Reuben. Well, from my left I hear, "My, I hope it's safe for me to assume you drive a convertible." I glance over, and see the always thereafter same friendly, welcoming face and eyes engaged with mine. I reply, "No sir, but I do tend to have to open my sunroof so I don't get a kink in my neck." He laughed and said, "If you don't mind, may I tell you a story about a dear friend from several years ago who had a similar hairstyle as yours?" At some point not too far from the beginning, his story segwayed, right-turned, left-turned, U-turned, did donuts in an intersection, and eventually became, "Oh, I must apologize… I've just realized my initial reason for borrowing your attention was because your hair reminded me of an old friend of mine. Well, that's past due now, I suppose. Tell me, what music do you most often listen to?"
About 45-or-so minutes of listening to our pal Ort's encyclopedic music/Athens history and waiting on my very late friend to arrive, I'd interrupted him saying, "Hey man, sorry to interrupt you, but 1) I'm about to go smoke and wait on a friend, 2) what you've been saying so far is rad, but your right and left turns keep throwin' me off, and I need to walk outside and let my brain collect itself and figure out how what all you've been telling me ties in together. Please don't take that as an insult… after I smoke, I'm going to sit down right here and want you to continue where I've cut you off at, if that's cool?" Well, Ort wiped his mustache and beard, jotted something down, and says, "My name is Ort, and I would love to tell you more when you come back inside, young man. By the way, I appreciate you being blunt, or forward and to the point. Honesty up-front seems to slowly [be] more and more frowned upon. Not to hold you up before your exit and return, but I will add: I've learned that most people don't usually welcome that 'right then' forward honesty… So, what I do is lead off with 'If you don't mind me being very honest for a moment"… and most often, they don't get mad. It's wonderful! Anyways, I'll make sure your seat is saved and open when you come back inside."
Over the years, at all of the places, he and I always made it a point to say hello, how ya' doin', etc., even if one or both of us were already eyeballs deep in conversation with someone else.
Of all the places I've been, folks I've met, acquaintances made and friends gained… As I'd told the one and only himself plenty often, Ort was by far one of the oddest, unique and sincere of all of them, and definitely one that I'd never encounter again anywhere else.
We'll be sure to "Keep Athens Ort," my friend, because as we discussed, "Keep Athens Weird" isn't weird enough.
Blunt and honestly yours,
E-Man.
Julie House
When I first moved to Athens as a very young person in 1980, my first friend was Jimmy Ellison. He was a sweet, funny, goofy man-about-town, and he played bass in the Side Effects. He took me (and many, many others, I learned) under his wing and introduced me to everyone. And I mean everyone. We'd walk down the street, heading to Helen's for lunch or Chapter 3 for records, and he'd say hi to every cool person we walked past, then, "This is my friend, Julie." I remember meeting so many people that way, people who later became close friends.
Jimmy told me about shows and bands, and often took me to Tyrone's as his plus one. He was a dear, dear person. And he introduced me to Ort, his best friend. Jimmy and Ort were cut from the same cloth: friendly, charmingly awkward, both of them jokers with the same weird sense of humor. Whenever they ran into each other on the street, they had a ritual where they'd toss goofy insults back and forth until they ran out of ideas. "You macaroni elbow elbows!" is the only one I remember, but you get the idea.
I went to Paris in the summer of 1983 for a study abroad program. My friends and I, including Jimmy, wrote letters back and forth all summer, and in August when the program ended, I went on a side trip with school friends, leaving my suitcases at Mme. Mermet's apartment in Montparnasse. When we came back through Paris to get my things before heading to Brussels for my flight home, she handed me a letter that had come a week prior. I read it in the cab on my way to the airport. It was from Jimmy, and in it he told me, "This is the strangest letter I've ever had to write. I'm in Athens General, where I've been diagnosed with a brain tumor." I just felt sick, like I had a deep pit in my stomach.
When I got back to Athens for fall quarter, we met up and talked about what was going on. He was very positive about his recovery. That fall he was in and out of the hospital, and in my young naiveté, I assumed he was getting better. But eventually that winter he went into the hospital and didn't come out. A lot of people went to see him, but I couldn't. I hate myself for it now, of course, but I just didn't know how to do that, visit a dying friend… what did you say? How would he look? What was I supposed to do? I reassured myself that he was receiving plenty of visitors, and of course Ort was there most every day.
Even when things began to look particularly bad, I still put off visiting till another day. But one night we were all at the 40 Watt, seeing a band I can't even remember. I saw a lot of people outside talking to Ort and looking really distraught. I couldn't accept it, but I knew. Finally I went out. Ort was crying, which I'd never seen. He said, "It's Jimmy," and I said "No!" and ran back inside. Ort came in after me, and I just kept shaking and crying. He didn't say anything but put his arms around me and pulled me into a tight hug. I cried and cried into his shoulder, and he just held onto me, crying with me. I have never felt so comforted before, and after a few minutes, I was able to get a Kleenex and go outside to be with the other friends who were in shock and mourning.
That moment defined something for me that in later years made more sense. It's hard to put into words, but I think it was a realization that I was an adult, and that people who weren't my parents could console me and comfort me. I also saw Ort in a different light, not so much an "eccentric" or, as he himself says in that Athens movie, "a caricature," but a good soul, with hopes and dreams and warmth and love. I can't explain it any better than that, but in the years since, I never forgot that firm embrace of pure love.
I mourn that now, more than that long-ago time, more than my youth, more than the passing of a legend of some sort. I miss the spirit inside him, and the person he saw in me. And I wish I'd spent so much more time in his presence. Love your people; hug your people; listen to your people; make time for your people. I am still learning this.
Henry Porter
The obits are fast and furious this month. Another Athens icon has slipped the coil: William Orten Carlton has passed at the age of 73.
Our first day as residents in Athens, me and the missus were waiting to get a document from a teller at Wells Fargo Bank and were next in line after Ort, who without introduction, hesitation or prelude of any sort started telling us about some records he found stashed at the bottom of the pile of clothes (fill a garbage bag for a dollar) at the Potters House Thrift Store. When he took a breath, we both pointed at the unoccupied teller window and noticed the teller wince as he headed toward her and tried, unsuccessfully, to cash a check for $1.37, which was declined because he had an account that required a minimum balance of $5. The negotiation went on for at least a half hour.
You'd run into Ort everywhere, though. At The Globe, in the library, or parked in front of the records or old magazines in another thrift shop near the 40 Watt Club when it was on Clayton (or Washington? long time ago, now). . You could never be sure if he was a customer or employee at any of these because he always acted like he owned the place.
Rest well, weirdo.
Like what you just read? Support Flagpole by making a donation today. Every dollar you give helps fund our ongoing mission to provide Athens with quality, independent journalism.