Since its first broadcast on Oct. 16, 1972, UGA's student radio station, WUOG 90.5 FM, has been an invaluable place for musical discovery, experimentation and community. With a motto of "26,000 watts and almost as many choices," it's a dynamic, ever-evolving outlet that can potentially flow between the lands of indie pop, hip hop, doo-wop, psychedelic rock, emo, electronic and beyond, all within the span of a few hours. WUOG not only introduces listeners to new ideas and artists but empowers students to find their voice and develop their skill sets.
With the exception of a long-held tradition called "Soft Scaly Underbelly," a free-for-all shift when virtually nothing is off limits, DJs have been steadfast in adhering to a music philosophy implemented during the station's early years. Positioning itself as an alternative media outlet, WUOG digs deeper past commercially successful artists in order to prioritize lesser known ones who may benefit more significantly from the exposure airplay offers.
WUOG's programming is a reflection of the diverse interests and goals held by its current student volunteers. The station accepts submissions from musicians both near and far, and these tracks are reviewed by staff before entering rotation or automation, with fingers crossed. DJs also have the opportunity to host talk shows and specialty shows, designated blocks for specific genres, topics or themes. If past shows featuring live ASMR or Dungeons and Dragons fantasy roleplaying are any indication, WUOG is remarkably open-minded when it comes to lending its platform. This semester, staples such as "Halftime Hip-Hop," "The Boiling Point" and "Liner Notes" are interwoven alongside "PC Explosion," "Blue Ridge Road Trip," "Animeniacs" and "LGBTQ-ties."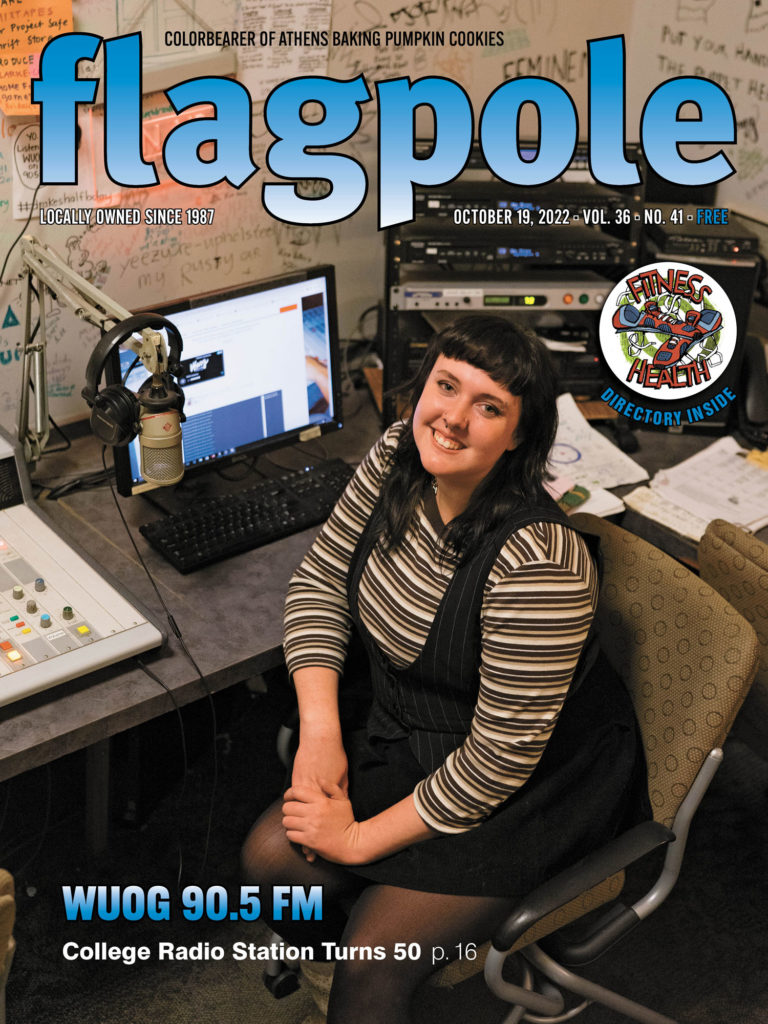 "Outside of the obvious role we serve musically, being an alternative radio station that's built on uplifting smaller artists, we provide a space at UGA where a lot of people find community in," says Caroline Smith, the station's general manager. "It's a break from the typical football, Greek life-centric environment people tend to associate with the school and lets people get introduced to a huge spread of really awesome people and subcultures in Athens."
Currently, the station is led by an executive board of 16 members who oversee specific aspects of the station: programming, music, local music, training, news, sports, operations, internal and external affairs, publications, digital media and community outreach. There are approximately 50 active DJs and a total of about 100 station members altogether. 
Largely self-directed, WUOG relies on a system of volunteers training volunteers, all of whom inevitably turn over every few years after graduation. This perpetual learning curve presents challenges, but also ensures that the station recruits fresh perspectives and remains adaptable to change.
Aside from the station's physical relocation from Memorial Hall to the Tate Student Center in 2009, perhaps the most significant change over recent years has been the implementation of automation, a standard industry practice that broadcasts programming in the absence of a human operator. Roughly a decade ago, the station was still staffed with live DJs 24 hours a day, seven days a week. Graveyard shifts were considered a rite of passage, and it felt completely appropriate to bug the next DJ if they failed to wake up for their 5 a.m. shift.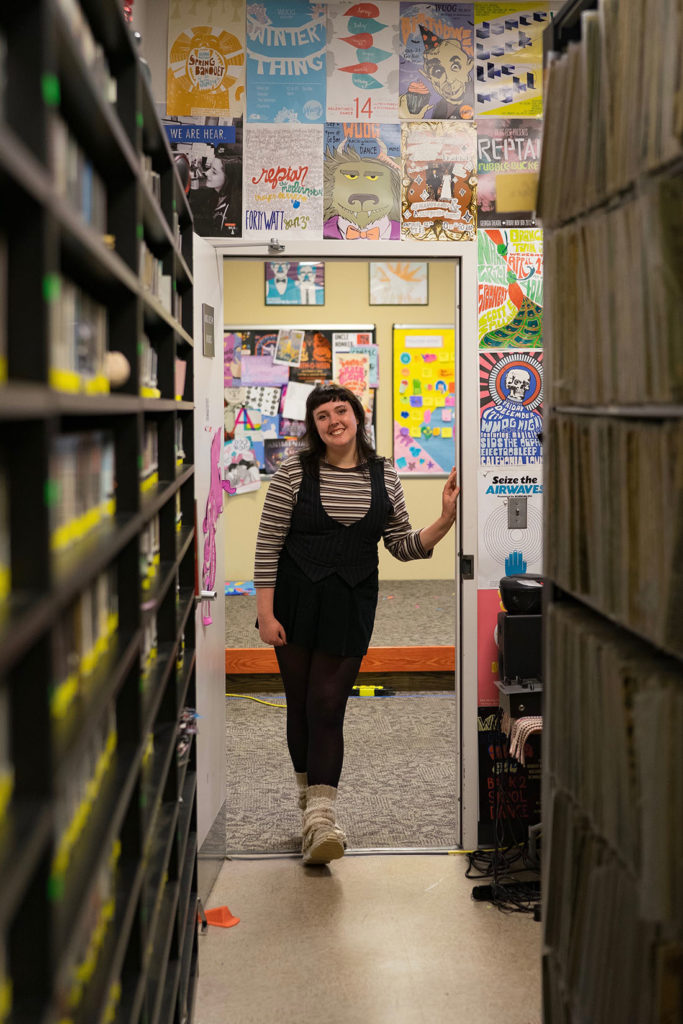 Automation generally pales in comparison to the personality of on-air hosts and variety of hand-picked selections, but it offers a convenient way to relieve staff from working around the clock. Initially intended to be used during scheduling gaps, academic breaks or emergencies, the automation system became essential after UGA Student Affairs decided to prohibit after-hours access to the building. During the pandemic, automation—in combination with earnest efforts at remote broadcasting—made it possible to remain on air despite social distancing and campus closures.
"COVID hit us hard, and it's definitely been a work in progress to see the station's full potential in a world that's shifted pretty dramatically," says Smith. "We had to adjust to no in-person activities for a couple of years, and now we're navigating balancing public health and people's desire to actually be present in the station and have events. It's not all bad though, contrary to what a lot of people might believe. WUOG was due for some changes, and this has given us a really great way to build the station up in the way we want. We get to first-hand mold it to what we want it to be and really represent the things we care about."
While WUOG has launched the broadcasting careers of many alumni over the years, it has also prepared just as many students for roles in music journalism, production, event planning, public relations, podcasting and other creative pursuits. As media and entertainment industries rapidly shift, thereby constantly changing how listeners consume content, station leaders are envisioning new ways to engage audiences. On-air programming is supplemented with album reviews, concert and festival coverage, interviews and other online content, as well as special events.
"I think the thing that's really helped us stay relevant is that we're not just a radio station," says Smith. "Radio simply isn't the media of choice for the majority of the population, and it's the same for us as it is for any commercial radio station. Having our broadcast available online is a great way to reach people we usually wouldn't, but the real thing that helps us withstand the evolution of media is that we offer shows, a space for musicians, and a community in UGA and Athens. WUOG is a household name for plenty of people in town, and as long as people keep talking about us and being a part of what we do, we'll continue to be an important fixture in the Athens music scene."
Local musicians are regularly booked for "Live in the Lobby," a twice-weekly broadcast that also welcomes in-person attendees every Tuesday and Thursday at 8 p.m. Following recent visits by Flick, Blunt Bangs, The Echolocations and Drew Beskin & The Sunshine, October's lineup will continue this week with Candlelight Cassia on Oct. 20 and Annie Leeth on Oct. 25.
In celebration of the station's 50th anniversary, WUOG will host its annual "Birthoween" party with Nordista Freeze and Monsoon at Legion Field on Saturday, Oct. 22 at 6 p.m. A panel discussion, "Talk about the Passion—WUOG at 50: Looking Back and Looking Ahead," will be offered the day before on Friday, Oct. 21 at 3 p.m. in Studio 100 of the Journalism Building. Various other events geared towards alumni, including a private event with birthday cake, karaoke and Pylon Reenactment Society, will be held throughout the weekend. Find the WUOG Alumni Association group on Facebook for details. 
Editor's Note: Jessica Smith volunteered at WUOG from 2007–2010, serving on the executive board as Operations Director, Programming Director and General Manager. She was the host of "The Boiling Point" and "The Wrecking Ball."
Like what you just read? Support Flagpole by making a donation today. Every dollar you give helps fund our ongoing mission to provide Athens with quality, independent journalism.