Today, Athens thrash metal band Weaponized Flesh shares "Trash Clairvoyance," the second track off of the forthcoming EP, Hurtful, which is slated to be released next Friday, Oct. 28.
Weaponized Flesh took root in early 2019 when guitarist/vocalist Kris Deason (Outersea, Dark Meat) and drummer Jason Griffin (Apparition, American Cheeseburger) began jamming some thrash riffs, later bringing bassist John Lukas (Thrüm, Cop Dope) and guitarist Kemp Stroble (Yallweh, Ya'al H'ush) into the fold. With plenty of musical chemistry already in place—Deason, Lukas and Stroble have all previously played in Hot Fudge together—the new group hit the ground running and performed their first live set that summer at Slopfest. 
Hurtful follows the band's debut Demo 2020, which was recorded and mixed by Al Daglis (McQQeen), then mastered by Will Killingsworth (Orchid, Ampere) of Amherst, MA's Dead Air Studios. After an initial batch of cassettes from Athens ex-pat Steve Miller's label Hail Shitar sold out, the EP was re-released with a B-side of live tracks recorded by Sloan Simpson at Caledonia Lounge.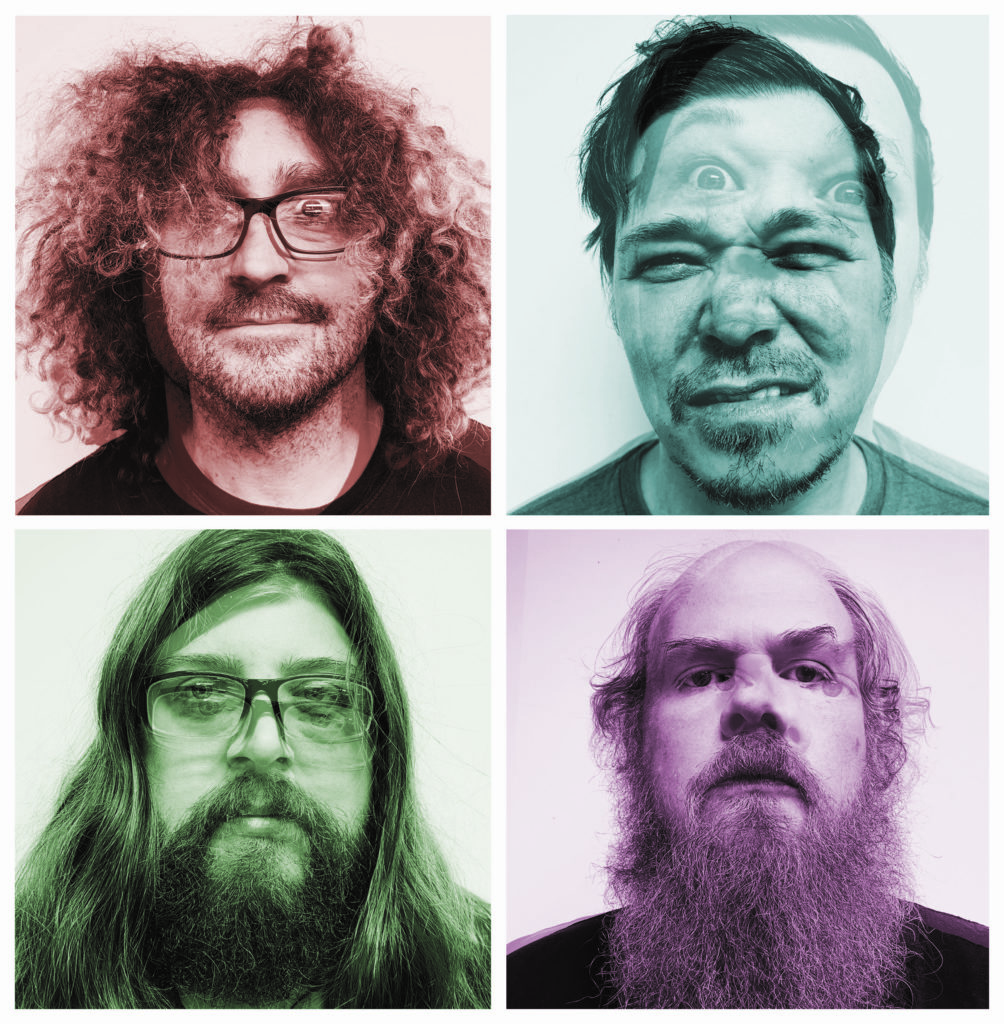 "We really love these songs and definitely think we've expanded on the songs and ideas of the Demo 2020 EP, yet it still maintains the feel: fast, heavy and loud," says Stroble.
This time around, Stroble recorded the new songs himself between Kindercore Vinyl and his home studio. Hurtful will be available digitally at weaponizedflesh1.bandcamp.com and on green cassettes with demonic cover artwork by Klon Waldrip. 
"This EP is the first 'proper' recording I've ever done, i.e. first that's ever been released," says Stroble. "I'm pretty stoked on it, and think Jason Roach's mix and Will Killingsworth's master really went along in making it sound IMO pretty great. We're pretty happy with it anyways!"
Weaponized Flesh will perform at The Fest in Gainesville, FL next weekend before returning to play with ConSec and Deliriant Nerve at Flicker Theatre & Bar on Monday, Oct. 31—one of surprisingly very few shows happening on Real Halloween night. An album release show for Hurtful will follow on Friday, Nov. 18 at Flicker with Beast Mode and NeverFall.
Weaponized Flesh's Upcoming Dates
• Oct. 27 at The Catacombs in Atlanta: Triangle Fire, Saddam Death Cave (Atlanta), Pariah (Orlando, FL), Rat Stick (Daytona, FL) and No Coffin (Miami, FL) 
• Oct. 29 at Mom's OG in Gainesville, FL: The Fest with No Coffin, Ex-Boogeymen (Gainesville), Stunner (Gainesville), Children of the Reptile (Wilmington, NC)
• Oct. 31 at Flicker: Halloween with Deliriant Nerve (D.C.), ConSec and DJ Christee Darling 
• Nov. 18 at Flicker: Album Release Show! Shadebeast Presents with Beast Mode and NeverFall (Greenville, SC) 
Like what you just read? Support Flagpole by making a donation today. Every dollar you give helps fund our ongoing mission to provide Athens with quality, independent journalism.