Originating as a one-room, one-of-a-kind boutique vinyl shop specializing in heavy sounds of the underground, Shadebeast has since morphed into a booking and promotions company as well as a lifestyle brand for metalheads. Wholly dedicated to cultivating the metal community, its focus centers around representing independent artists and connecting underserved audiences.
This weekend, Shadebeast will celebrate its five-year anniversary at Flicker Theatre and Bar with sets by Somnuri, Canopy and Dead Vibes Ensemble on Friday, June 10, and Monte Lunda, Dead Hand and Husk on Saturday, June 11.
"In the early years it seems like we'd raised a banner that united a lot of the local metal community and was a statement that we are all here," says Shadebeast owner Joe Eldridge. "We started putting on shows expressly to support local bands and grow the metal scene as best we could… We want to keep the faith alive, that heavy music thrives here and there's a reason to come to town for shows."
Shadebeast's storefront has bounced between several locations since its inception, but has remained a stalwart anchor of the local music scene through its changes. Eldridge initially launched the business as an e-commerce site while he established wholesale accounts with labels and distributors, then turned a spare bedroom of his home into a prototype space where he could stage promotional photographs and store inventory. As word began circulating and more and more metalheads began requesting appointments to browse, the time came to officially open a public retail shop at Chase Park Warehouse, where the business remained for roughly two years.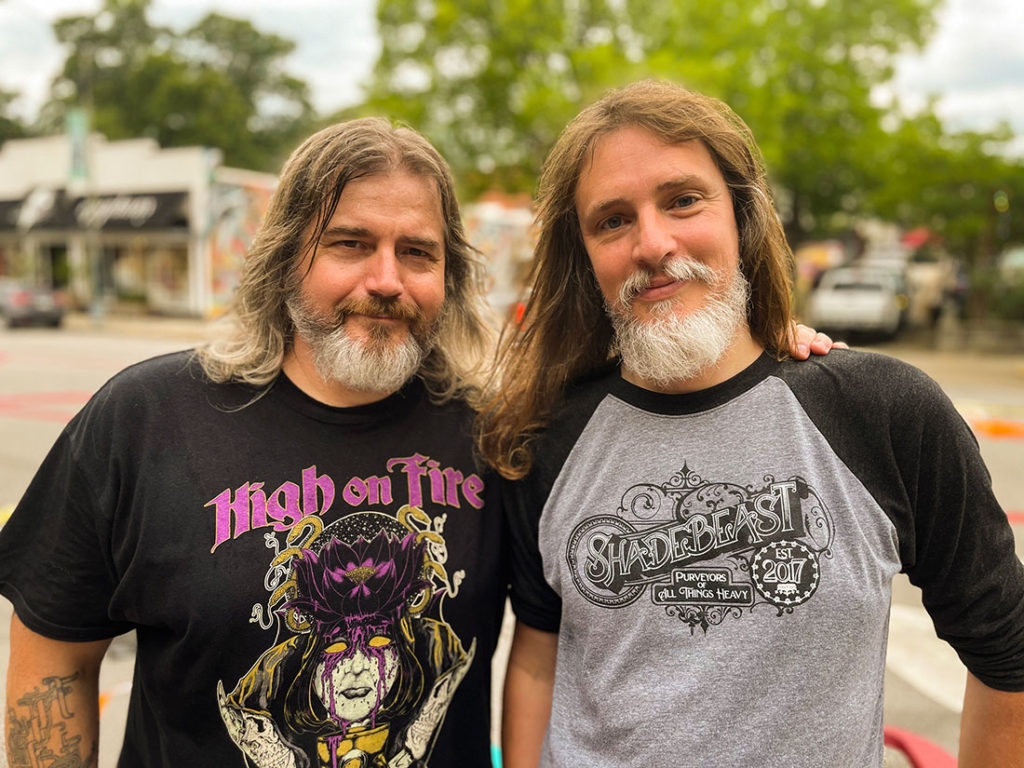 Shadebeast then relocated to a basement space downtown on W. Broad Street. With its decor of animal skulls and inverted driftwood crosses, the underground spot was perfectly set up to accommodate foot traffic, a talk show series and in-store performances—plus serve as a greenroom for touring artists performing at larger venues—but ambitions were abruptly cut short when the COVID-19 pandemic barreled through town, leaving non-essential businesses shuttered with rent still due. After an eight-month hiatus, Shadebeast reopened on Chase Street at the edge of the Boulevard neighborhood, operating primarily as a social club until its closure.
Currently, the record shop is back to operating virtually at shadebeast.com, and continues to specialize in new releases mined from the various realms of metal: doom, sludge, stoner rock, thrash, black metal, death, hardcore, "regular ass heavy metal" and more. 
"We're super thankful for the business and support we get [online], but everyone wants the brick and mortar store back," says Eldridge. "Once society seems to have stabilized again, I have no doubt there will be a new retail space."
Shadebeast Presents, the business branch responsible for booking and promoting shows, is spearheaded by Markus Shaffer. After becoming friends with Eldridge during his weekly visits to the Chase Park shop, Shaffer and his band, Dead Vibes Ensemble, were invited to perform at the very first showcase.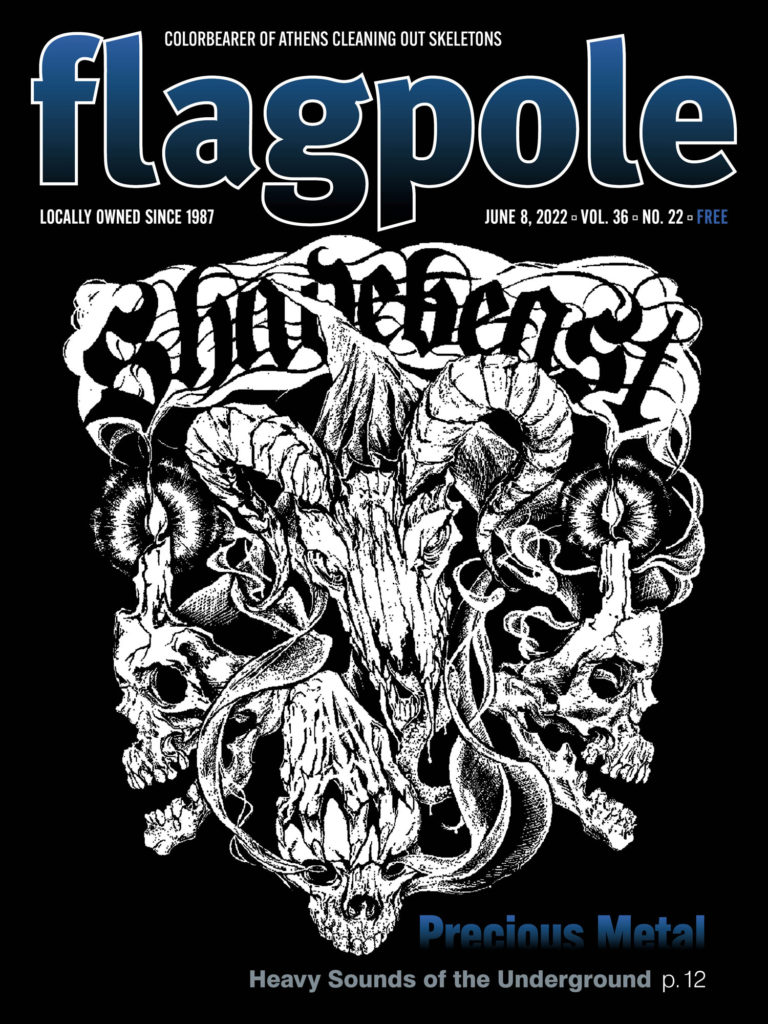 Prior to the pandemic's onset, Shadebeast had found its groove by hosting two or three shows per month. Booked by Shaffer alongside Daniel Shroyer and Olga Fouche, these shows were primarily held between the World Famous and Caledonia Lounge, the sore loss of the latter now filled by Flicker.
"My experience when I first moved here was that Athens had incredibly good talent in the metal scene, but it felt disjointed," says Shaffer. "Shadebeast has given many of the local musicians and bands something to rally around."
Considering Shadebeast to be a labor of love, Eldridge's primary day job covers his living expenses, which affords his passion project a certain level of financial freedom to take risks. Shroyer, for example, produced the Shadebeast Noir Series, a beautiful collection of handmade cassettes sharing new releases by the likes of The Sundering Seas, Sacred Bull, Beast Mode, Horseburner, Ether Coven and others. Shows, meanwhile, often follow a formula of grouping one out of town band, one established regional act and one emerging local. With a goal to help cultivate the scene, Shadebeast has facilitated the live debuts of new bands such as Paratheon and Kettle to Wake.
"Outside of Athens, the name has steadily grown and become synonymous with underground metal," says Shaffer. "We definitely get booking requests from way more touring bands than we can realistically accommodate. However, we've worked hard to make playing a Shadebeast show something special for both local and touring bands."
Recognizing the challenge of competing with higher population cities like Atlanta, Shadebeast instead focuses on building a positive reputation among everyone involved. Shadebeast's revenue essentially funnels back into itself to ensure that performers are always fairly compensated, regardless of how many bodies fill the room. Payment to bands is also partially covered by street team memberships, which offer various perks and swag in exchange of donation options that range from $6.66 to $666.
Beyond selling records and booking shows, Shadebeast exists as a streetwear brand and lifestyle retailer producing creatively designed apparel by guest artists such as Christopher Parry, Jonathan Guzik, Sam Balling and David Paul Seymour. Appearing on the cover of this week's Flagpole, Shadebeast's "Demon Crest" was designed by Eldridge's daughter, Sophie, and has remained a popular illustration over the years. Max Siebel, an old friend of Shaffer's from New York, has also created an "Undead Series" that playfully pays homage to legendary heroes of the genre. For members of a subculture looking to connect over shared interests, these designs can serve as conversation starters and build camaraderie.
"Far and away, the most rewarding part of all of this is the people it has brought into my life. I have met more cool and creative people than I ever would have otherwise," says Eldridge. "I'm happy we're still doing this after five years. The past few have been rough, but I feel like we've really figured out our niche, and we now have some big things in the works. The next few years are going to be really fun!"
"I realize booking an occasional show in Athens isn't a big deal in the grand scheme of things, but it's a good feeling to contribute back to the world of music that has enriched my life over so many years," says Shaffer, remembering the thrill of attending a small local show as a teenager. "I've made my family from the people in this little world of music, and I look forward to Shadebeast doing bigger and better things for Athens and all our friends making heavy music."
WHO: Shadebeast's 5 Year Anniversary Show
WHEN: Friday, June 10 & Saturday, June 11
WHERE: Flicker Theatre and Bar 
HOW MUCH: $12 (door), $20 (advance weekend pass)
Like what you just read? Support Flagpole by making a donation today. Every dollar you give helps fund our ongoing mission to provide Athens with quality, independent journalism.