The local nonprofit organization Chess and Community, dedicated to empowering youth to lead and take charge of their futures, celebrates 10 dynamic years this month, but its story starts 20 years ago in 2002. Founder and Executive Director Lemuel "Life" LaRoche began using chess as a critical thinking model and tool to teach life lessons to engage adolescents caught in the juvenile justice system cycle. In 2012, Chess and Community was formed in Athens and the first annual conference was launched. Now 10 years later, the organization is bigger than Athens, and it's bigger than chess.
Innovation is a key element of the organization, and providing solutions for gaps in the broader education curriculum has largely driven the transformation of the program over the years. LaRoche explains that in using chess to teach children how systems work, a struggle to articulate their frustrations that often led to conflict was identified. So the program integrated public speaking and a book club, which created an avenue for the children to enhance their vocabulary. Structured debates teach the lesson "think before you speak"—an extension of Chess and Community's leading motto, "Think Before You Move."
Check Hook is another program, led by boxing trainer Ishmael Cuthbertson, developed for youth who struggle with anger management or poor teamwork skills. Participants are taught discipline, control and critical thinking skills as well as de-escalation techniques. All of these elements meet the program's base goal of preparing members to lead through community engagement and civic empowerment, but LaRoche always has his sights set on the future. Students learn interpersonal skills and critical thinking, now what?
The Pawn Accelerator program provides members with advanced technology opportunities in three tiers: building and coding robots that they then use to move chess pieces; learning about 3D printing and drone technology; and participating in solving regional problems with technology and innovation at the University of Georgia. The future trajectory of top jobs in the Athens and regional market is heavily focused on technology and engineering, says LaRoche, and this program prepares students for the workforce.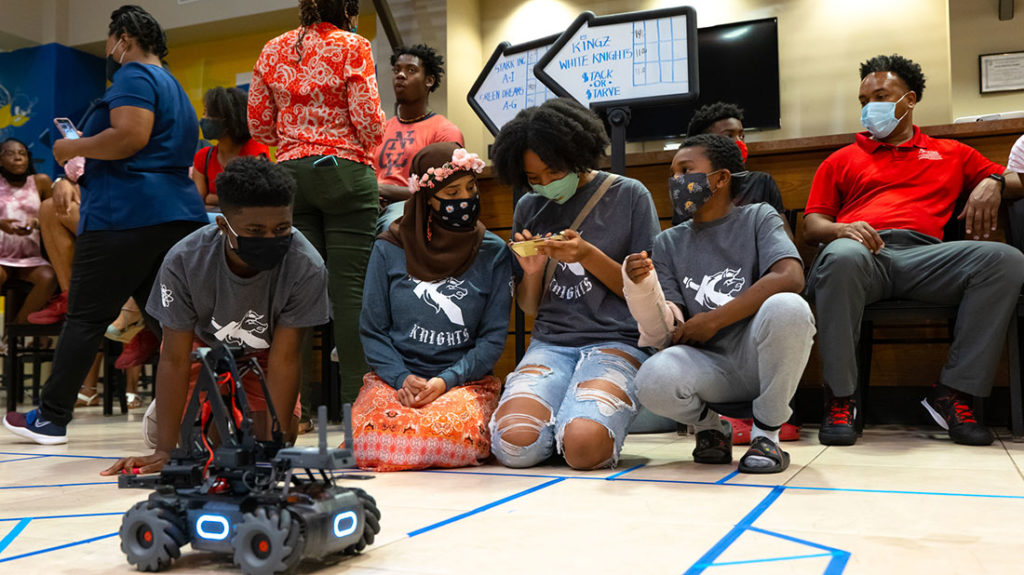 "Chess will never be obsolete, but what happens when there's a pandemic? People can't sit down and play chess together. What happens when we have real issues going on and people can't get through them? That's what we saw with the pandemic, so that's what really brought in the whole robotics element," says LaRoche. "We're keeping the chess as an element, but developing skill sets so they can at least be job ready."
These opportunities have already proven to be fruitful. At one Pawn Accelerator event, a general manager from Caterpillar met a student who was later offered a job upon graduating. Graduating members of Chess and Community are also eligible for a scholarship. Over the past 10 years, over $40,000 in scholarship money has been given to about 43 students through the organization. However, the concept of building community does not end at the Athens-Clarke County lines.
In 2017, Chess and Community took a group of children to Ethiopia where they set up the first branch of the organization outside of Athens. Mirroring the group's chess club named the Classic City Knights, the Ethiopian club calls themselves the Kutaber Castles. Unfortunately, the conflict and war that erupted in Ethiopia devastated the community and Chess and Community resources built there. LaRoche hopes the local community can find a way to help their international partners. Inside the U.S., there are existing branches of Chess and Community in D.C. and Macon, with a new organization in Metro Atlanta coming soon.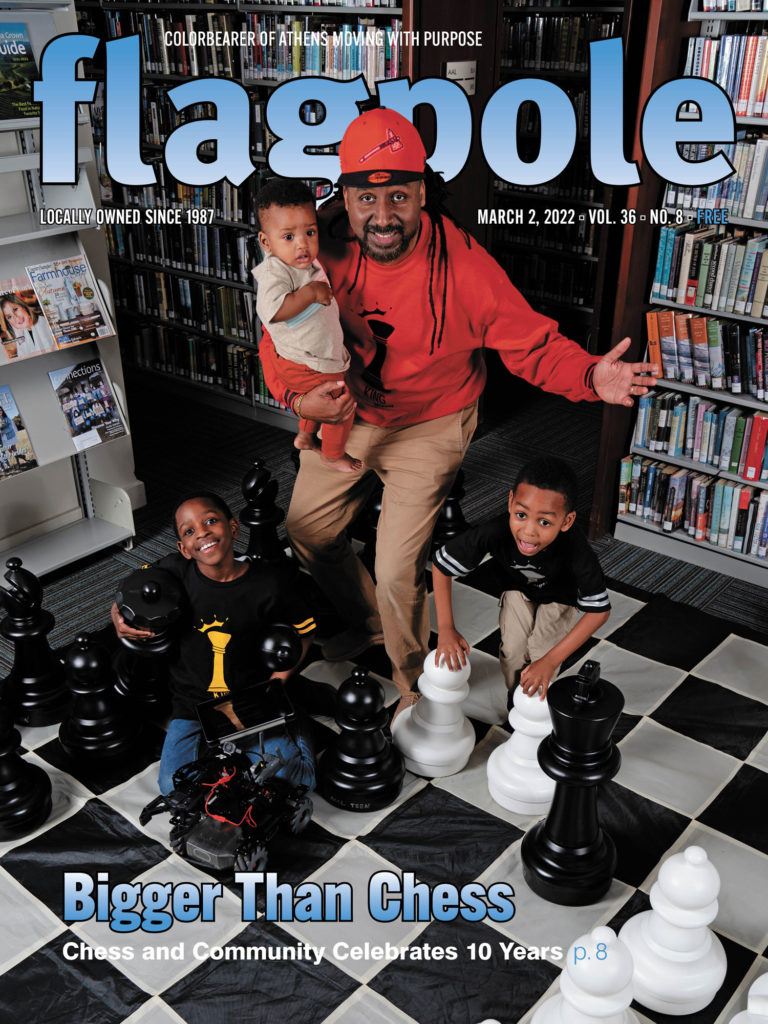 "That's what we hope to show people: We're making it happen. Ten years with no corporate sponsors, no real money, no one—myself included—has a salary. It's the passion of the people that's allowed this to happen," says LaRoche.
The story of Chess and Community, both near and far, will unfold over seven days of events celebrating the 10 year anniversary. Kicking off Mar. 5, two films will be shown at Ciné, including a documentary about the organization's trip abroad titled Knights to Kings: A Journey to Ethiopia. Highlights include the monthly Little Italy Pizzeria "Chess & Pizza" meet up on Mar. 8 featuring a pizza-eating contest among Mayor Kelly Girtz, a UGA football player and a student, along with the "Black Future" discussion to be held at Aaron Heard Community Center on Mar. 9 emphasizing the opportunities the future offers through what students are learning in the program. Each event uncovers another layer of what Chess and Community does, how the community can be involved and what's to come in the next 10 years.
"To see the kids who were 15 now 25 and where they were then to teach chess and running the debates [now]—that's the reward," says LaRoche. "Y'all got these programs. Your job is to do your best to help it continue, whether it's in this community or whatever community you decide to land in. We are responsible for helping to make it better. Make the world better than we inherited it."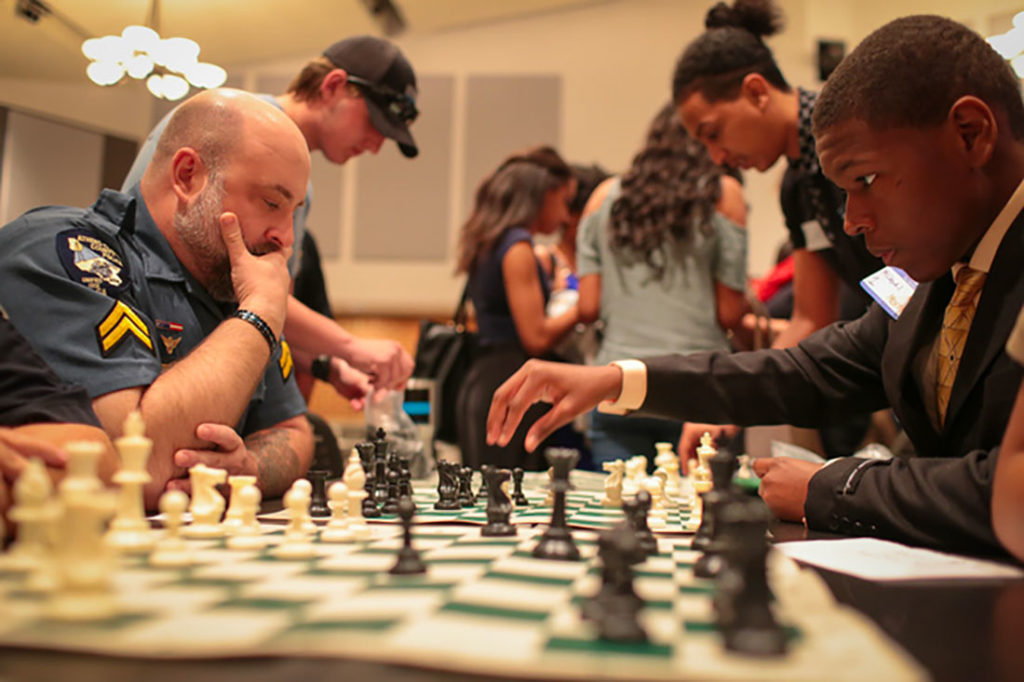 The celebration culminates in the 9th annual Chess and Community Conference at The Classic Center on Saturday, Mar. 12 from 9 a.m.–2 p.m. The theme of this year's conference is "The Power of Family." There will be various chess matches, including games played using virtual reality headsets. Members will compete with peers from Macon and Middle Georgia in a robotics, coding and chess tournament. And four high school students will receive the Think Before You Move Scholarship.
See the full schedule of week-long events celebrating Chess and Community's anniversary below.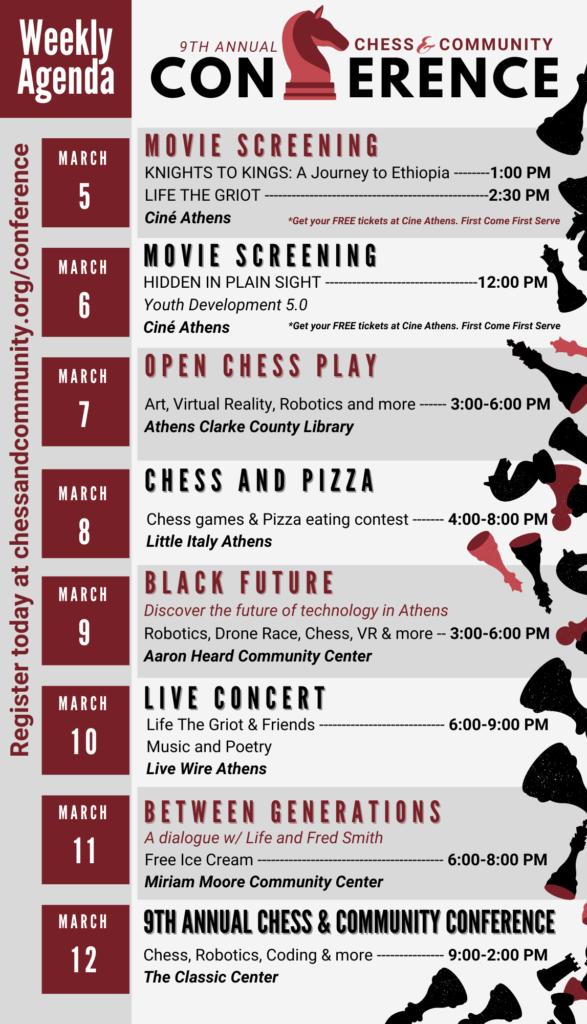 Like what you just read? Support Flagpole by making a donation today. Every dollar you give helps fund our ongoing mission to provide Athens with quality, independent journalism.