Existing at the intersection of nature, art and architecture, "Rainbow Forest" rises out of the landscape of the North Oconee River Greenway to serve as a new interactive space. Resembling a cluster of technicolor Space Odyssey-esque monoliths, the installation consists of a grid of 36 slender, candy-colored columns that tower at 12 feet tall. The new public artwork by Los Angeles-based architectural designer and educator Andrew Kovacs aims to spark wonder, imagination and playfulness.
Visible from both the Greenway trail and roadside on Dr. Martin Luther King Jr. Parkway near Ruth Drive, "Rainbow Forest" was partly designed in response to its physical location. Resting on a slightly elevated plateau, the installation is eye-catching due to its bold color palette, yet successfully circumvents feeling disruptive or jarring because the columns visually complement the dimensions of neighboring trees.
"The concept of 'Rainbow Forest' is certainly influenced by the site and context of the Greenway. 'Rainbow Forest' can be thought of as a forest inside another forest—a human-made forest of columns, or human-made trees, that are arranged in a grid and painted bright colors with a backdrop of the real trees of the Greenway," says Kovacs.
Kovacs' design was selected from a pool of 34 proposals by 32 artists (two of whom were local) that were submitted to a national call in early 2021. His project was funded by the Athens-Clarke County special purpose local option sales tax (SPLOST). The Athens Cultural Affairs Commission additionally funded two positions for Eli Saragoussi and Patrick Sprague to work as assistants during installation as part of a continuing initiative to engage and educate local artists on public art processes.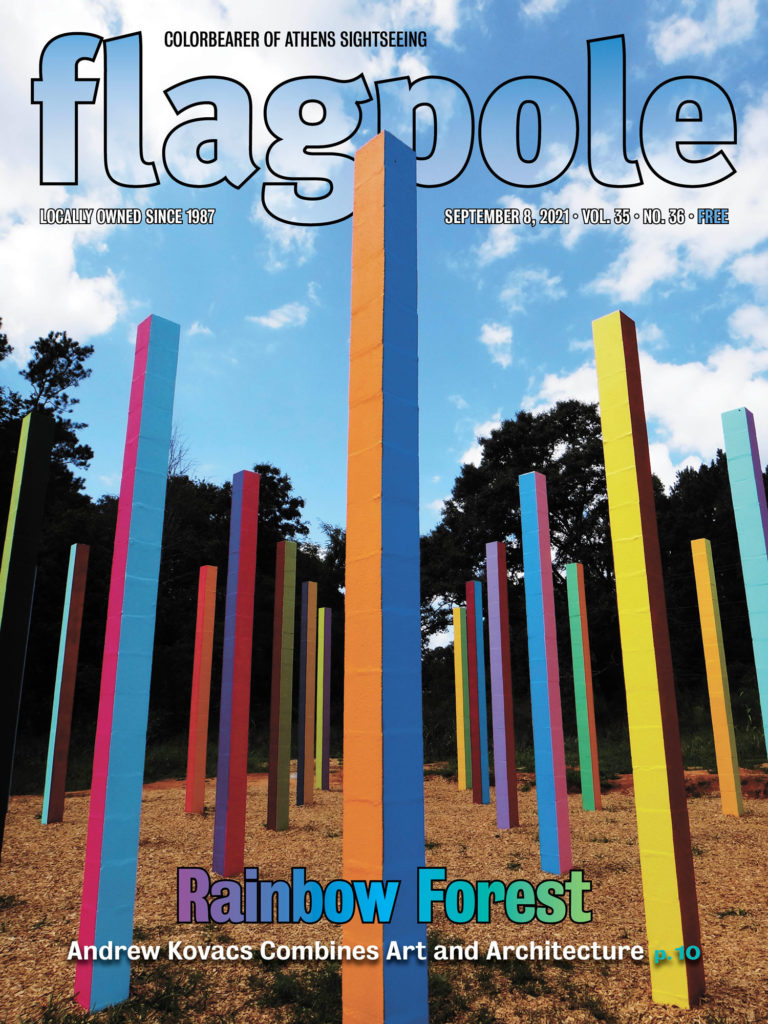 As an architectural designer, Kovacs' body of work is anchored by a pursuit to reimagine the bounds of what architecture and art can be. His design studio, Office Kovacs, produces projects that span in scale and medium, ranging from exhibitions, installations, publications, interiors, speculative architectural proposals and public architecture competitions. He is additionally the founder and curator of "Archive of Affinities," a long-running and popular website dedicated to aggregating an image bank of "architectural b-sides"—the aberrant, the odd and the overlooked.
One of his most popular installations, "Colossal Cacti," was designed for the Coachella Valley Music and Arts Festival in 2019 and consisted of seven ginormous cacti arranged in a spiraling ring formation. Like "Rainbow Forest," the multi-colored "Colossal Cacti" was integrated into its unique desert landscape to offer a distinct destination for visitors to socialize, people-watch or take a breather.
Prior to arriving in Athens, Kovacs fabricated a mockup to troubleshoot and fine tune the design. Preparation also involved a lot of effort to source and order materials and equipment in advance. After arriving in Athens, alongside additional assistant artists Max Harden and Kyle May, Kovacs led his team in working roughly from sunrise to sunset for two weeks straight.
Each column, or tree, of the installation was created using standard concrete block masonry units that were stacked vertically, filled with grout and reinforced with rebar. While relying on common construction materials is practical for enduring the variety of weather conditions experienced by most rainbows, this choice also invites visitors to reconsider their own personal relationship to the otherwise mundane materials that comprise the architectural and built environments that surround them.
"The choice of materials relates to my interest in the everyday, the vernacular and reimagining these architectural materials for a new purpose," says Kovacs. "In a way, in a strict architectural sense, it is counterintuitive to make a column in this particular way out of standard concrete masonry units. At the same time, the standard concrete masonry unit is so ubiquitous in the built environment that shapes the world around us. The choice of materials for 'Rainbow Forest' aims to celebrate and re-think the use of standard concrete masonry units. This notion is further amplified when the columns are repeated in a grid and painted bright colors. In a way, it is like a building with no purpose other than fun and pleasure."
"Rainbow Forest" elevates the humble block to be extraordinary in its durable, reliable and utilitarian form. Meanwhile, the columns carry the torch for a centuries-old legacy as an architectural staple.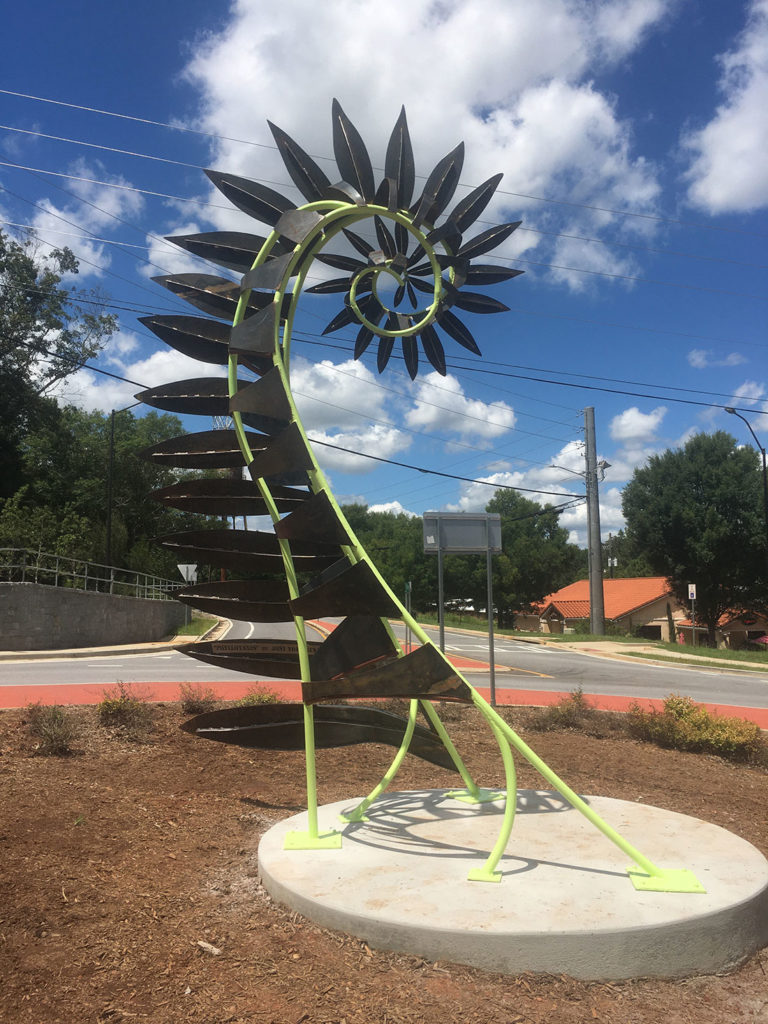 Similarly mindful of its unique location, a second public artwork named "Phyllotaxis," by local sculptor Joni Younkins-Herzog, was also recently debuted by the ACAC. Located at a roundabout at the intersection of Whitehall Road and S. Milledge Avenue, the 12-foot-tall sculpture was inspired by the tendency of plants to naturally arrange their leaves in fibonacci-like spirals to best capture sunlight.
"The piece is in a beautiful location, a gateway to Athens, and I love the moving viewpoint the drivers get as they make their way through the traffic circle," says Younkins-Herzog. "The pose is intended to transition from the fern—representing the Botanical Garden and the Warnell School of Forestry—to the spiral, which becomes more like a water turbine, paying homage to the prior power source of the historic textile mill that is now the Historic Whitehall Lofts."
Created from COR-ten steel, a material with a natural rust patina that won't cause glare for drivers, the sculpture was designed using cad programming, cut using a water jet and plasma cutter, and welded with stainless gussets for stability. Younkins-Herzog is also the creator of Athens' beloved blue pillbug bus shelter, converted from a Volkswagen Beetle, located on Lexington Road.
Like what you just read? Support Flagpole by making a donation today. Every dollar you give helps fund our ongoing mission to provide Athens with quality, independent journalism.