Downtown Athens' Clayton Street streetscape project could be mostly completed by April, according to a revised timeline posted on Athens-Clarke County's website. When it's finished, a stretch of Clayton from Lumpkin Street to Thomas Street will have two traffic lanes instead of three, but wider sidewalks with room for more pedestrians and more outdoor seating for restaurants.
Voters approved a bigger version of the project in 2004, but even after Athens-Clarke officials put the project up for bids twice, the government got just one bid, at three times the allocated budget. Planners cut out some elements of the original plan, and voters approved adding $6.9 million in T-SPLOST sales-tax pennies to the 2004 SPLOST's $6.8 million. ACC also took some of the work in-house, such as storm water drainage reconstruction.
The last steps—tree planting and repaving the street—should come next April, and public art, budgeted at $53,650 in 2018, could come soon after. "New trees better suited to an urban environment will be planted in spaces that are better designed to handle their root systems," according to an ACC summary of the project.
The new trees will be more modest in size but more decorative and better suited to an urban environment than the oaks and gingko trees workers began cutting down last year. They won't give much shade anytime soon, though. The plan calls for stringing festoon lighting among the new trees when they get tall enough. Among others, the new trees will include Chinese ironwood, endangered in its home range; European hornbeam, which can be shaped like topiary; and brilliant Japanese maple, popular with bonsai practitioners. None of them will have the vomit smell gingko seeds are known for.
A worker for one contractor working downtown said they had found a tunnel not marked on any maps as they dug deep under Clayton's concrete and asphalt between Lumpkin Street and College Avenue—not the first time workers have found relics of downtown Athens that could be a century old or more.
Planners had hoped to have the project completed by now, in time for the crowds that flood downtown Athens on football weekends, but warned at the beginning that schedules might have to be changed.
"I understand everybody's deep frustration with it not being done," Mayor Kelly Girtz told Flagpole. "But the good news is, the hard part is done, which is the underground stuff."
Though sidewalks and traffic lanes are construction zones now, businesses remain open, as a large sign at the Lumpkin-Clayton intersection proclaims. The Athens Downtown Development Authority has posted sandwich boards at intersections to show passers-by what the street will look like when the project is finished.
UGA began its football season last weekend with a game against traditional rival Clemson in Charlotte. Then Georgia plays in Athens two straight Saturdays—against the University of Alabama at Birmingham Sept. 11 and against South Carolina Sept. 18 in UGA's first 2021 Southeastern Conference game.
Workers completed a first phase of the Clayton streetscape in 2014, from Lumpkin Street down the hill to Pulaski Street. Now orange traffic barriers line the street as crews work on the stretch from Lumpkin Street to Thomas Street, ripping up sidewalk and pavement as electrical workers install new wiring in underground conduits, then rebuilding the sidewalk and roadbed.
Other changes already underway are the installation of "eco-stations" to collect trash and recyclables—not technically part of the streetscape project, but integrated into it so that downtown bars and restaurants no longer simply put leaky and dangerous plastic bags of breakable glass and trash out on the sidewalk.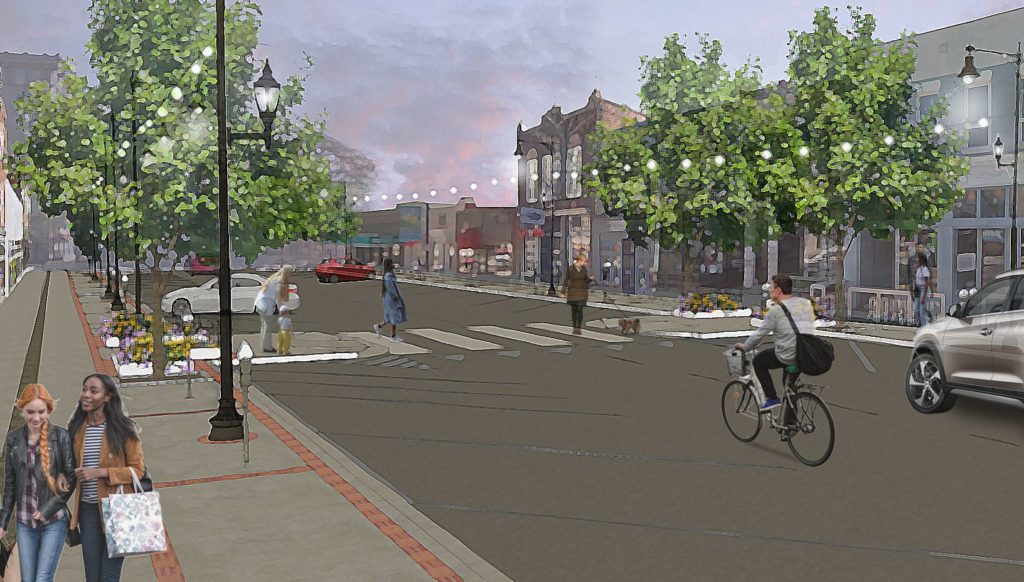 College Street from Broad Street to Clayton is now permanently closed to auto traffic, but a redesign of that plaza lies sometime in the future, as does a decision on whether to make permanent the COVID-induced practice of converting parking spaces and traffic lanes into extensions of bar and restaurant outdoor seating.
Reducing Clayton to two lanes also means beer and food trucks can no longer use that middle lane to park while they unload beer and food for the dozens of downtown bars and restaurants. But they've gotten new loading zones on some side streets. The project has kept most of the street parking on Clayton—a loss of about two dozen spaces—but COVID has claimed more.
Like what you just read? Support Flagpole by making a donation today. Every dollar you give helps fund our ongoing mission to provide Athens with quality, independent journalism.