The Lyndon House Arts Center opened four new exhibitions last weekend that collectively explore the friendships and exchanges held between artists. Here's what to see this season.
ACTIVE DAYDREAMING: Though Athens painters Jeffrey Whittle and Andy Cherewick have known each other for decades—Whittle even paints in a studio built by Cherewick in the late 1990s—the two friends have very rarely ever shown works together. "I vs Me" divides the room to draw attention to two artists who, despite having incredibly different styles, share a strong sense of wonder, imagination and strangeness. 
Whittle considers painting to be a form of active daydreaming in which new realities can be built from scratch. Featured on the cover of Flagpole this week, his painting "Infinity Encountered" exemplifies how he juxtaposes the ephemeral (a flowering pink magnolia) with the infinite (a starry sky)—while simultaneously colliding daytime and night time—to create an image that exists outside the limits of space and time. The flying tortoises' shells depict topographical maps, which often appear within the artist's body of work to investigate ideas of parallel worlds, destination and exploration.
Self-identifying as a figurative painter, Whittle includes three portraits of artists: sculptor Kinzey Branham, figurative/landscape painter Regina Miele and painter/musician Art Rosenbaum, who is depicted in his studio working on a portrait of Whittle and his wife. A bemusing coincidence, a painting in the background of the studio appeared within the feature on Rosenbaum that ran in Flagpole last week. Often, Whittle's figures are not human at all, allowing beautiful beets, eggplants and dragon fruit to take the spotlight in heavily patterned settings. 
Cherewick's textural scenes are immediately identifiable by his remarkably thick application of paint. "Follies" is an extended series of works, arranged in multiple rows of framed square images, that collectively portray a narrative involving a shipwreck and deserted island. Though the sun shifts positions, the scenes are cohesively anchored by horizons at which sky blue meets sea green. Recurring staples like waves, boulders and sand speak to the monotony of being stranded, while more fantastical details like floating heads and rearview mirrors hint at delirium. Red-and-white striped objects like buoys, lifesavers and flares suggest a threat of danger or search for help, all too fitting with the isolation and fear that pervades a pandemic.
An artist talk will be held Sept. 16 at 6 p.m., and "I vs Me" will remain on view through Oct. 15.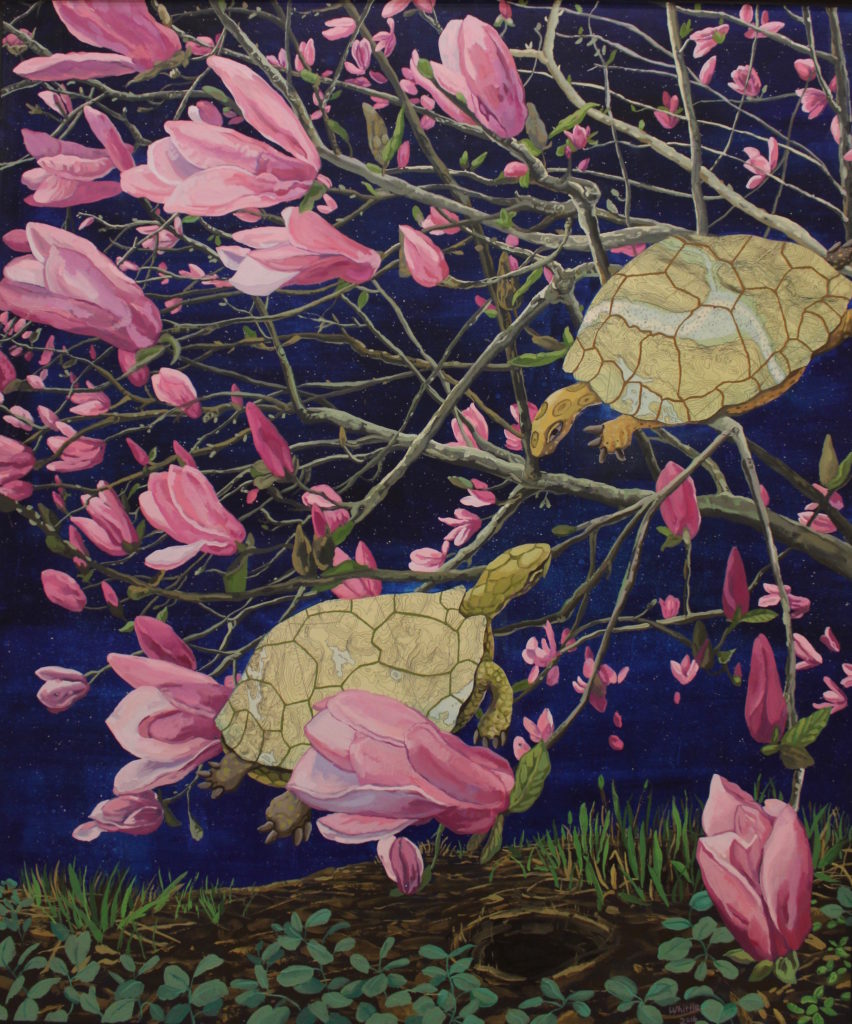 PEN PALS: Continuing the exploration of friendship between artists is "Something I've Been Meaning to Tell You," an exhibition that intermingles works by Maryland-based interdisciplinary artist Julie Wills with those of former Athenian Brian Hitselberger, who now resides in Indiana. Immediately gravitating towards each other during a residency program at The Hambidge Center in Rabun Gap several years ago, the two have since nurtured a long-distance friendship through email, FaceTime and Zoom, long before those communication channels became the norm. 
Interested in ideas of intimacy, longing and tenderness, both artists experiment with what is said versus what is left unsaid, and how things are versus how things feel. Visually, they both coincidentally happen to work frequently with celestial imagery. Though they frequently exchange feedback and bounce ideas off of each other, they have always worked independently in their respective studios. Their exhibition materializes this active dialogue by spatially arranging pieces to emphasize parallels or suggest a call-and-response quality. This approach to collaboration creates a conversation in which both artists retain their distinct voices. 
A Virtual Artist Talk will be held Aug. 19 at 6 p.m., and the exhibition will stay displayed through Oct. 15. 
OUTSIDE LOOKING IN: Offering an introduction to a network of like-minded artists, "Expressing the Inner World" features abstract paintings by 24 women associated with the group Inside Out. After meeting through workshops, these artists have stayed in touch over time and organized multiple exhibitions along the way to present their work together side-by-side. Concentrated primarily in the Southeast, though some live as far away as California and Iceland, these artists produce work that appears visually compatible. Each takes their own subtle approach to how elements like color, form, mark-making and texture can be used to convey interior thoughts, reflections and emotions. 
A conversation with the artists will be held on closing day, Oct. 23, at 2 p.m.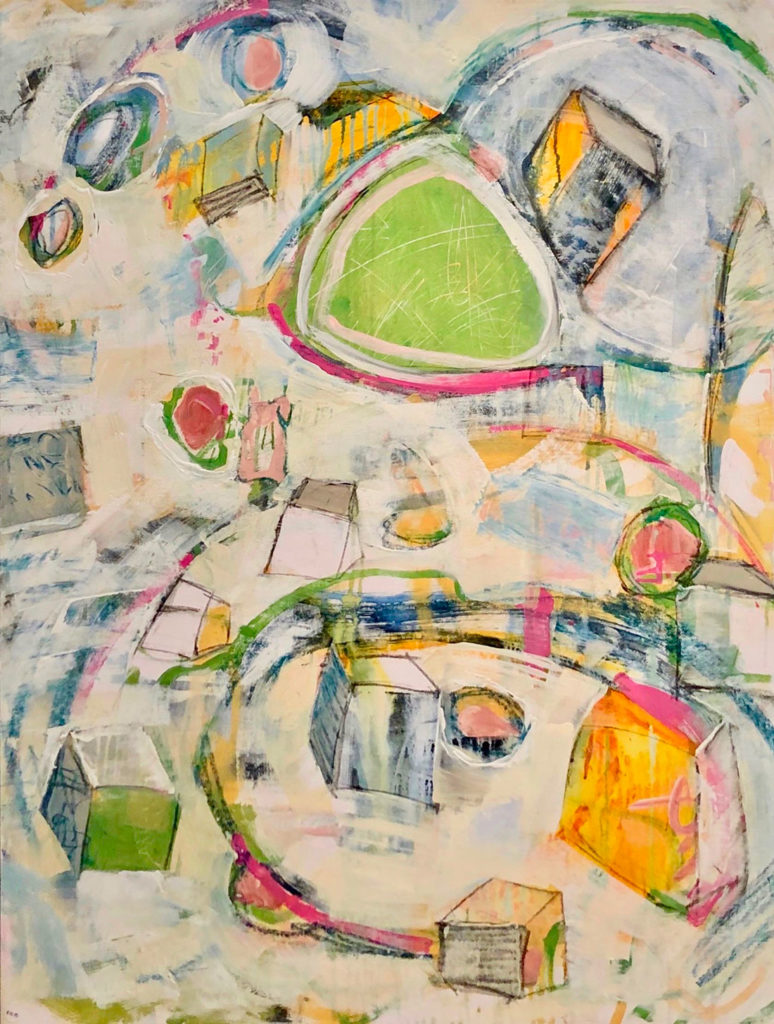 MODERN MARVELS: A man of many talents, William Loyd Florence Jr. (1921–2007) had a lifelong passion for aviation. After earning his pilot's license at the early age of 15, he graduated from the first civilian pilot training program, worked as a flight officer for Pan American Airways and the Navy, served as president of Athens Aviation (which operated the Athens airport in the early '1950s) and built a state-of-the-art flight simulator for training pilots that he maintained until his final days. Somehow, amidst all of this, he also found time for various leadership and community roles, such as developer of the Tanglewood subdivision and president of the Dr Pepper Bottling Co. of Athens, developmental disabilities nonprofit Hope Haven and retirement home Talmage Terrace-Lanier Gardens, among other organizations.
Currently on view through Oct. 23, "Modernist Sculptures from the Legacy of Loyd Florence" reveals his more private and lesser-known artistic practice. With a clear emphasis on form, his small-scale sculptures echo popular mid-century modern shapes such as the iconic atomic starburst. No two cast metal works are alike, and they vary between interlocking geometric shapes and more figurative forms like a scorpion, cloaked guardians and a unicyclist. 
DOWN THE LINE: The Lyndon House Arts Center will open an additional two exhibitions in August. On view Aug. 7–Oct. 15, "A Lot More Than It Seems" presents mixed media works by David Froetschel that are influenced by fantasy, dreams and cosmic balance. Froetschel is the recipient of the 2021 Arts Center Choice Award, an annual tradition in which an emerging artist from the center's juried exhibition is offered the opportunity to present a solo show. 
Running Aug. 28–Nov. 18, "Willow Oak Tree Exhibit" pays homage to a magnificent tree that reached the end of its life cycle after an estimated 150 years of living on the Lyndon House's property. Curated by Abraham Tesser, the exhibit repurposes the willow oak's wood through artworks by Tad Gloeckler, Larry Millard, Duane Paxson, Leonard Piha, Martijn van Wagtendonk and several others. 
Like what you just read? Support Flagpole by making a donation today. Every dollar you give helps fund our ongoing mission to provide Athens with quality, independent journalism.