Few facets of American life were left unscrutinized during the peak of the Black Lives Matter movement last summer, as organizations across industries were confronted by their own complicity with racial inequality. Art galleries and museums, many of which hold decades-long legacies of preserving predominantly white male narratives, were collectively asked to commit to increased diversity and authentic representation of marginalized voices—both on the walls and behind the scenes within leadership roles and curatorial positions. 
The Lyndon House Arts Foundation, an independent nonprofit that provides funding and resources to support the Lyndon House Arts Center, has launched a new Guest Artist/Curator program to elevate the visibility of individuals who are Black, Indigenous or persons of color. Guest artist/curators receive a competitive stipend of $1,000 for their creative contribution, as well as additional funding if needed to support accompanying outreach activities. Designed to encourage leadership roles within the arts community, the program also offers professional development in skills like loan agreements, registrar work and curatorial writing.
"I feel strongly in the need to provide advocacy and professional development to minorities in this creative field, as this population is underrepresented," says Didi Dunphy, LHAC program supervisor.
The new Guest Artist/Curator program kicks off with "#NotAStereotype," an exhibition curated by La Ruchala Murphy, who should already be familiar to the local arts community for her role as the executive director of the Oconee Cultural Arts Foundation. Through a regional call for submissions, Murphy assembled a spectacular exhibition of paintings, drawings, prints, photographs, fiber art and sculpture made by Black artists living across Georgia, Florida, Louisiana, North Carolina and South Carolina. "#NotASterotype" carves space for these artists to share reflections of their unique culture, history, legacy and visual style.
"The hashtag symbol is used in the title of this exhibition to give the artists relevance in today's social media society," says Murphy in her curator statement. "Just as hashtags are phrases with no space between words used online to increase the reach of the message, to provide information or to enter a discussion, this exhibition aims to leave no space that separates black artists from having representation and access to platforms to share their artistry."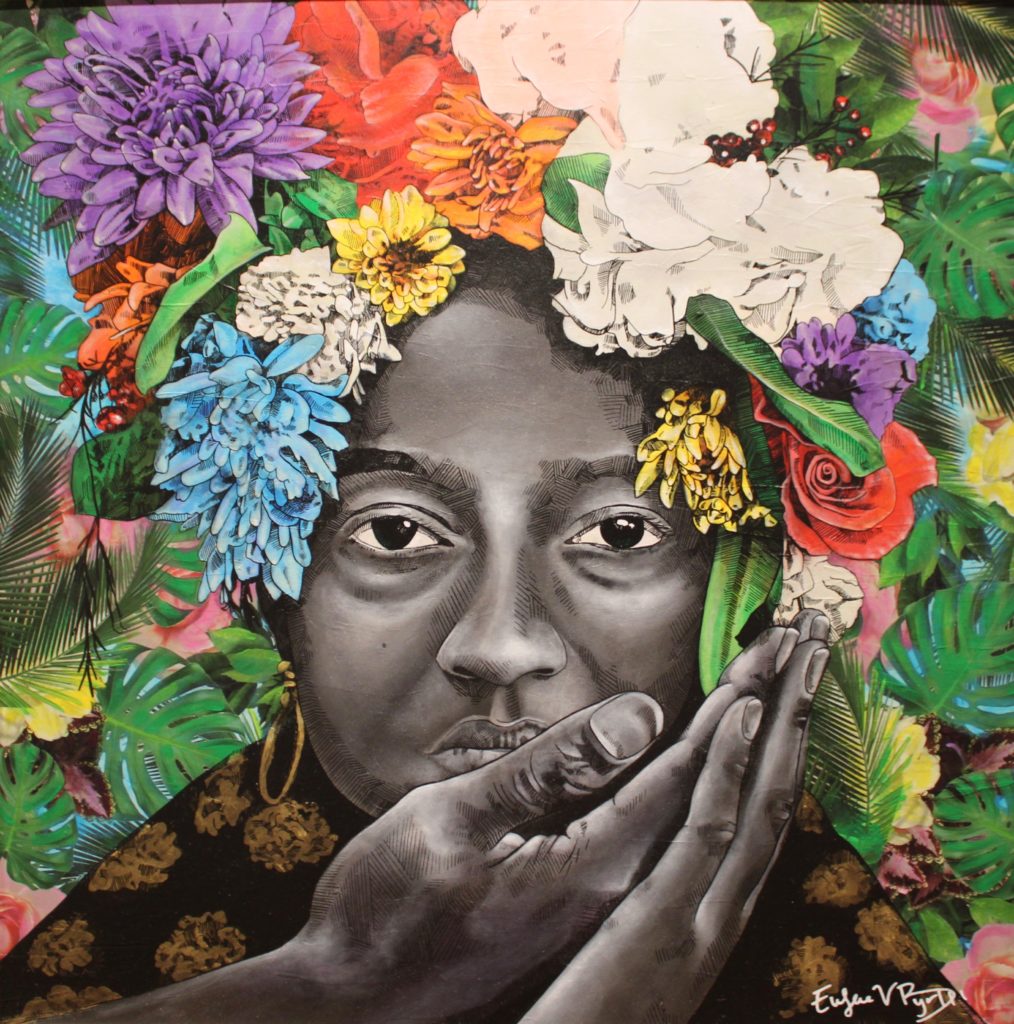 Featured on the cover of Flagpole this week, EuGene Byrd's portrait "We are the Ones This Time" is a reminder that you can never truly know a person's story by only seeing their appearance. Byrd, who founded Future Dead Artists and operated the Future Gallery in Atlanta from 2018–2020, creates emotionally provocative works that arrive from a personal, thoughtful place.
"The colors, the flowers, the location—is it Africa, is it Caribbean, early America?" asks Byrd. "The strength, beauty, struggle and vulnerability in the eyes. Then the male hand gently touching the face. Lovingly and protective. Is the hand of a lover, husband, father, father figure, brother, king, God? But then notice her hand over his hand, saying 'No, I got you, we're here for and will protect each other.'"
Many of Fayetteville, NC artist Damien Mathis' works, such as "Lois Mailou Jones Portrait," pay homage to influential figures as a way of promoting the visibility of Black history. "The style of framing that characterizes much of my work involves the idea of something being bigger than the frame that surrounds it—unable to be boxed, caged, or limited—giving thought to infinite questioning and expression," he says in his artist statement.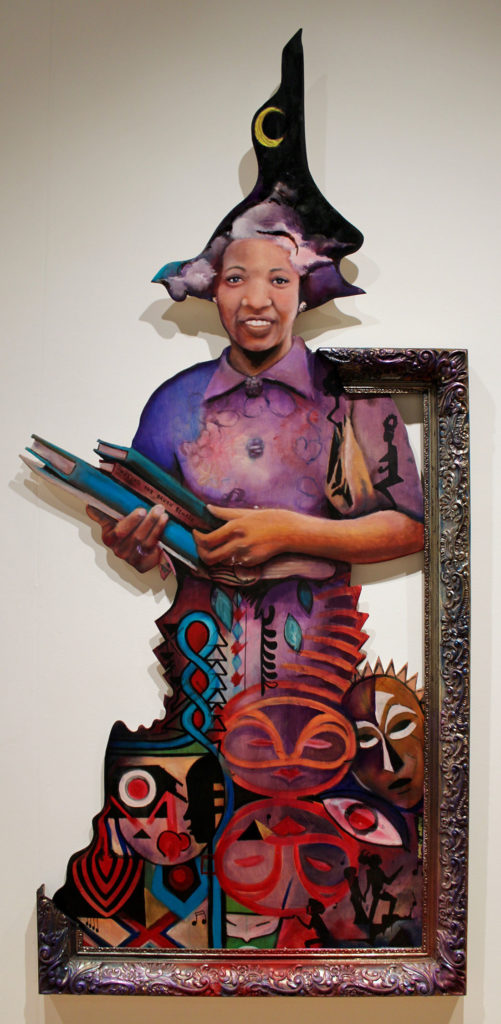 Shelby, NC artist Cecil Norris' oil painting, "Look at Me," disrupts classical portraiture by posing a stylish and accessorized Black man against an atmospheric background, drawing attention to the glaring absence of African Americans from historical and cultural narratives. 
Tokie Rome-Taylor, a mixed-media photo-based artist from Marietta, presents a pair of portraits depicting solemn-faced Black children gussied up in frilly lace, brocade, silk and pearls. These Western symbols of wealth are used to cause a psychological shift within the viewer and revisit cultural and ancestral traditions of adornment. "I am driven to challenge the narrative that descendants of the Diaspora are only resigned to distorted histories of subjugation, suffering and second-class humanity," she says in her statement. "Despite having most signs of their history, status, spiritual and cultural practices erased when they were brought to the Americas, Africans in America endured. My offering to our collective history is to explore the spiritual connections, the imagined status and the dreamed humanity that was denied us but that we kept alive—in plain sight."
Sachi Rome of Riverdale similarly explores ancestral spirituality in her large-scale abstract painting "In Prayer and Conversation." Through energetic mark-making, she intuitively channels ancestors. "My painting process is a ritual that opens a doorway of communication with the spiritual realm," she says. "I am currently studying connections between my artistic practice as a parallel to traditional African Diaspora religious practices like signifying, call and response, inversion of meanings, and other visual communication strategies with the afterlife."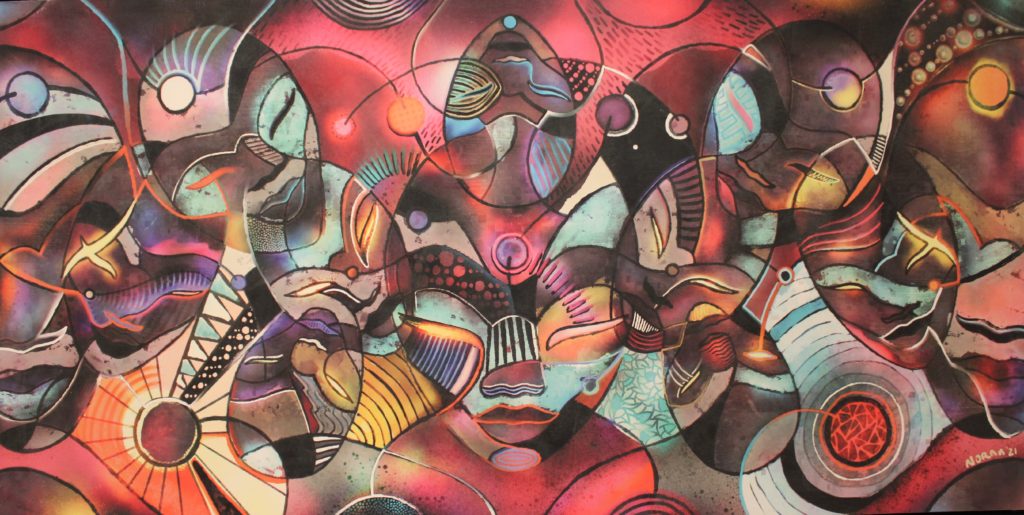 "#NotAStereotype" will remain on view through July 24, and a series of virtual artist talks will be held throughout the exhibition's duration. The schedule includes William Buchanan, Cecil Norris and Margaret Warfield on May 25; Erica Angelica, Jewel Edwards, Masud Olufani, Noraa James, Jerrold Mobley and Sachi Rome on June 8; Marsh Hatcher, EuGene Byrd and Gason Ayisyin on June 22; and Rodrecas Davis and Tokie Taylor on July 13.
In addition, one of the exhibition's featured artists, AJ Aremu, has been invited to create the newest Window Works, a series that utilizes the art center's large front entrance windows for an outdoor viewing experience.
The Guest Artist/Curator program is currently funded for three rotations into 2022, with the potential to be extended. Applicants must be Georgia residents and exhibitions are displayed for six to eight weeks. Proposals are due June 15 for an exhibition scheduled this winter and can be submitted at accgov.com/9799/ArtistCurator.
Like what you just read? Support Flagpole by making a donation today. Every dollar you give helps fund our ongoing mission to provide Athens with quality, independent journalism.