Athens is home to the storied "Tree That Owns Itself," but another tree is also a part of this city's long history. The "Moon Tree" planted beside a city government building near downtown Athens was grown from loblolly pine seeds carried by an astronaut aboard the Apollo XIV lunar mission in 1971.
The tree was planted in 1976 as part of a local observance of that year's U.S. Bicentennial ceremonies. When the tree was planted on May 7, 1976, it was a mere sapling only about a foot tall. Today it is a stately pine about 50 feet tall with a trunk about 30 inches in diameter. On May 7—45 years to the day after it was planted—the tree was rededicated with the unveiling of a handsome plaque and online remarks by Rosemary Roosa, daughter of NASA Astronaut Stuart Roosa, who carried hundreds of tree seeds to the moon and back during his mission 50 years ago.
"I'm incredibly excited about the response from the community in support of the tree," said Melanie Ford, director of construction and graduate student in landscape architecture at the University of Georgia. The local Moon Tree was slated to be cut down during a city construction project, but citizens like Ford and members of the Athens Historical Society led the effort to spare the soaring pine.
"I'm very pleased that y'all saved the tree," said Rosemary Roosa, speaking via Zoom from Mississippi. "We could not let this living legacy of the Apollo program fade into history… Living trees have a history, and they are very meaningful for the past, present and future."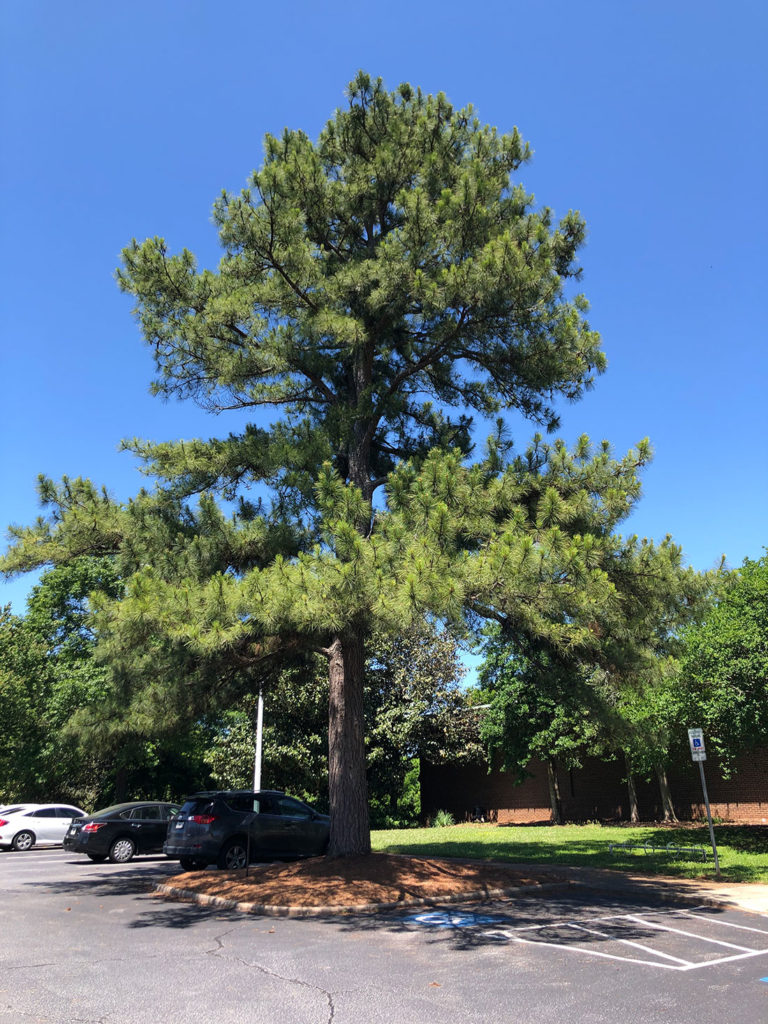 The Athens Sertoma Club and local businessman Nathan Carmack led the effort to get a Moon Tree for Athens in time for the nation's 200th anniversary in 1976. The Athens Moon Tree was planted beside a building on Dougherty Street that was the local library in 1976 and is now the offices of the Athens-Clarke County Planning Department. The trees were planted in many U.S. states, as well as in Brazil and Switzerland. Dozens of the trees still survive, according to NASA scientist David Williams, who lists locations of known Moon Trees on his website, nssdc.gsfc.nasa.gov/planetary/lubar/moon-tree.html.
It is fitting that the Athens Moon Tree was originally planted and then rededicated on May 7. That date has been observed as National Space Day since 2001, when legendary astronaut John Glenn spearheaded an effort to make the observance an annual event.
Stuart Roosa served as command module pilot on the Apollo XIV lunar mission, orbiting above the moon while his crewmates Alan Shepard and Edgar Mitchell descended onto the surface of our neighboring world. Though Shakespeare said, "Methinks it were an easy leap to pluck bright honour from the pale-faced moon," the leap was anything but easy for Shepard. In 1961, Shepard became a national hero as America's first man in space, but then an inner ear problem grounded him for years. A risky operation returned him to flight status, and Shepard went all the way to the moon as Apollo XIV commander 10 years after his 15-minute suborbital ride. Shepard laughingly swatted a golf ball on the moon, but the man called "the icy commander" in author Tom Wolfe's The Right Stuff also showed an introspective side when tears came to his eyes as he saw his home planet Earth displayed like a jewel on black velvet above the stark lunar landscape.
All three of the men of Apollo XIV are dead today. Stuart Roosa, who was a U.S. Forest Service smokejumper fighting deadly woodland wildfires before becoming an astronaut, was enthusiastic about trees sprouting from seeds he brought back from the moon. Roosa now rests in the sacred ground of Arlington National Cemetery beneath a monument etched with an image of the rocket he rode into history. Roosa's Moon Trees like the one here in Athens are his living legacy. They are living proof of the words poet Ella Wheeler Wilcox wrote in 1918, long before cosmic voyages from Earth to the moon: "God, what a joy it is to plant a tree… Nature has many marvels, but a tree seems more than marvelous. It is divine."
Like what you just read? Support Flagpole by making a donation today. Every dollar you give helps fund our ongoing mission to provide Athens with quality, independent journalism.