Following the rise of the Black Lives Matter movement, arts organizations across the country—many of which were already operating in overdrive to support artists impacted by the pandemic—were asked to reexamine their commitment to practices that promote inclusion, diversity, equity and access in the arts. As we look forward to this ongoing cultural shift, it's important to look back and recognize Black leaders who have been fighting for racial equity in the arts all along. One such activist is Emma Amos, a distinguished artist and educator whose work explores the intersection of race, class, gender, age and privilege in the art world and in society as a whole.
Opening Jan. 30 at the Georgia Museum of Art, "Emma Amos: Color Odyssey" is a retrospective solo exhibition of approximately 60 works made over the course of nearly as many years. Dating between 1958–2015, the collection reflects the growth of an artist, not only as she developed talents across a variety of media, but also as she developed her voice for advocacy.
Born in 1937 in a segregated Atlanta, Amos took a strong interest in visual arts as a young child and went on to receive a BFA from Antioch College in Ohio and an MA from New York University. It was there that Hale Woodruff, an NYU professor and mentor, invited her—as the first and only woman—to join Spiral, a short-lived but storied collective of prominent Black artists that formed in 1963 to examine their participation in the civil rights movement and the art world at large.
Recognizing the importance of intersectionality, Amos was equally dedicated to actively fighting sexism, misogyny and gender discrimination and became involved in multiple underground feminist collectives. As an editor and contributor with the Heresies collective during the early '80s, she helped facilitate discussions on race within the feminist art movement through the group's journal, Heresies: A Feminist Publication on Art and Politics. Following her death at the age of 83 in May 2020, it was revealed that she was also a member of the Guerrilla Girls, a clandestine group of feminist activist artists established in 1985. Concealing their identities by wearing gorilla masks in public and adopting the pseudonyms of dead female artists, the collective continues to produce posters, writings and artworks that use humor to confront discrimination in the art world.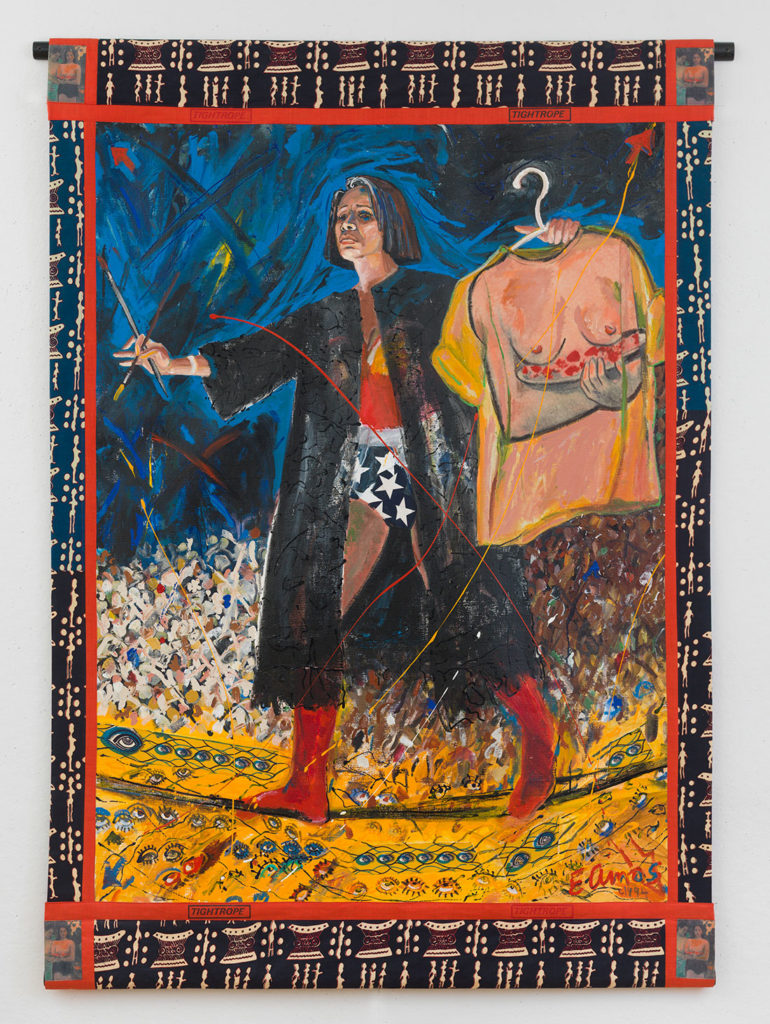 Amos served as a professor of visual arts at the Mason Gross School of Art at Rutgers University for 28 years, continuing to create her own artwork while instructing the next generation. Bouncing between painting, printmaking and weaving, her body of work is unified through an expressive use of color. Influenced by Abstract Expressionism, pop art and color field painting, her earliest work focuses on portraying women of color, figures largely underrepresented on gallery walls. As time went on, her style became more detailed and began approaching more complex themes.
Her large-scale mixed-media works, often framed by African fabrics and revealing semi-autobiographical content, present visual tapestries that challenge the norms of Western art tradition. Appearing on the cover of Flagpole this week, "Equals" depicts Amos floating in free-fall in front of an American flag. The portrait is from her "Falling Series" from the 1990s, which was initially developed in reaction to homelessness, the AIDS epidemic, racism, poverty and other social ills contributing to a perceived fall of Western civilization. Over time, the notion of "falling" evolved to represent cultural change, uncertainty and liberation through movement. Another self-portrait, "Tightrope," alludes to the near-impossible task of balancing roles as an artist, wife, mother and Black woman. Wearing a Wonder Woman costume beneath a heavy black coat, she walks above a sea of onlooking eyes.
"I hope that the subjects of my paintings dislodge, question and tweak prejudices, rules, and notions relating to art and who makes it, poses for it, shows it, and buys it," said Amos through her artist statement on her website. "The work reflects my investigations into the otherness often seen by white male artists, along with the notion of desire, the dark body versus the white body, racism, and my wish to provoke more thoughtful ways of thinking and seeing… I am interested in who gets acclaim for showing what, and in what being called a 'master' often means. I also want people to learn to feel my distaste for the notion that there is 'art' and 'black art.' Yes, race, sex, class, and power privileges exist in the world of art."
"Emma Amos: Color Odyssey" is accompanied by a full-color hardback exhibition catalogue that features essays by curators, scholars and artists, as well as supplementary images and photographs. The exhibition will be on display at the Georgia Museum of Art from Jan. 30–Apr. 25, before traveling to spend the remainder of the year at the Munson-Williams-Proctor Arts Institute in Utica, NY and the Philadelphia Museum of Art. Shawnya Harris, Larry D. and Brenda A. Thompson Curator of African American and African Diasporic Art at the Georgia Museum, will host a Zoom discussion on Feb. 4 at 4 p.m. For details on that and additional events, visit georgiamuseum.org.
Like what you just read? Support Flagpole by making a donation today. Every dollar you give helps fund our ongoing mission to provide Athens with quality, independent journalism.