Honoring the artists who have contributed to Athens' iconic musical heritage spanning genres and decades, the Athens Cultural Affairs Commission has officially launched the Athens Music Walk of Fame, a series of bronze plaques that kicks off with 10 inductees. The project aims to foster community pride, promote place attachment, educate visitors about local music and enhance the experiential appeal of downtown.
While several of the inductees, such as R.E.M., The B-52s and Pylon, are well documented for their roles in coalescing the early alternative and new wave scene that took root in the late '70s and '80s, other selections take a step to correct the canon by digging deeper into a musical heritage that far predates Athens' indie reputation. Born in 1888, inductee Hall Johnson was a choral director and composer who dedicated his career to preserving African-American spirituals performed during the era of slavery. Blues musician Neal Pattman, born in 1925, went from busking with a harmonica on downtown streets to performing alongside high-profile acts across the country. Other inductees include Danger Mouse (Brian Joseph Burton), Drive-By Truckers, The Elephant 6 Recording Company, Vic Chesnutt and Widespread Panic.
Encircling a two-block area bound by Pulaski, East Washington, North Lumpkin and Clayton streets, the route passes by most of the live-music venues concentrated at the western end of downtown—the 40 Watt Club, Flicker Theatre and Bar, Morton Theatre, Georgia Theatre and Caledonia Lounge—as well as Taylor Shaw's new postcard-like mural in an alley that pays homage to several local bands. The bronze plaques were designed by graphic artist Allen Sutton, who cleverly acknowledges the link between music and location with a shape inspired by both guitar picks and map pins. 
Both the music and tourism industries have been severely affected by the pandemic, with no clear pathway to recovery in sight. According to a survey conducted by the National Independent Venue Association that was released in June, 90% of 2,000 venue owners, promoters and industry professionals across the country predict that they will be forced to close within six months if there is not a significant financial intervention from the government. With most self-sustaining musicians earning the bulk of their income through touring, it is not difficult to imagine a dystopian trickle-down effect. 
The pandemic can be framed as a period of forced reflection and a time to take deliberate steps towards preserving and one day reviving treasured elements of the community. Though the planning process of the Walk of Fame began well over two years ago—and should be interpreted primarily as a tourism initiative, not an attempt at providing the support local musicians so desperately need right now—it arrives as an unintentional yet fortuitous substitute for the many activities that remain on hold until large gatherings are safe.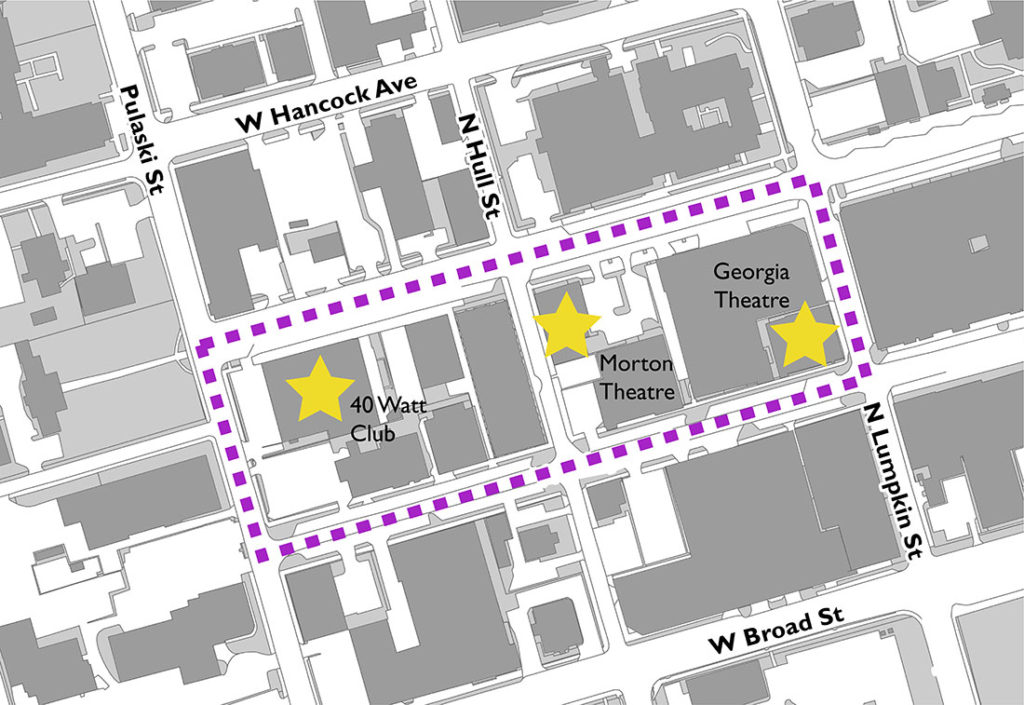 "The Athens Music Walk of Fame is a perfect activity to enjoy during the pandemic: outside, socially distanced and a way to learn about Athens' incredible music heritage," says Linda Ford, director of business services at the Athens Downtown Development Authority.
The Walk of Fame will soon be accompanied by a mobile app that uses proximity beacons to share specific sights and sounds associated with each honoree as users come within about 20 feet of the plaque. Developed by ThinkProxi, the app has the potential to expand in the future by incorporating a live-music calendar, a public art guide and a historic Athens tour.
The ADDA received full funding for the app through a Tourism Product Development Grant from the Georgia Department of Economic Development, which awarded over $64,000 for 14 new projects in the state last year. These grants are available to communities that have participated in Explore Georgia's TPD Resource Team program. At the request of the Athens Convention & Visitors Bureau, a team of 10 tourism professionals visited Athens to develop a 67-page music tourism report—released in June 2018—that investigates how best to preserve, support and ultimately leverage the music scene as an attractive travel destination. Of the plan's many suggestions—others of which focus on supporting businesses, incubating talent and prioritizing diversity—was the Athens Music Walk of Fame. After the cultural affairs commission secured SPLOST funding, they were able to fund the initial round of plaques, and a timeline was established for moving the project forward. 
Naturally, condensing a decades-long performing presence into a mere 10-act lineup is a nearly impossible task that required a significant amount of deliberation. Over the course of several months, Didi Dunphy, program supervisor at the Lyndon House Arts Center, spearheaded a series of conversations among over 30 musicians, industry professionals, business owners and community representatives to determine criteria that could be used by a selection committee. Appointed by Mayor Kelly Girtz, this committee consists of local residents who attempted to weigh a handful of considerations: historical context, contribution to the identity of Athens, breadth of career, distinct musical style and a diverse representation in cultural and racial identity. Approved as a multi-year project, funds have been reserved for an additional two or three plaques per year.
"This project has, I hope, at least for me, really provided some positivity in the midst of the beginnings of recovery. And some joy for our previously empty streets, as we know outside and apart is our best hope, and this project is so perfect for that," says Dunphy. "The Athens Music Walk is a statement of strength for our city and the acknowledgement that musical talent is part of that strength."
Like what you just read? Support Flagpole by making a donation today. Every dollar you give helps fund our ongoing mission to provide Athens with quality, independent journalism.