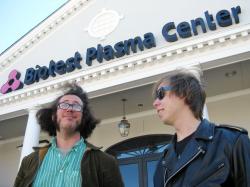 Max Wang is seriously bummed out. The drummer for local garage-punks The Rodney Kings is the force behind what he has dubbed "364@255 Winter Hate Fest," which is, he explains, a purposefully pessimistic counterpart to the 364@255 Summer Love Fest that he organized back in June. (The "364" in question is the address of a beloved, but defunct, party pad, located in an infamous, crusty-college-kid subdivision near the tracks.)
"[In the summer], it was love all around," he writes in an email. "The weather was hot; school was out; we had the whole year ahead of us. We'd preoccupy our minds with all of these fantastic plans and dreams of what we would accomplish and do by year's end. All the bands were friends, mostly, and it was a great time."
Sounds cool. But it wasn't meant to be, Wang laments.
"Now, the weather is grim, our lives have come undone [with] the seasons, and we realize that the end is near—and the thoughts of all of those plans and machinations have gone unfulfilled. A whole spectrum of failure: our love lives, unemployment, uncertainty of the future and whatever kind of hell that will ultimately bring. Alcoholism. Addieville is but a ghost town."
Tough stuff. Thankfully, the bands scheduled to perform over the course of these two gloomy, late-December days should provide a welcome burst of raucous energy for your (and, hopefully, Wang's) serotonin-starved brain. On Friday: The Rodney Kings, noise-rockers Daffodil, dissonant local standout TaterZandra and Atlanta hardcore group Sharps. On Saturday: up-and-comers k (v) i d s, Velocirapture and Sad Dads (appropriate, no?), along with another ATL outfit, Christ, Lord.
Like what you just read? Support Flagpole by making a donation today. Every dollar you give helps fund our ongoing mission to provide Athens with quality, independent journalism.