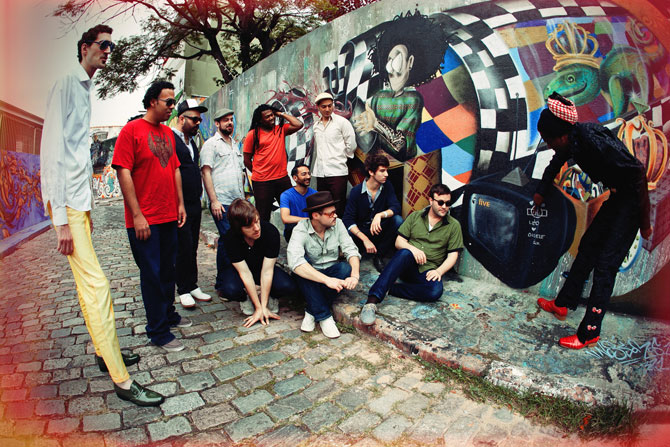 "Next to The Dap-Kings, Antibalas are the second most important retro/revision band working today," wrote Ahmir "Questlove" Thompson, drummer for The Roots and sentient music encyclopedia, on his Okayplayer blog in 2008. "They have the baton when it comes to carrying on Fela [Kuti]'s torch."
Questlove's outpouring of nerdy affection for Antibalas came just as the 15-year-running, Brooklyn-based ensemble had landed the gig for which it was unknowingly formed: performing as the house band in Fela!, the lauded Broadway musical celebrating the life of the bandleader, revolutionary and afrobeat pioneer.
While Antibalas ("bulletproof" in Spanish) had been writing dead-on recreations of Kuti's fusion of red-hot traditional African music and stone-cold James Brown-style syncopation, the group's inclusion in the Broadway show was more than a deserved steady paycheck for these hardworking musicians; it was also an affirmation of Fela!'s dedication to getting it right.
The last five years have seen an increase in Graceland-like mining of African music, with varying degrees of reverence and success. Bands have mined Yoruba music and highlife with both cheeky self-consciousness (Vampire Weekend) and an unfortunate lack of self-awareness (many others).
The members of Antibalas aren't interested in co-option so much as they feel indebted to the music they love; they recreate it with the care one would apply to building a ship in a bottle. They eschew dilettantism, attempting instead to model their tones, rhythms and aesthetic entirely on the original afrobeat design. This isn't to say they sacrifice the groove—this is, after all, dance music first and foremost.
But the second reason Antibalas is important is its faith in Kuti's intention to make powerful, political music. On albums like Who Is This America? and songs like "War Is a Crime," Antibalas reinforces the idea that music simultaneously can be a good time and a force for truth. Faithful to its origins and ideals, Antibalas is an institution for a reason. Check it out.
Like what you just read? Support Flagpole by making a donation today. Every dollar you give helps fund our ongoing mission to provide Athens with quality, independent journalism.