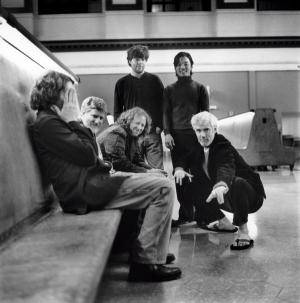 Photo Credit: C. Taylor Crothers
As the end of November draws near, String Cheese Incident gears up for its "Roots Run Deep" tour beginning in Asheville, NC. This will be their first time hitting the road in four years, and the band members are extremely excited to play the East Coast for an almost entirely sold-out tour. For those unfamiliar with the music, this Colorado-based band plays a wide range of genres while always sticking to its bluegrass roots. They are known for their extensive jams, exploration and unique take on the "jam-grass" sound.
String Cheese Incident bassist Keith Moseley says the band has been busy in rehearsals, practicing old and new songs. The group hasn't played at the Georgia Theatre since 2000, and it means a lot to them to be able to return after the fire.
"It has always been a really important venue for us. I think we had some really big shows there early on in our career that meant a lot to us, and I know it has been a historic venue for a long time, for a lot of touring acts."
It was a collective decision for the band to get back together for a full tour. "Everyone was kinda feeling the urge to get on the bus and go string a bunch of shows together," he says. "You know there's a certain kind of rapport between each other, a little bit of magic that kind of gets goin' when you play night after night." New material will be showcased at the Theatre, and the band plans on recording a new album after this tour wraps up in December.
"We have some new tunes we are workin' up, as well as some older tunes that are getting overhauled, and new arrangements; so we're all about bringin' out a bunch of new stuff for this tour. So, definitely expect to hear some things you haven't heard."
Like what you just read? Support Flagpole by making a donation today. Every dollar you give helps fund our ongoing mission to provide Athens with quality, independent journalism.