The war in Ukraine has caused a renewed commitment to democracy. Putin's bloody attempt to crush a free and democratic nation has created revulsion throughout the world and has starkly reminded us how democratic institutions can never be taken for granted.
Ironically, as war rages on the edge of Europe, we here in Athens-Clarke County have suffered a blow to our own democratically elected government. On the most local level, three of our elected ACC commissioners were forced from office, and our election districts were uprooted and scattered about the county in new configurations. This dismantling of our local government was forced upon Athens by "our" own Republican legislators, who occupy seats made safe for them by the voters of Oconee, Walton, Barrow, Jackson and Madison counties. Sen. Bill Cowsert, Sen. Frank Ginn, Rep. Marcus Wiedower and Rep. Houston Gaines can act autocratically toward Athens, because Athens probably can't vote them out of office, though the many Republican voters in Athens can help them stay in office.
So when local Republicans, secessionists and the clean-and-safers told "our" legislators to destroy the county commission because it is too liberal, "our" legislators were happy to overturn the will of the majority of ACC voters and cram a gerrymandered commission down our throats. Now, on May 24, we'll have an election for the completely reconfigured District 1, where Patrick Davenport is still the incumbent and for the three open seats in Districts 3,5 and 7, where our democratically elected commissioners Melissa Link, Tim Denson and Russell Edwards were blown out of the districts that elected them. We'll have an election with campaigns and candidates as if nothing happened, but something did happen: "Our" legislators invaded Athens-Clarke County and are now trying to set up a puppet government.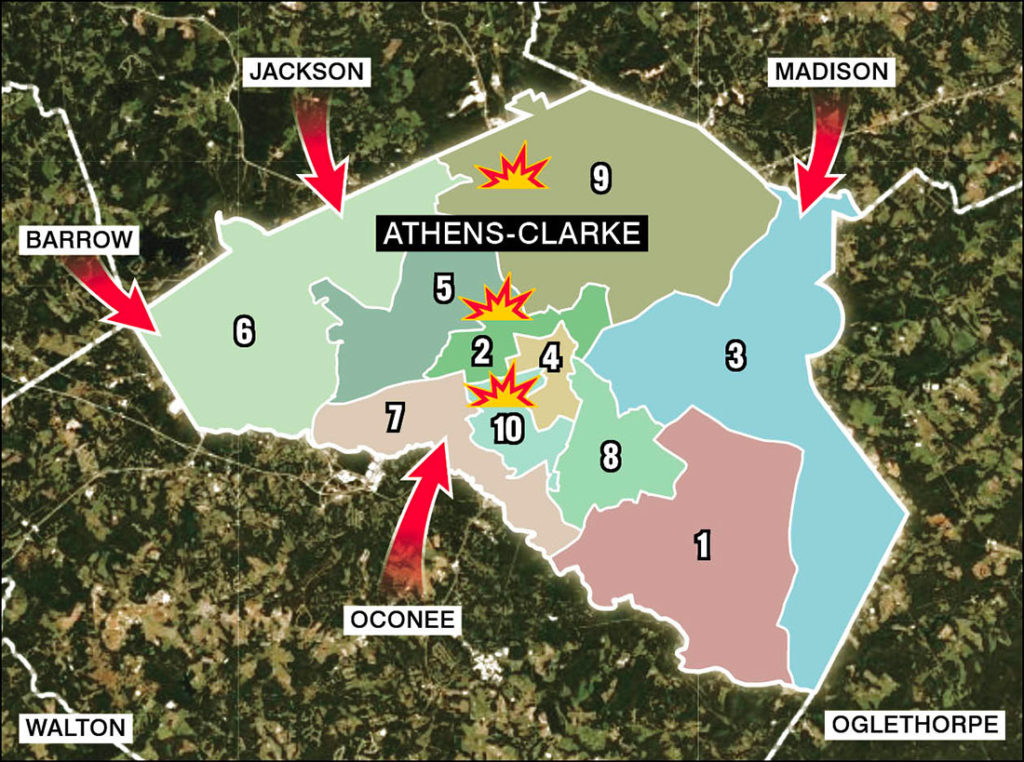 The primary election is non-partisan, which means that candidates don't have the labels of political parties. They can be Republicans, Democrats, Libertarians or independents, but they don't have to tell you. They can even be lifelong Democrats, yet perform in office to delight every reactionary Republican in town.
The worst thing about this upcoming election is that those who don't like the politics of the incumbents didn't just run against them in a fair election. Instead, they bombed them out of their home districts and made political refugees out of our elected commissioners.
So obviously this is a very important election, which will cause us all to think seriously about what kind of local government we want. The autocrats have decreed that our commission is too progressive, too liberal and that it must go back to being safely do-nothing reactionary. Apparently, what is too progressive for them is trying to do something about poverty in Athens, about homelessness, about fair wages for public employees, about transportation, about affordable housing, about police responsibility, about open government. Since they felt that they couldn't change local government through the democratic elections process, they destroyed it, hoping to insert their own candidates into the new government that will be built from the ruins of the old.
That's what makes our task as voters so important in this election on May 24. We've got to be clear about what kind of government we want here, and we've got to find out who is committed to that kind of vision. In spite of the politicians who destroyed our government, the candidates running to fill the open seats are all nice people. They all want what is best for Athens-Clarke County. It is our job as voters to find out where these candidates stand—whether they support the vision represented by our canceled commissioners or whether they want our government to reflect the vision of the Republican legislators who destroyed it and those who put them up to it.
This is a very focused task. We as voters can concentrate on the one district where we live, once we figure out where it is now. We'll all vote for mayor and for candidates in the state primaries, but each of us can concentrate on finding out which commission candidates share our vision for Athens-Clarke County and which share the vision of those who find our present government unacceptable. Then we've got to register voters, and we've got to go to the polls or to the drop box to take back our government district by district.
Like what you just read? Support Flagpole by making a donation today. Every dollar you give helps fund our ongoing mission to provide Athens with quality, independent journalism.