The Guide Is Out!
Having trouble finding your way around Athens? Confused about where to eat or get a drink? Don't know where to take the kids, see a movie, watch a play, buy a book, take a walk in the park, enjoy art or listen to live music?
Don't worry; you're covered. The new 2017–2018 Flagpole Guide to Athens has arrived to help you with all these important decisions.
The Guide, as savvy Athenians know, is indispensable among your devices for navigating life in our interesting town, and it is always a handy way to jumpstart the orientation of anybody visiting here—not to mention helping new and returning students take a refresher course in the finer points of life in their town away from home.
The Guide, with its cool cover designed by Flagpole Production Director Larry Tenner to look like an old WPA national parks poster, is a concentrated package of essential information that you'll find yourself consulting, even if you already know your town. And it's easy to find at 300 locations around Athens and Oconee, which we keep stocked all year around, in case yours isn't in your backpack when you need to peruse it. The Guide is also online, of course, if you can't lay your hands on the slick-paper version or prefer to lay your fingers on your phone.
The Guide draws on the expertise of Flagpole staff and writers, folks who know Athens and enjoy sharing what they know with you—which is what they do for a living, actually. That's why the Guide is hyperlocal!, and that's why you need it in Athens. The Washington Post and CNN just aren't going to give you Athens like the Guide gives you Athens and like Flagpole gives you Athens. They cover the world. We cover the world of Athens, GA, and the Guide and Flagpole work hand in hand to give you the big picture and the week-by-week and day-by-day adjustments. The Guide tells you where the clubs are and what kind of music you're likely to find there. Flagpole and flagpole.com tell you who's playing there tonight.
The Guide, Flagpole and flagpole.com are essential to your enjoyment of Athens, and all three are free to you, thanks to our advertisers, who underwrite our publications with their ads, which also help you make your choices on what to do and where to go, to eat, to drink, to shop.
So, grab a Guide, and be in on Athens: the 2017-2018 Flagpole Guide to Athens—for those who want to know their way around.
Searcy Succeeds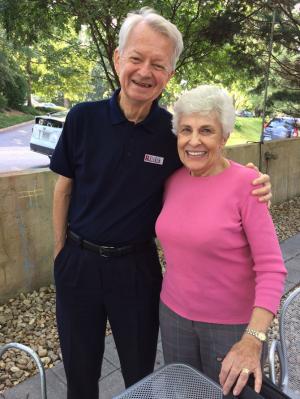 Chuck Searcy had a triumphant visit home, highlighted by the yard party thrown for him Saturday evening by his friends and property managers, Dennis Waters and Will Wilson, with a lot of help from other friends. The party was serenaded by the music of Kate Morrissey and her group, and then Five Eight brought down the yard with their usual high-energy hijinks and tight, driving, emotional, raw blast of a performance—outside on the lawn right in the middle of Five Points. Searcy always combines his visit with fundraising for Project Renew, the bomb-removal and victim assistance program he heads up in Vietnam, and the guests kicked in for $4,000, mostly in small contributions.
Project Renew, in addition to its effective program to remove bombs and educate the populace, has fitted over 1,100 amputees with prosthetic devices and still has 900 on the waiting list. Around $300 will provide one of them an artificial limb and make it possible for them to walk again. Contributions of any amount are needed and can be made online at landmines.org.vn.
Like what you just read? Support Flagpole by making a donation today. Every dollar you give helps fund our ongoing mission to provide Athens with quality, independent journalism.