A Big Success
The large crowd that turned out for the open house at Al-Huda Islamic Center on Saturday was graciously received and found insight, entertainment and tasty treats. Our Muslim neighbors certainly succeeded in reminding us that they, too, are people from many ethnic backgrounds who live and work among us in "all walks of life." The open house was particularly timely, given heightened attempts to vilify Muslims and to restrict their entry into our country.
Along with the food and the popular activities such as the long lines of people who stood in line to get their hands and arms decorated by henna artists, were the colorful wall panels presenting succinct descriptions of the major tenets of Islam. These explanations were in stark contrast to depictions of the Muslim religion as hate-filled and warlike, showing instead, a simple, monotheistic religion that embraces other religions.
The stated goal of the open house was "to provide a forum that will enhance understanding the Muslim way of life among peoples of various social, political, religious, ideological, ethnic and professional backgrounds." They surely met that goal.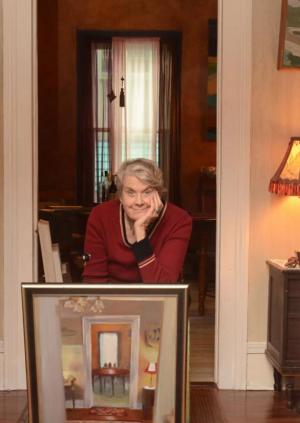 Photo Credit: Leita Cowart
Artist at Work
Saturday, Feb. 18, local artist Chatham Murray is having her annual open house from 11 a.m. until dark. This year, she's selling her new paintings and some old ones. This is always an enjoyable event, a homecoming of sorts for Chatham's many friends and some of her family. It's also another chance to see how an artist turns her home into a work of art. She's over on 120 Barrow Street, just up the hill from where it dead-ends into Pulaski Street. There'll be snacks and wine and plenty of time to enjoy the paintings and the surroundings, including her inviting yard.
Kiss, Kiss
Word of mouth (no pun intended) is that Town and Gown's current production, Stage Kiss, is a delightfully funny romp that is not to be missed. What else would we expect from Town and Gown stars like Bryn Adamson and Matt Hardy, directed by the irrepressible Derek Adams in a Sarah Ruhl play? The plot: A couple of former lovers are cast in a play that involves them in a lot of kissing, and complicating emotions ensue. As of this writing, there are still plenty of tickets for the final performances this week—Thursday–Saturday at 8 p.m. and Sunday at 2 p.m.—but by the time you read this, they may be in short supply. Grab some at townandgownplayers.org.
Heartbreak of Theater
Anna Tenner, daughter of Flagpole Production Director Larry Tenner, after many weeks of practice and one week of performance, was genially presiding as The Cat in the Hat over Athens Little Theater's rambunctious production of the musical Seussical Friday night. Behind her whimsical stage persona, though, stood a sick girl, who by intermission had to admit that she couldn't continue. Only the flu (as it turned out to be) could keep that trouper off the stage. Her stand-ins rose to the occasion in true theater tradition.
Like what you just read? Support Flagpole by making a donation today. Every dollar you give helps fund our ongoing mission to provide Athens with quality, independent journalism.