Bye-Bye, Bohemians?
As we wait to find out whether yet more student high-rise housing will occupy the St. Joseph's property at Pulaski Street and Prince Avenue, we shake our Classic heads and wonder what they're doing to Athens, and why. Hey, it's not personal; it's only business, and it's happening in every college town in America.
Bendix Anderson wrote in the Dec. 3, 2013 National Real Estate Investor online, "However, the flood of new construction is concentrated in the area nearby the roughly 300 largest universities with more than 10,000 students apiece, says [Jim Arbury, vice-president for the National Multi Housing Council]. The newest student housing is targeted even more tightly. Because of the high cost of new construction, these new beds target the wealthiest students who can afford the cost. 'You can only make the math work if you're delivering class-A properties,' says [Terrell Gates, founder and CEO, Virtus Real Estate Capital]."
Investors are scrambling all over the country to cater to students' desires to be as close as possible to the universities they attend. If that means they're also close to bars and restaurants, bingo!
The common denominator in the nationwide rush to build to suit the wealthiest students is the availability of land close to campus, which is in short supply, especially in the more urban areas. Athens just happened to have some large tracts adjacent to campus and downtown that were up for sale: Athens Hardware on Strong Street, the infamous Armstrong & Dobbs property on East Broad and Oconee streets, the property behind the Suntrust Bank between Broad and Clayton streets, the site between the downtown post office and Bethel Homes, in addition to St. Joseph's and, apparently, the Bottleworks parking lot on Meigs Street. All except the latter two have been or are being developed for "class A" student housing.
These kids are rich, by Georgia standards, and, as long as their grades are "class B," they are further entitled to government subsidies for their tuition in the form of HOPE scholarships, so they affect Athens as wealth affects communities everywhere: They drive up rents, and they drive up the price of everything else: beer, pizza—even tuition, squeezing out less affluent Georgians. They cost us money, and they bring us money.
That's the way it's always been in Athens, from the beginning, when the university was built as a college for rich, young white boys, whose families pretty quickly learned to amass fortunes with slave labor, thus sending wealthier and wealthier sons here, ostensibly to learn amongst the charms of Athens.
Grady Thrasher and Kathy Prescott are working on a film about the Athens we know today, and how it came to be; you might call it "bohemian Athens." In the college-town mix that attracted creative people like those who have made our music and art scenes is always cheap rent, and here that also meant charming old neighborhoods close to downtown. If relatively cheap rent is a thing of the past, does that mean "our" Athens is, too? Are the kids paying class-A rents and hanging out around the infinity-edge pool less likely to start a band than their predecessors, who swatted mosquitoes on the back porches of old houses in kudzu patches?
Of course, our government made it illegal for more than two students to live in those houses in those kudzu patches, thereby upping the rent. Meanwhile, bohemians were already so successful here that they bought up all the old houses and turned them into upscale, intown neighborhoods, putting them far out of the reach for the next generation of creatives.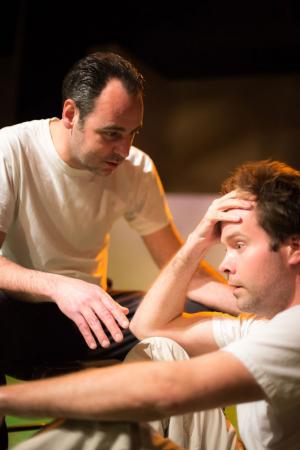 Photo Credit: Matt Hardy
Our present government could have addressed the class-A land rush before it took over downtown, but it didn't, and now we'll just have to wait and see what kind of town evolves from the continuing flood of rich, entitled, temporary residents living in another world but feeding off our Athens.
Hello, Crazy Fun
Yes, Town & Gown's One Flew Over the Cuckoo's Nest is as good as we thought it would be—better, actually. It's a great play, based on a great book, and this production is superbly cast, directed and acted—on a beautifully grim set.
You know the story: It's Randall McMurphy (Joel Altherr), the free sprit, against the maliciously controlling Nurse Ratched (Amy Miller), and it is a fight to the death for the hearts and minds of the inmates of an insane asylum, wonderfully, zanily, poignantly played by a raucous ensemble of Town & Gown's best. Altogether, they deliver an evening (and an afternoon) of funny and thought-provoking theater. But hurry: This is the last weekend—Thursday, Apr. 16–Sunday, Apr. 19. Tickets at 706-208-8696 or townandgownplayers.org.
Like what you just read? Support Flagpole by making a donation today. Every dollar you give helps fund our ongoing mission to provide Athens with quality, independent journalism.