Close readers of this column will recall that a couple of weeks ago the writer sat at his kitchen table of a Sunday morning, writing both a speech for the Osher Lifelong Learning Institute (OLLI) and his Pub Notes column, lazily combining the two. Behold, the writer is back at his table; a column looms; OLLI was canceled by the weather and is coming up again. Now we have what the philosopher Søren Kierkegaard liked to call a "repetition."
Readers may further recall that the topic of the OLLI speech is "The Making of Modern Athens" and that the last Pub Notes that was cribbed from the speech addressed changes at the university that brought in a flood of young PhD's from graduate schools outside the South. Their presence and their influence on campus, in town and especially in the minds of their students was a watershed from which flowed a different university and a different Athens.
Of course, there were many, many confluent tributaries—the winding down of the Vietnam War, relatively affluent economic conditions, the belated arrival of "the '60s" during the '70s and a general intellectual awakening among some younger people—accelerated by the war and by the views of the new faculty—that things might not really be all peachy keen in "Amerika."
It was never easy, and it never will be.

So, here in what was then called "Advancing Athens," a paradigm shifted. This, like all university towns, had heretofore been a place where kids came to college and then left after they graduated, flunked out or finished law school. A few met and married Athens classmates and stayed on after school, but the general rule was up and out: back home to small-town Georgia (that was before half the student body came from Cobb County) or on to Atlanta to begin a career.
Vietnam brought students who were here because college gave them a deferment that would keep them out of that unpopular war. Many of those students would not have been in college except for the war, and they were not particularly interested in remaining in school once they were no longer in danger of being drafted. Many of those students had interests more important to them than a college degree: starting a business, making art, making music. The college drew them here, but the town held them. These kids found that they liked Athens, not for its career opportunities but for itself—a small, college-influenced, laid-back, inexpensive, pretty town with a growing concentration of people with liberal social views who appreciated art and music. These kids, moreover, to the extent that they had applied themselves at the university had been influenced by a cadre of assistant professors not a lot older than they were and bursting with energy and enthusiasm. To those who "tuned in, turned on and dropped out," Athens was, in author Blake Gumprecht's description in The American College Town, "A Paradise for Misfits."
More importantly, if you were weird enough to choose music over medicine, you needed to live somewhere you could afford, where you could eke out some kind of living, preferably among congenial people and surroundings. Athens was perfect, and it was about to get better. Not long after the new energy on campus and the end of the war had spun off into a few head shops, organic food stores and beer-joint-clubs, Georgia Square Mall opened and pulled the retail heart of northeast Georgia out to the Atlanta Highway.
That left a lot of empty space, cheap: suitable for artists' studios, band practice spaces, cafés, record stores, clothing and leather-goods shops, bookshops. Local government already had its Main Street program trying to patch things together, and government also came up with low-interest loans to help a new generation of entrepreneurs buy the old buildings. The infrastructure for a new, weird Athens was in place.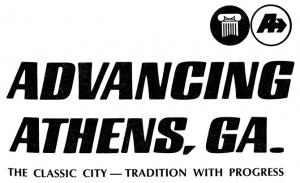 Advancing Athens had been bad to tear down the old stuff and put up the bad stuff. The misfits who lived in and appreciated the old homes in the old neighborhoods joined the preservationists in the fight to preserve and protect what was left. The new entrepreneurs opened restaurants and clubs where they and their friends could serve food and beer, and play and listen to music. They hung their art and their friends' art on the walls, and they served lunch to their former profs and maybe sold them a painting, too. And they supported local government candidates who understood what was going on and also appreciated the importance of neighborhoods and the built environment and the encouragement of artistic creation to the economy and livability of a town.
So, what made modern Athens was public investment—in the university and in the city—coupled with individual, entrepreneurial effort by local people who were here because they chose to be.
It was never easy, and it never will be. The neighborhoods saved by the preservationists and the hippies have gone upscale; the low rents that made living and starting businesses possible have climbed; the government that after much contention finally "got it" has slipped back, and student apartments with their concomitant out-of-town chain businesses threaten to take over the downtown that once allowed an art school dropout to own a building.
The Athens we know and enjoy is a public/private partnership, and it is dependent on both if it is to survive and thrive.
Like what you just read? Support Flagpole by making a donation today. Every dollar you give helps fund our ongoing mission to provide Athens with quality, independent journalism.