The Writer Reads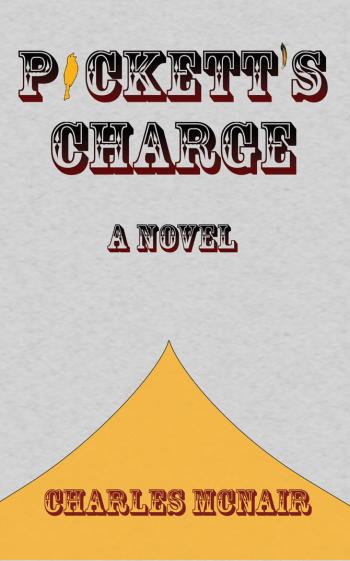 OK, I was determined not to use the adjective "Faulknerian," but here I go in the first sentence, and I haven't even read the book. I guess I could also use "Flannerian," because it looks to be as outlandish as it is serious. But this isn't a review: it's an alert. The author is kicking off a book tour with a first reading at Avid Bookshop Tuesday, Sept. 24 from 6:30 p.m.–7:30 p.m.
Charles McNair, an Alabama native living in Atlanta, has written his second book, Pickett's Charge, to great acclaim. It is either an unusually fine book, or he has a lot of writer friends willing to lie shamelessly on his behalf. Having dipped into his book, I strongly suspect it's the former. I've been trying to get my hands on this book for weeks, and it just arrived yesterday. I took one dip and saw that there was no way this slow reader is going to read it in time to review it. Every time I have opened it to poke around and try to get the flavor, it has grabbed me and held me and won't let me put it down.
Here's the little synopsis from Amazon: "A comedy, a tragedy. Threadgill Pickett, veteran of the Civil War, breaks out from an Alabama old folks home and starts a quest northward to kill the last living Union soldier. This is to avenge his brother, who was needlessly killed by Union soldiers, outside of any conflict. On his journey Threadgill encounters two brothers building a time machine, a trio of Ku Kluxers, a man collecting raccoons that turn out to be rabid, a wannabe country singer, and a truck-driving woman to make men stand in awe. He also encounters a Utopian society of blacks and whites who share family, food, love and grief." The book is set in the 1960s, so Threadgill is, you know, really old.
So, yes, it looks wild, and it's Faulknerian in the sense that McNair starts his story several generations back, so that in the Southern sense you by God know who this guy Pickett is, outlandish though he may be, and Faulknerian in that when Pickett crosses a river in flood, you are by God right there in the middle of it with him every tortured step and breath. And, it's Faulknerian in the way it jumps back and forth among the generations, proving that the past is, you know, (who was that guy?) not even past.
McNair left the corporate world some years ago determined to be a writer and has cobbled together a living in Atlanta ever since with freelance writing, teaching, workshops, book reviews, etc. His first book, Land O'Goshen, was nominated for the Pulitzer Prize. He sounds like a friendly, humorous fellow who will be fun to meet at Avid, and his reading should be the perfect introduction to Pickett's Charge.
Harold Works Hard
Not much word from Harold Williams at Shepherd Center, other than that his and Paula's days are filled with physical and occupational therapy. He's sitting up in his chair, and he's enjoying getting cards from friends, so zing them at him. You know he'd be bombarding you if you were over there. Send him a card, to Harold Williams, Room 419, Shepherd Center, 2020 Peachtree Rd. NW, Atlanta, GA 30309-1465.
Searcy On the Way
Remember to mark your calendar for Friday, Sept. 27 at 7 p.m. in the Ciné lab, when Chuck Searcy and his Vietnamese colleagues will talk about Project RENEW, the unexploded bomb removal project they administer in Vietnam. Also, get this: there's a party for Chuck the next night. If you're a friend o'Chuck, email me here, and I'll send you the details.
Like what you just read? Support Flagpole by making a donation today. Every dollar you give helps fund our ongoing mission to provide Athens with quality, independent journalism.