Heart & Loins
After four-and-a-half years of wise, tough and funny advice in our popular feature, "Reality Check," "Jyl Inov" is through telling you what to do about that long-distance relationship or that short-term affair. She has a new job (yes, she's real, even if her name isn't) and less time to mull over your problems, plus you have slacked off on sending in questions. So, that's it for Jyl. Our thanks to her (she knows who she is) for all these years of meeting deadlines and taking seriously the crises of strangers for small remuneration and anonymous credit. Maybe some day Jyl will collect her columns into a book. Thanks, Jyl. Now that you're leaving, I won't have to confess that I'm sleeping with my roommate.
Growing Up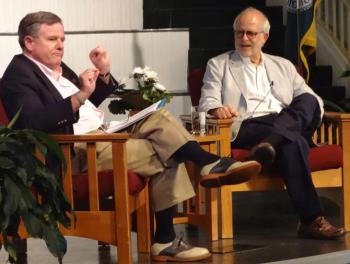 Photo Credit: Blake Aued
The local non-profit Children First launched a seven-week series, "Stories From Childhood: From a Tiny Acorn," on July 14 to support its several programs that protect children caught up in foster care and the court system. Each week's event features an "iconic" figure in and around Athens who will tell about the challenges, happy times and cultural happenings that marked his or her childhood. These informative and amusing sessions are held Sundays at 3 p.m. in the old Prince Avenue Baptist Church sanctuary, now the Meeting Hall at Piedmont College, 595 Prince Avenue. The suggested donation of $10 goes to the children's programs and gets you refreshments that include the favorite foods of the icons being interviewed. I had the pleasure of interviewing Doc Eldridge to kick off the series. Earnest Thompson interviewed Rev. A. R. Killian last Sunday, and the lineup of icons and interviewers (some of them icons in their own right) is: July 28, Claude Williams with Madeline Van Dyck; Aug. 4, Barbara Thurmond Archibald with Judge Lawton Stephens; Aug. 11, Reverend Barbara Brown Taylor with Dr. Barb Benson; Aug. 18, Bertis Downs with Vernon Payne; August 25, Dr. Gordhan Patel with Dr. Jinx Patel.
Pat Priest organized the series, and Mary Whitehead is emcee.
The Dickens With Athens
We have a new feature taking over the space vacated by "Reality Check." It's a serialized fiction piece set in Athens, tentatively titled "The Athens of Georgia." It's the familiar Athens story: guy comes to Athens because of a girl. Girl gets involved with somebody else. Guy gets involved in the music scene, etc., etc. And so forth. The antecedents for such an endeavor go all the way back to writers like Charles Dickens, who wrote several of his books as weekly installments in the newspapers of his day. More recently, there was the late-'70s, early-'80s series in the San Francisco Chronicle, "Tales of the City," later collected into several books and serialized on public television. And of course in Flagpole we have the precedent of the late John Seawright's multi-part writings on colorful characters from local and state history in his long-running column, "Ghost Fry."
"The Athens of Georgia" is written by C.J. Bartunek, who is working on a PhD in creative writing at the university and has already written several stories for Flagpole. The series will start in the Aug. 7 issue and will continue on after that until the book is complete or CJ or Flagpole decides to bail.
Like what you just read? Support Flagpole by making a donation today. Every dollar you give helps fund our ongoing mission to provide Athens with quality, independent journalism.