The Oconee County Planning Commission voted 8–0 on Tuesday night to recommend to the Board of Commissioners that it deny the rezone request for a major shopping center at the intersection of Mars Hill Road and the Oconee Connector.
The planning commission took its vote after a relatively short discussion following a public hearing in which citizens voiced strong opposition to the project, raising concerns about the environmental impact of the project and about traffic created by it.
Much of the discussion that did take place focused on the proposed main entrance to the shopping center off the Oconee Connector.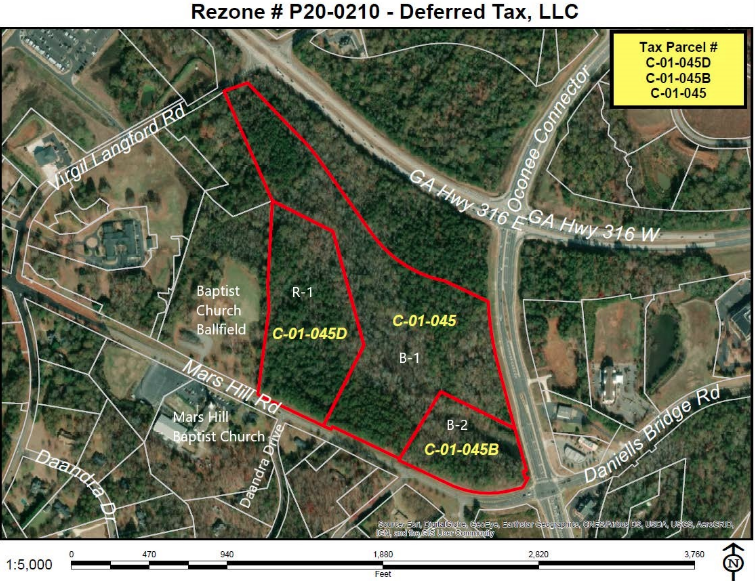 Kevin Letch, senior development manager for the Sembler Company of St. Petersburg, FL., told the commission that his company did not accept the Oconee County planning staff recommendation that the entrance be limited to right-in, right-out traffic, and that he wants a full intersection with a traffic signal.
Grace B. Tuschak, senior planner with the county, had forwarded to the members of the planning commission late on Thursday an email message from Georgia Department of Transportation District Traffic Engineer Jason Dykes rejecting the Sembler proposal.
In response to questions from members of the commission, Guy Herring, director of planning and code enforcement, confirmed that the Georgia DOT had concluded that the Sembler proposal is inconsistent with the state's plans to elevate the connector to fly over SR 316.
The commission's recommendation for denial now goes to the Oconee County Board of Commissioners, which is scheduled to make is decision at its meeting on Feb. 2.
In response to a question from planning commission member Steven Strickland, Letch said Publix is under contract to purchase 10 acres from Price for the store that would anchor that first phase.
Letch also said that Publix has no intent to close "any of its stores" in the area. At present, Publix has nearby stores in Butler's Crossing and on Atlanta Highway.
Letch said no contracts have been signed for the hotel, restaurants or a car showroom shown on the concept plan.
For more, visit Oconee County Observations.
Like what you just read? Support Flagpole by making a donation today. Every dollar you give helps fund our ongoing mission to provide Athens with quality, independent journalism.