University of Georgia students live in Athens for at least nine months a year, and as a result, are directly affected by election results during their stay, whether or not they vote. Many sacrifice the opportunity to influence Athens politics by not voting, which also reduces Athens-Clarke County's overall voter turnout if they are registered but do not vote.
There are several reasons why UGA students may not cast their ballot in Athens: temporary residence, not knowing how or where to vote, or because they are not registered in Clarke County.
UGA's total enrollment is 40,118. A quarter of the freshman class are not permanent residents of Georgia, making them ineligible to vote in Clarke County elections. While the remaining 75% are Georgia residents, those who claim their parents' address as their permanent residence outside of Clarke County may not register to vote in Athens while they live there.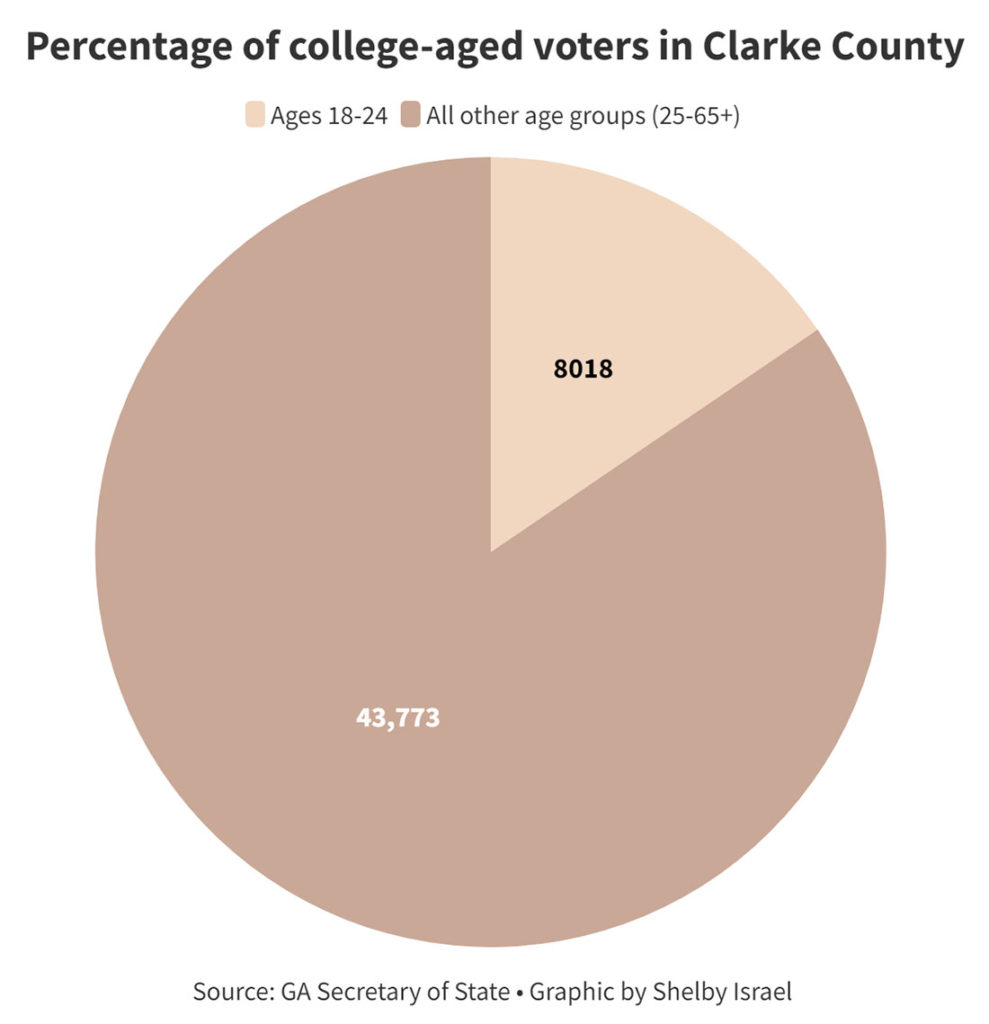 Director of Elections and Voter Registration Charlotte Sosebee says understanding the process of registering and voting is important for students. "I would encourage students to check to make sure they're registered to vote and determine where they're registered to vote, which county they're registered to vote in, if they are planning to register to vote in Clarke County," Sosebee says. "If they are registered in another county, then that's something that needs to be addressed before the [registration] deadline."
Sosebee said the Athens-Clarke County Elections Office does education campaigns and community outreach programs to prepare voters ahead of elections by teaching the election process, how the office gets results and how to register to vote. "There [are] a lot of things that students can participate in and be a part of the electoral process," Sosebee says.
Some students may be discouraged from voting because they feel like "nothing's going to change anyway," says UGAVotes executive director Marley Brock. "Whether or not we vote, people are going to be voting," she says. "And people are going to be electing politicians who are going to be going to those legislatures and going to be enacting legislation, and if we're not voting, it's probably not going to be on our behalf."
Brock says college is an important time for students to inform themselves and participate in local elections because an important part of living in any community is understanding what your local politicians are doing and getting involved. She says UGAVotes helps inform students by providing information on registering to vote and requesting an absentee ballot.
"A really common thing is that students in dorms don't know that they still can register using their university address," Brock says, "but what people don't really tend to factor is that even if you're in a dorm, you are spending more physical time in Athens-Clarke County than you are at your parents' address."
District 7 Commissioner Russell Edwards says he would like to see more voting and activism among UGA students. "To me, that's kind of depressing that there's not more inspiration that's sort of trickling down to the younger generation to really get them excited about engagement and voting," Edwards says.
Edwards says he believes Sens. Jon Ossoff and Raphael Warnock's victory in the 2021 Senate runoff election "helped ignite a fire" in young Athens voters despite an overall lack of participation. "I think there's a huge missed opportunity there for students and young people just in general in this community to really drive the government in a better direction," Edwards says. "You can't just count on leaders to get into office and do everything you want to see done. It really takes that engagement to push and elect the leaders you want to see."
In the 2020 election, 59% of voters in the 18–29 age group voted for Joe Biden, according to the Pew Research Center. This age range makes up 17% of the total voting population, according to the United States Census Bureau.
Voters aged 18–24 make up 16% of total registered voters in Clarke County, according to 2020 data from the Georgia Secretary of State. Among the 51,791 who voted, 15% were 18–24 years old. Across the state, 10% of voters were aged 18–24.
Edwards says the passage of Senate Bill 202, which places limitations on voting by mail, will have an effect on the participation of student voters by making it harder to vote absentee, which may be the only option for some students who are not registered in Clarke County.
"No progressive forward-thinking movement in America has ever succeeded without the leadership of young voters," Edwards says.
Like what you just read? Support Flagpole by making a donation today. Every dollar you give helps fund our ongoing mission to provide Athens with quality, independent journalism.