As each community artist participating in the Athens Hip Hop Harmonic crossed the stage of Hugh Hodgson Concert Hall and looked out across the 1,100 soon-to-be-filled seats, there was a universal "wow" uttered. Coming together with their UGA Hugh Hodgson School of Music pairings and directors of the program, Connie Frigo and Montu Miller, for the Flagpole cover shoot was the first time these local artists had ever stepped foot in the concert hall.
The Athens Hip Hop Harmonic (AHHH) is a multi-year collaboration between the local hip-hop community and the UGA Hodgson School of Music that was launched in August 2021 and is supported by the UGA Arts Lab, the Willson Center for Humanities & Arts, Ideas for Creative Exploration and the UGA Hugh Hodgson School of Music. On Thursday, Oct. 20, UGA's African American Choral Ensemble, Jazz Combo, Wind Symphony and Contemporary Chamber Ensemble will perform premieres of music co-created by Cassie Chantel and Julien Berger; Ishues Cuthbertson and James Weidman; Convict Julie (Camilla Sims) and Tom Hiel; and Celest Ngeve and Ayako Pederson-Takeda.
Although this month's performance is not the first, it does come one year after AHHH's formal introduction to the public through a workshop at Creature Comforts in October 2021, featuring music created by Caulfield (Curtison Jones) with Emily Koh and Kxng Blanco (Jeffery Blakely) with Peter Lane. However, this month also marks three years since directors Frigo and Miller first met and sat down at Hendershot's to discuss what AHHH could be.
Frigo and a colleague at the school of music, who has since taken another position, first started with the question of what is the concert band not doing that it should be, which they answered with naturally integrating into the larger Athens music scene. After pitching the idea of pairing local hip-hop artists with UGA composers to the Willson Center, Frigo reached out to Mariah Parker who connected the dots to Miller, and has since participated in AHHH. Everything began to fall into place rather quickly, and in February 2020 a larger group of hip-hop community members met with members of the school of music at The Globe. Then almost immediately, the pandemic shut it down until the summer of 2021.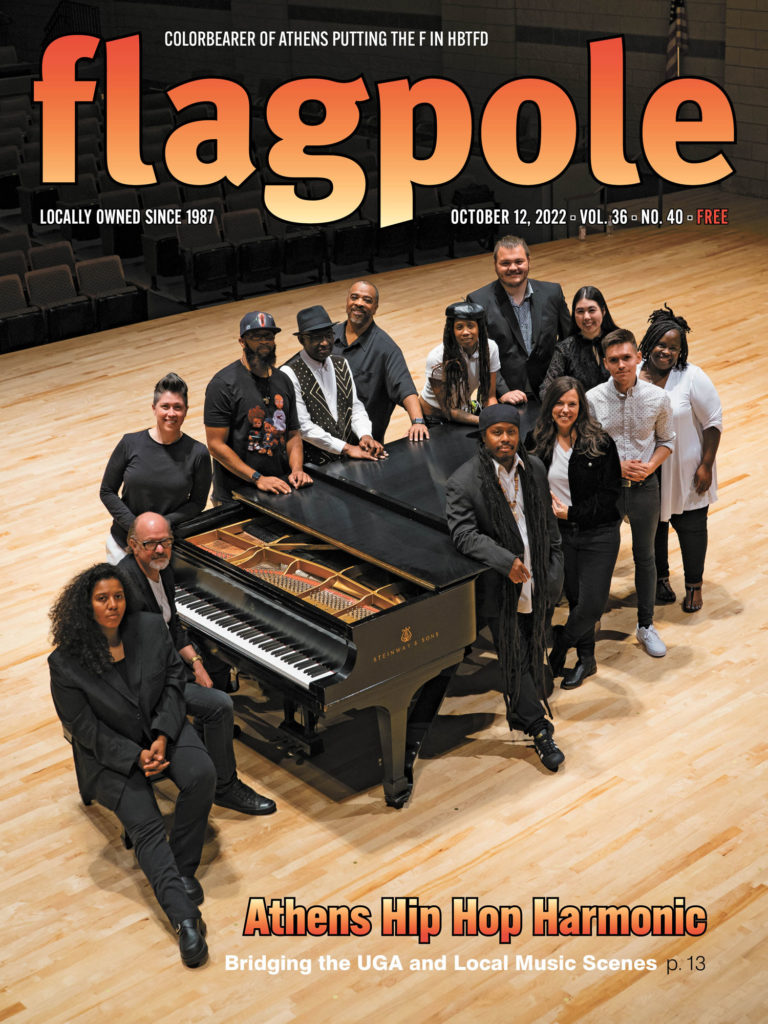 "We decided early on to not over-plan anything, because we were afraid that if either of us over planned, then we're missing the collaborative part," says Frigo, explaining that the first pairings came together intuitively with very little guidance.
"We really wanted to be as organic as we could make it. Almost putting the pairs together is like putting a seed in the ground," says Miller.
Taking an organic approach is the foundation of the entire program, even when it comes to mapping out its future. Frigo and Miller share the sentiment of taking it step by step and seeing what grows out of the present. Miller emphasizes the importance of capturing these moments as they happen by audio or film and documenting the work being done for the unknown future. There may be a live studio album or documentary that comes out of this, but for now everyone involved is immersing themselves in the creation and production of this music while inviting the community to do the same.
"I prefer collaboration to be that way, where you kind of start out first to really get to know each other. You learn when you have some of those conversations that there's a lot more that people have in common than not," says spoken word artist Ngeve about working with Pederson-Takeda. "The more that we talked, I was like, 'I think this is a great opportunity to really talk about both of our stories without saying whose story is whose, you know?' The title of the piece is 'Kindred Metamorphoses.'"
The AHHH pairings have been free to collaborate without guidelines or restrictions, and the uniqueness of each artist and musician clearly shines through each piece. But there's one commonality that has surfaced—everyone involved has taken the chance to get to know one another as people and tell a new kind of story through their music.
"I think the biggest difference is that it's not just a different genre, but it's jazz in particular, and we're building something totally from the ground up instead of just repurposing music that I already have," says Cuthbertson, who has worked with bands in the past but not in this way. Recently inducted into the Athens Music Walk of Fame as an accomplished emcee, those that know Cuthbertson can expect a similar performance experience rendered in a new way. "I'm going to incorporate a lot of elements in it, call and response, different things like that. I would like to get the audience involved in my performance. So I think you'll see that same level, but just a different vibe."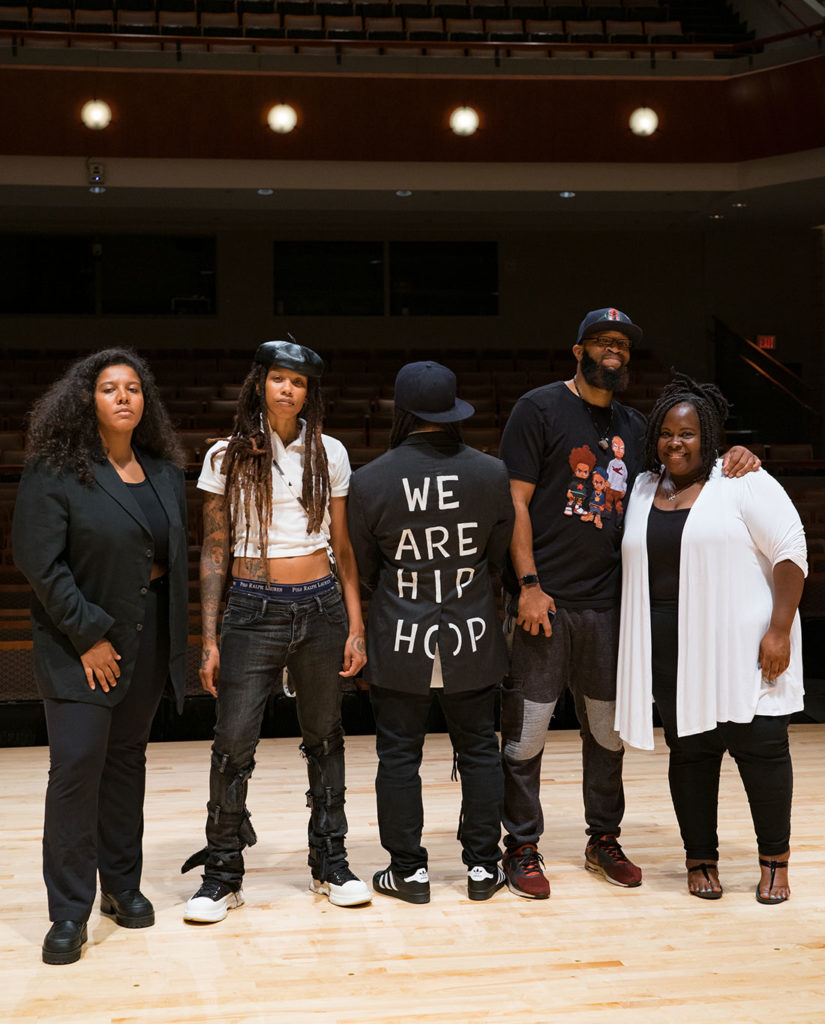 Inviting school of music artists and local hip-hop artists into each other's worlds is achieved not only through the creation of music, but also through sharing resources and performing in both on-campus and off-campus spaces that speak to where these artists exist. Each artist involved gains a new, unique experience and the opportunity to learn something career or community oriented through this symbiosis.
On behalf of the hip-hop artists involved, Miller says, "I think they're learning a really strict professional side of it. They're also learning that the world is bigger than just the certain venues that we're at. We have built that bridge to where now we're kind of working together [with UGA] and invited. I think it allows them to expand their way of thinking of what's possible."
"[The UGA musicians] are saying those performances are some of the highlights of their entire musical lives, because they feel like they were listened to and that the audiences who attended really cared about what was happening in the performance," says Frigo about what the faculty and students have gained from the program. "I also see students beginning to redefine what they want to play and who they want to play with. I mean, I went through music school myself. It can sometimes just feel like I'm hitting the marks… And the specialness can go away.
"You know what's interesting: One of the student composers [Julien Berger] who's working right now with Cassie said hip hop is a huge influence of his. He listens to it all the time. He said, 'I finally get to write music that I listen to.' He's not composing any music that is representative of what he goes home and listens to for inspiration and for community."
The AHHH was funded for an initial three years by the university, now currently in its second year. Frigo and Miller hope to see it continue for as long as there is an interest, but the significance of the program model they've been crafting could have an even greater impact. Ideally, they would love to see other universities adopt similar programs that unite music schools with their respective local music scenes. As AHHH continues to hone its strategy and produce meaningful performances, taking it to other universities to clearly illustrate what is possible and what opportunities are available is the next step.
"I really hope that this leads to other universities reaching out to their communities. I hope that we're setting the bar," says Miller.
Leading up to the concert at Hugh Hodgson, there is a Common Hour event "Where Athens Hip Hop & UGA Come Out to Play" on Wednesday, Oct. 12 at Edge Hall from 1:50–2:40 p.m. Attendees can meet the hip-hop artists, composers and ensemble directors before the main event. The concert on Oct. 20 is free and open to the public on a first come first serve basis. Parking is free at the UGA Performing Arts Center, so all barriers to entry have been removed in hopes of truly bridging the community through creative expression.
"It's just really exciting that we're doing this, and it's about time. I feel like this should have been going on for a long time," says award-winning film composer and UGA faculty Tom Hiel. "I think it's our civic duty here at UGA to do that, you know, to work with members of the community."
For more information, visit music.uga.edu/ahhh-residency.
WHO: Athens Hip Hop Harmonic
WHERE: Hugh Hodgson Concert Hall
WHEN: Thursday, Oct. 20, 7:30 p.m.
HOW MUCH: FREE!
Like what you just read? Support Flagpole by making a donation today. Every dollar you give helps fund our ongoing mission to provide Athens with quality, independent journalism.