Anyone who's ever ridden a bike on Prince Avenue or has tried to cross it on foot knows that they're taking their life into their own hands. More than 30 years after residents along Prince Avenue first started lobbying to make the corridor safer, Athens-Clarke County is embarking on a pilot project that aims to do just that. Here's what you need to know:
I've seen road workers out there the past week or two. Is this what it's about?
Yes. Athens-Clarke County road crews patched up the pavement the first week of September. Last week, they dotted the pavement as a guide for restriping. They're laying down temporary markings this week, and next week more permanent markings. Lanes may be closed during this time. The markings will be there for at least 60 days, after which the ACC Commission will decide whether to make them permanent.
What are the changes?
In between Pulaski Street and Milledge Avenue—the portion of Prince that's owned by ACC—the road is four lanes. The project removes two of those lanes and adds a center turn lane and bike lanes on both sides. The bike lanes will be separated from cars by a painted buffer, as well as small plastic barriers known as "zippers."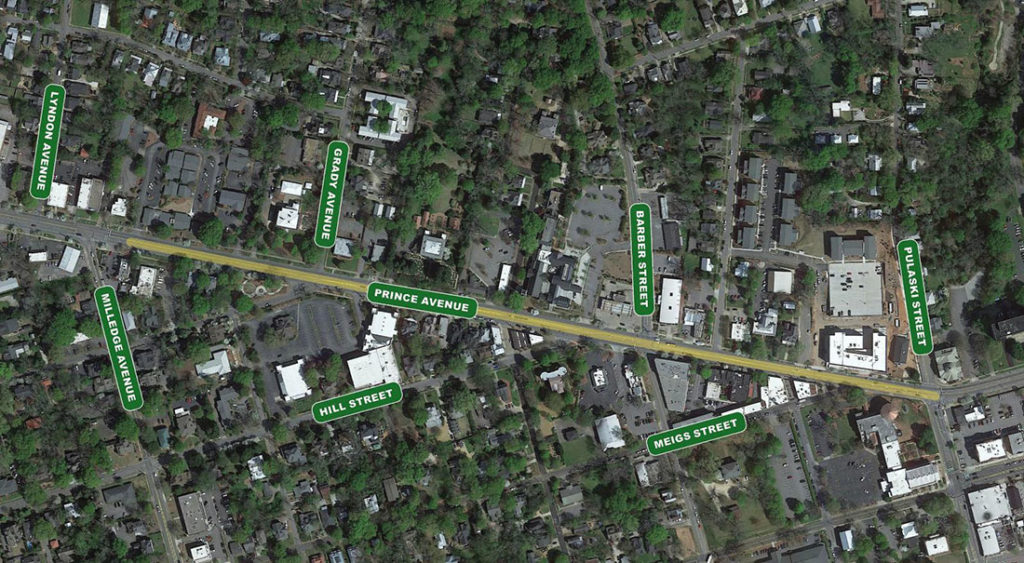 Why has this taken so long?
Politics, mostly. The county government began studying Prince Avenue and Dougherty Street all the way back in 1994. While Dougherty underwent what's known in transportation circles as a "road diet" back in 2015, Prince has faced more backlash, mainly from drivers who see Prince as a highway to get downtown fast rather than a neighborhood street.
A community planning effort in 2003 recommended a three-lane configuration for the locally owned portion of Prince, but the ACC Commission voted that down in 2005, when the street came up for repaving. A pilot project similar to this one was proposed in 2014 but shot down by then-Mayor Nancy Denson. Instead, the county installed flags at mid-block crosswalks for pedestrians to wave at cars, which drew reactions ranging from amusement to indignation. The flags were, inevitably, all stolen and never replaced because transportation officials realized they didn't do much good.
In 2017, though, voters approved $4 million for safety improvements on Prince as part of a 1% transportation sales tax referendum (TSPLOST). The latest round of TSPLOST, passed last year, includes another $9 million. A Prince Avenue user group recommended the road diet as its top priority for the funding.
I don't see too many cyclists on Prince. Won't this just benefit a few people at the expense of everyone else?
On the other hand, more people might ride their bike on Prince if it were safer. But the project isn't just for the stereotype of the spandex-clad elite. "The purpose of the Prince Avenue Pilot Project is to test and study the feasibility and safety benefits for all roadway users—including pedestrians, bicyclists, transit riders and drivers—of an alternative street design," according to Athens-Clarke County.
Prince Avenue had 184 crashes over the past five years, causing 46 injuries. "Road diets" like the one underway on Prince reduce wrecks by an average of 29%, according to the Federal Highway Administration.
As for driver inconvenience, slowing down traffic is a feature, not a bug. Despite its width, Prince is an urban street, after all. However, traffic should also flow more smoothly with the benefit of a center turn lane. For example, drivers will no longer have to wait in the left lane for someone trying to turn left onto Milledge Avenue. The turn lane will also provide a place for drivers to queue up to turn into the 100 Prince development.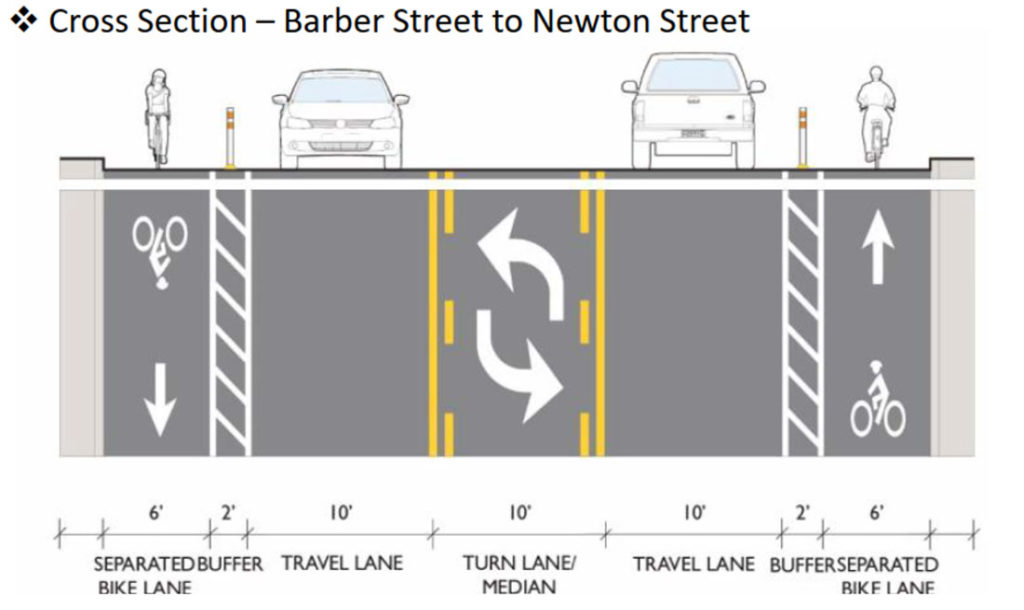 OK, but I saw what happened on Barnett Shoals. How will this be any different?
There are several differences between Prince and the 2018 Barnett Shoals Road bike lane demonstration project—primarily that, due to design constraints, Barnett Shoals had a two-way cycle track that many found unfamiliar and confusing. County officials have also said they learned a great deal about the need for public outreach.
Another road drivers like to complain about is Hawthorne Avenue, but bike lanes had nothing to do with turning that street into three lanes—in fact, most cyclists consider them little more than glorified gutters. At just 40 feet across, Hawthorne between Broad Street and Oglethorpe Avenue is simply not wide enough for four car lanes. Remember, too, that Baxter and Lumpkin streets were both four lanes at one point, and most everyone seems to agree that they function much better now with three lanes.
What comes next?
During the 60-day trial period, traffic engineers will measure speeds on Prince, as well as traffic on side streets to see if there's an increase in cut-through traffic, count the number of vehicles, bikes and pedestrians, and observe video at intersections. Commissioners will use that data, along with public input, to determine whether to keep the changes. Some seem dead-set on it. "Of course, we're going to get complaints from drivers that they have to go slower, but that's the freakin' point," Commissioner Melissa Link said at an August meeting. Others, like Commissioner Carol Myers, have said they'll only move forward if the reconfiguration doesn't cause congestion.
Longer term, a 2015 safety audit by the Georgia Department of Transportation found a need for more mid-block crosswalks, medians and improved signage along Prince between Milledge and the Loop. Such measures are also included in local plans for the roadway.
Like what you just read? Support Flagpole by making a donation today. Every dollar you give helps fund our ongoing mission to provide Athens with quality, independent journalism.