Charles Hardy arrived at Athens' new government-sanctioned homeless encampment a few hours early on Mar. 17. The president of Athens Alliance Coalition, the organization tasked with running the encampment, Hardy wanted to get a head start on preparations for its second day of operation. He was met by eight unhoused people already hoping to enter—a number that only mounted.
The camp, called First Step, aims to give unhoused Athenians a safe and comfortable place to reside while helping them seek permanent housing. Though initial challenges delayed opening by nearly three months, Hardy says the project has not faced any significant obstacles since opening its gates.
"Everything has been running so smoothly. The only thing that I can say is we can't get the tents up fast enough," he says.
Hardy originally aimed to open First Step for removed residents in December, after the Athens-Clarke County Commission awarded a $2.5 million contract to AAC to create and operate First Step earlier that month. The contract, funded out of the nearly $60 million ACC received from the federal American Rescue Plan Act, allows for a year of operation with a potential 10-month renewal.
Commissioners Jesse Houle, Mariah Parker and Tim Denson initially conceived of the county-owned camp as a temporary way to help unhoused individuals camping on private property who were at risk of being kicked out and their belongings thrown away. It was approved by a 6–5 vote in August, with Mayor Kelly Girtz breaking the tie. In December, the commission unanimously voted to award the contract to the sole applicant, Athens Alliance Coalition, despite concerns about its inexperience and capacity.
First Step did not open to residents until mid-March, Hardy says, because of insurance-related postponements. Nevertheless, First Step was sheltering 38 unhoused people by its second day, with 45 additional individuals seeking a spot. The majority of tents at First Step are occupied by former residents of unofficial camps, primarily in North Oconee River Park and "Cooterville," located under a CSX railroad bridge over Willow Street.
Hardy says he has heard only positive remarks about residents' new living arrangements. "I asked a lady yesterday, 'How do you feel?' and she said, 'Man, I'm loving this,'" Hardy says. "I've been trying to tell the community, the politicians, that this is what they needed. This is what they wanted."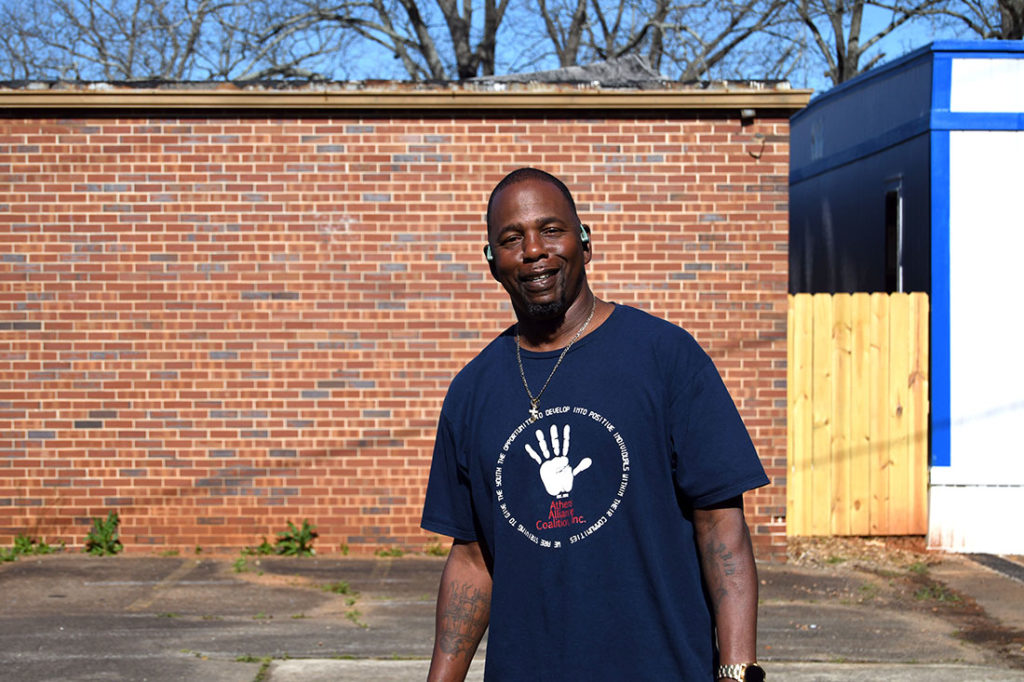 Located at 1000 Barber St., outside the vacant former North Athens School, First Step has a maximum capacity of 55 people. Fifty tents are available, with five reserved for emergencies. AAC provides a cot, blanket and hygiene products, in addition to allocating donations received from outside parties. Residents are served meals twice a day at a kitchenette area, and around-the-clock security ensures a safe environment.
In addition to providing the necessities, AAC aims to assist First Step's population in getting back on their feet and into permanent housing. Representatives from Advantage Behavioral Health Systems visit twice a day to give mental health counseling, help residents obtain documents like Social Security cards and driver's licenses, and begin saving money. Hardy says residents can remain on the property 24 hours a day and are allowed to stay as many nights as it takes to get them permanently housed.
First Step is fully staffed with 17 employees, including a project director, security personnel and camp assistants, who help residents make shopping trips and do laundry. AAC is young, and First Step is their largest operation yet, but Hardy is confident in his staff. The majority of them have years of experience working with the homeless, he says, and are fully equipped to run First Step effectively.
Marian Strozer, a security guard and driver in his first week on the job, has found his work both enjoyable and meaningful thus far. "I'm fortunate to be doing what I'm doing," Strozer says. "It puts a smile on my face, knowing they [residents] don't have to be on the streets or out in the woods, that they have a place they can come."
The majority of the encampment—the handicapped and regular tents, shipping container with donations and supplies, administrative trailer, bathrooms, kitchenette and shed—are located on the property of, rather than inside, the old North Athens School. Hardy says that tents are the preference of the homeless community he serves, but he'd still like to gain enough funding to utilize the building in the future.
Currently, a few exposed rooms of the building are being refitted to serve residents. A heated room for cold nights, game room with a pool table and TVs, computer room and locker room are in progress.
Long-term, ACC has another $5 million in ARPA funds set aside for a strategic plan to address homelessness that could be spent on more permanent shelter arrangements. ACC purchased the North Athens School from the Clarke County School District in 2016 and eventually plans to use the property to expand the water treatment plant next door.
Hardy says that anyone who is willing to lend a hand to First Step, whether through donations or volunteering, can contact him at athensalliancecoalitionllc.com. "It takes a community to help a community," he says. "It's not about me, and it's not about my organization—it's about the homeless people. I'm excited that we're now fully able to help them."
Like what you just read? Support Flagpole by making a donation today. Every dollar you give helps fund our ongoing mission to provide Athens with quality, independent journalism.