Thanks to upcoming expansions, the Athens Neighborhood Health Center will soon be able to serve more high-risk and low-income Athenians.
The Athens-Clarke County Commission unanimously approved a project concept on Jan. 4 that will add approximately 4,200 square feet to ANHC's McKinley Drive location. The expansion's estimated cost of $1.2–$1.8 million will be paid for by ANHC, but it was subject to approval by the ACC Commission because the clinic's building is owned by the ACC government. ANHC will use a federal grant and savings from ACC reducing the rent to $1 to fund the project.
The project adds nine exam rooms, three dental stations, one dental x-ray room, one mental health space and a call center. Minor renovations to improve patient flow and expand the clinic's in-house pharmacy are included in plans as well.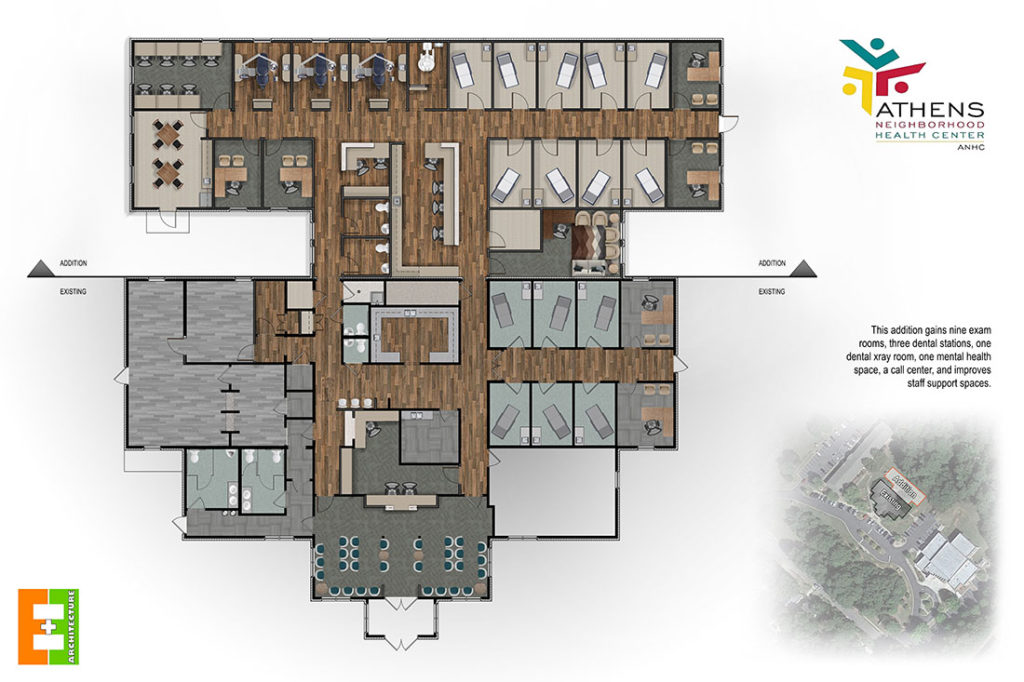 ANHC, established in 1971 and a Federally Qualified Health Center since 2012, also has two other locations offering medical services: a clinic on College Avenue and the Hilsman Health Center in Hilsman Middle School.
The McKinley Drive clinic currently serves approximately 3,000–3,500 patients. With the new facilities, ANHC Chief Executive Officer Marcus Garner says the location will be able to more than double its patient capacity.
"I've been here for three years and always felt that we could serve more patients. That's really why everybody [ANHC staff] is excited, because we have the opportunity to serve more of our residents, as well as provide more services," Garner said. "There's a need for primary care throughout the community, and for dental as well. Because of COVID, we're seeing more of a need for us on the behavioral health side. With us growing and our health-care environment changing, providing these services to the community is key."
The ACC Commission's approval of the project concept and memorandum of understanding (MOU) was the first step. After making any needed revisions, contracting for project management services and developing bid documents, ANHC will present a binding agreement to the mayor and commission at a special work session. Should it be approved, initial plans estimate construction to begin in fall or winter of this year. But based on preparations thus far, Garner hopes for a sooner start: August or early fall.
Construction of dentistry facilities will mark the beginning of oral health services at the McKinley Drive clinic. The call center, which Garner says is especially needed with COVID-19 testing and vaccination appointments, is also a brand-new addition. More room for existing services poses benefits: increased mental health space will allow for both individual and group therapy sessions, and additional primary care rooms and pharmacy renovations make space for more patients to be seen and receive medication at once. Having so many services readily available is precisely the objective of ANHC.
"Our front and back office staff, we know the patient, they know us. In addition to giving you medical services, you come to the same place and receive your dental service, and then on top of that, behavioral health and pharmacy services," Garner said. "It's increasing patients' accessibility to all the services by having them under one roof—we try not to have any barriers for different facilities."
The next project is already on the calendar. According to Garner, ANHC is working with the ACC government and Athens Housing Authority to build a new facility as a part of the Bethel Homes redevelopment, known as the North Downtown Development Project, that would replace its College Avenue clinic. The new building—still a proposal pending approval—would be located downtown, two stories tall and an estimated 8,000–11,000 square feet. Garner says a clinic with similar services to the College and McKinley facilities would be on the first floor, and administration space would take up the second. If approved, Garner expects construction to begin in late 2023 or early 2024.
With this next project and many other potential endeavors, ANHC's chief hope is to serve more disadvantaged patients of Athens. "We want to take one step at a time, but as we grow we would like to do podiatry, optometry, things of that nature. There may be opportunities for other services, too," Garner says. "Regardless of your socioeconomic status, we feel that the community needs quality, excellent care and all medical services available to them."
Like what you just read? Support Flagpole by making a donation today. Every dollar you give helps fund our ongoing mission to provide Athens with quality, independent journalism.