Next week Clarke County School District teachers, staff and students will return to the classroom five days a week for the first time since the pandemic hit Athens over a year ago.
For some, the return to in-person classes has caused a lot of anxiety and concern. Many parents and teachers felt left in the dark, dismayed by a lack of timely communication about the district's plans to return to the classroom or detailed information about what measures were being taken to ensure that schools would be safe upon reopening. A lack of clear science-based, research-driven guidance in 2020 from the CDC meant that CCSD had the difficult task of navigating the school reopening process on its own.
With the release of the CDC's guidelines for school reopenings earlier this year, school districts now have much-needed guidance. While the guidelines did provide a blueprint for schools across the country, they were not received without criticism from some scientists and education experts who suggested that the guidelines were too stringent and would delay school reopenings or make the task nearly impossible.
As CCSD made the move to reopen schools this spring, Flagpole began an in-depth investigation about reopening measures. For this piece, we reviewed hundreds of pages of documents obtained via open records requests that included data on the returning student population versus virtual, positive case reports, data on CARES funding expenditures and work orders for COVID-19 mitigation-related work across the school system. We also interviewed teachers and parents and reviewed other pertinent research related to student well-being and COVID-19 mitigation strategies. While there is still room for improvement in the coming year, much of the evidence Flagpole obtained in our investigation points to a tremendous effort to ensure schools could reopen safely according to CDC guidelines.
The Guidelines
In February, the CDC released new guidelines under the Biden administration for reopening schools in the United States. The new guidelines suggest a series of mitigation strategies that ensure schools can reopen safely. While some parents and teachers have expressed concern or anxiety about reopening schools, research has also shown that students were experiencing mental health problems as a result of remaining virtual and there's also been ample evidence of an increase in domestic violence and child abuse during the pandemic from social workers. While case reports of these issues have been down, most social workers attribute this to schools remaining closed, as schools are one of the main avenues for reporting abuse. Thus, for many, reopening schools safely is of great importance for children's overall well-being.
"We have been very cautious and conservative in terms of our return in an effort to protect all of our stakeholders—not just our teachers, but our students, our families, other staff—but at some point, we are going to have to look at what's best for children," said CCSD Superintendent Xernona Thomas in a February Board of Education meeting.
The new CDC guidelines provide a pathway for schools to safely reopen by outlining five major strategies that are meant to work hand in hand, in layers, to ensure a safe environment for everyone. Those strategies include school-wide mask-wearing; physical distancing; washing hands; cleaning facilities and improving ventilation; and contact tracing, isolation and quarantine.
The school system, in keeping with Athens-Clarke County government efforts, does have a universal mask mandate in place. Unlike many other neighboring school districts that have optional mask policies at schools, CCSD has been a proponent of mask-wearing in schools and adopted a mask mandate early on.
While parents and teachers alike report very strong adherence to this policy at schools, some teachers have also reported difficulty in getting students to adhere to the policy and say they have to remind students, again and again, to keep masks on and wear them correctly. However, most teachers interviewed said students have been good about adhering to the policy. One area of concern for some parents regarding masks was a lack of adherence to the policy in athletics settings. Researchers have found that a lack of masks while playing sports means a greater risk of viral spread.
Aside from athletics, the other leading factor of viral spread is student interaction off-campus and outside of the classroom. "In addition to what is happening inside the building, another consideration is what happens outside of the school building in the wider community," said public health expert Amber Schmidtke. "If disease transmission in the community is low, that makes in-person learning safer. When disease transmission in the community is substantial or high then there is more risk with in-person learning. I wish that communities were doing more to limit disease transmission to make in-person learning safer for students, faculty and staff. But I'm sensitive to the reality that schools are trying to do the best they can without that community buy-in and partnership."
Originally, the CDC's guidelines on social distancing recommended a minimum of six feet of space between students in the classroom. However, the CDC recently amended its guidelines to recommend a minimum of three feet of space in some instances and provided additional guidance on when six feet of space is recommended. According to the CDC guidelines update Mar. 19, elementary school students should be at least three feet apart, and middle and high school students should be at least three feet apart in areas with low, moderate or substantial community transmission. In areas with high community transmission, middle and high school students should be 6 feet apart, if cohorting is not possible.
Additionally, the CDC recommends six feet of distance between adults in the school building and between adults and students when masks can't be worn, such as when eating; during activities when increased exhalation occurs, such as singing, shouting, band or sports and exercise; and in common areas.
In some school districts that have more students per classroom, social distancing has proven to be a bit of a challenge. However, according to data obtained via open records, the number of students choosing to remain virtual versus returning to in-person instruction makes social distancing less of an issue for this semester at CCSD schools. The older children are, the more likely they are to remain virtual. Most elementary-school parents opted to return to in-person instruction, likely because of child-care issues for parents and knowledge that younger children are at less risk, but only about half of all high school students are back in the classroom, likely a result of older students' ability to thrive in an online setting.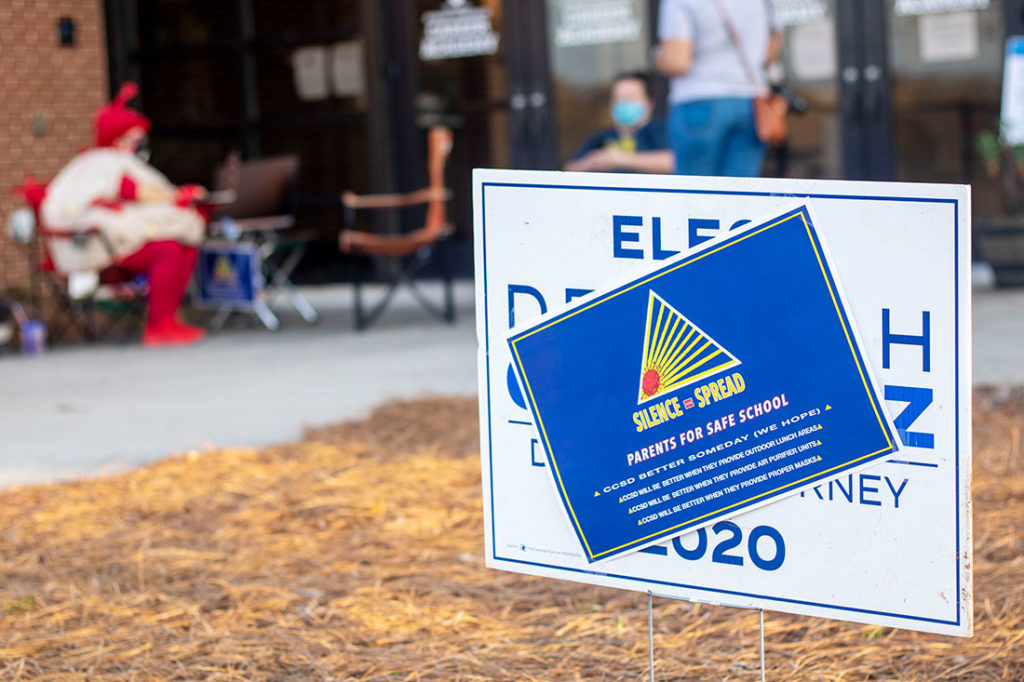 While the pandemic has disproportionately affected minority populations across the country, Clarke County data does not show any significant difference in the decision to return to the classroom or remain virtual based on race. Overall, 51% of students are attending in-person, 24% remained virtual and 25% offered no response (and were automatically counted as in person) in CCSD's survey data.
According to the CCSD Reopening Guidebook, several measures were taken to address handwashing and cleaning mitigation strategies recommended by the CDC. The school system has installed hand-sanitizing stations in all schools, increased cleaning and sanitizing of all buildings, turned water fountains off in exchange for the use of water-bottle refill stations and installed signage to promote social distancing and minimize exposure. The school system spent a large chunk of CARES funding to install plexiglass shields around schools, much like many businesses early on in the pandemic.
Ventilation, another CDC recommendation that has been stressed by scientists and public health experts alike, has proven to be a much more complicated issue in school systems. Assessing the safety of ventilation is complex and dependent on a variety of factors including when schools were built; how HVAC systems were designed to work in each building; the type of HVAC units currently in use; the need for HEPA filters; and long-overdue upgrades. Every school and building is different.
Hundreds of pages of CCSD work orders provide evidence of HVAC system assessment, repair and upgrade efforts, including Merv-13 filter tests and ion air cleaner installation, in addition to plexiglass installation, drinking water system upgrades and other various projects related to COVID-19.
According to the CCSD's Reopening Guidebook, CCSD systems are designed for Merv-8 filters, but newer schools have bi-polar ionization units that filter air electronically. The goal is to have ionization systems installed in all the units that supply air to the classrooms. As such, a recent Board of Education work session included a proposal to use the second portion of CARES Act funding to do just that. The proposal suggests approving the installation of bi-polar ionization units for all classroom HVAC units and 20 HEPA filter units for nurses' clinics and isolation rooms, to the tune of $400,000 in material costs and another $100,000 for installation.
Combined with other mitigation efforts, improving ventilation is a worthy consideration, said Schmidtke. "The CDC guidelines can work well when they're followed faithfully. It sounds like [CCSD] has done a lot of the work to improve ventilation that some districts have been unwilling to do," she said. "With the pandemic, none of our risk mitigation strategies are perfect, so we have to layer them together for optimal protection. That means good ventilation and appropriate mask wear and usage, and appropriate distancing and contact tracing, etc."
One point of contention, however, is the lack of rigorous research that proves these systems do provide extra protection against COVID-19. The CDC has issued caution about bi-polar ionization units in recent months.
Data Are Incomplete
CCSD publishes information weekly on the number of COVID-19 cases among students and staff, as well as isolations and quarantines of those exposed to people who've tested positive. The district does not track hospitalizations or deaths, but Director of Communications Donald Porter said he is not aware of any students or staff who've died of COVID-19.
Cases are only reported by the school if there are 10 or more cases at a school. For many parents and teachers, that lack of reporting is of particular concern. CCSD, however, cites Georgia Department of Education policy on the issue. The district told Flagpole that the "Board attorney has consulted with the State's Attorney General's Office, which confirmed that the school district should not identify student populations 10 and below. Doing so could potentially provide personally identifiable information."
In terms of contact tracing, CCSD is beholden to the Georgia Department of Public Health. In contrast with other states, Georgia has done significantly less to attempt contact tracing. The CCSD Reopening Guide does state that each school has set up designated space for symptomatic students awaiting pickup, and last week's work session request regarding HVAC and HEPA filter funding included measures that would provide HEPA filters for all isolation and quarantine spaces.
CCSD's efforts are hindered by state policy that promotes a lack of transparency when more data could help parents, teachers and staff make better risk-based decisions—for instance, the lack of case-by-case reporting for individual schools.
More than 1,400 CCSD employees received both doses of the vaccine at two districtwide mass vaccination events and will be approaching full immunity when schools return from spring break. Those over 65 and others who were vaccinated elsewhere are not included in that number. With 2,300 full-time employees, it's likely that the vast majority of employees have been vaccinated.
However, data on vaccinations in Athens are less clear. While the Department of Public Health vaccination dashboard shows how many vaccinations have been administered in Clarke County, there is no available data about how many actual Clarke County residents have been vaccinated or specifics on demographics. That means everyone is flying blind in terms of the potential risk of transmission of COVID-19 because it's impossible to see what populations or areas within the community remain at risk.
"As I think so many of us have learned during this pandemic, transparency and trust leads to better community buy-in. Schools are in a difficult spot—administrators are not epidemiologists, and the public health departments that serve them are short-staffed and overwhelmed," said Schmidtke. "So they're trying to do the best they can with the information and expertise they have available, just like the rest of us. Unfortunately, we don't have data down to the zip code, census tract or school district area to the extent that we would prefer when it comes to disease rates, vaccination rates, etc. So everyone involved is having to do the best they can with imperfect data.
"But we do know that minority populations have been underserved when it comes to the vaccine rollout due to barriers to access. These same populations have been disproportionately harmed by the pandemic. So part of safe return to school means protecting those most vulnerable."
Children under 16 are not currently eligible to be vaccinated because safety testing isn't complete. However, unless they have other health issues, they are extremely unlikely to contract a serious case of COVID-19. Out of approximately 83,000 confirmed cases among school-age children in Georgia, only about 800 have been hospitalized, and nine died. The risk of serious illness or death rises with age.
While cases and hospitalizations remain low in Clarke County, residents are still dying every week, and nearby Oconee County has seen a significant jump in cases recently. Cases of new coronavirus variants are on the rise in Georgia, Florida and Michigan, and the need to get as many people vaccinated as soon as possible to prevent variant spread is more urgent each day. Meanwhile, many states, including Georgia, are lifting restrictions at this very tenuous time, and health experts are pleading with the public to remain vigilant. While it may be safe for schools to reopen now, there's no certainty ahead about this pandemic just yet.
Like what you just read? Support Flagpole by making a donation today. Every dollar you give helps fund our ongoing mission to provide Athens with quality, independent journalism.