Like so many facets of our lives in recent months, the pandemic has changed how we work out. Many abandoned the idea of going to the gym when quarantine restrictions closed gyms for many months. Now, gyms, yoga studios and other fitness facilities have reopened, and many have pivoted to help facilitate safe workout conditions. As the weather gets colder, many people usually flock back to the gym in lieu of outdoor exercise options, but things are a little more complicated these days—because, 2020. So, what should you look for in a safe workout space in these pandemic times?
Christina Proctor, health promotion and behavior clinical professor at the UGA College of Public Health, says there are a few basic factors to consider in looking for a safe workout space, but those criteria vary depending on location and each individual's health and risk factors.
"I think it is really important for people to keep up with the level of COVID-19 in their community when making decisions about exercising indoors," Proctor says. "Check the [Georgia Department of Public Health] portal daily and look at test positivity. That's the percentage of COVID-19 tests that come back positive in your area. A higher rate indicates that the virus is spreading in the community or that testing hasn't been widespread enough. Most epidemiologists are in agreement that you want to see a test-positivity rate below 5%. Clarke County has a 7-day moving average of 4.4% right now. So if you live in an area that is below that threshold, you are much less likely to come into contact with an infected individual. But if that number starts to rise, then it might be smart for you to move your workouts outdoors."
What to Look For in a Gym
While there are risks associated with going to indoor gyms, there are a lot of things gym-goers and facilities can do to decrease their risk. The more that individuals and gyms follow guidelines laid out by the CDC, the lower the risk of spread, Proctor says.
"If someone does want to use a gym or exercise indoors, I would encourage them to find a facility that is well-ventilated, has a mask mandate, has spaced-out workout equipment, uses tape or markers to help remind individuals to stay 6 feet apart, has hand sanitizers and cleaning wipes throughout the facility, and has daily in-person or virtual health checks," she says. "But it is important to remember that four in 10 people infected with COVID-19 don't show any symptoms at all, so those health checks will only identify individuals with symptoms.
"You also want to go to a gym that offers flexible sick leave to their employees," Proctor adds. "In addition, one of the best ways people can protect themselves and others is to wear a mask when exercising in the indoor facilities. I would not attend a gym that doesn't mandate face coverings right now."
Athens-Clarke County has an ordinance mandating wearing masks in public places, but businesses are allowed to opt out of the mandate under state law.
Good ventilation is another important factor to consider in finding a safe workout facility. "I'm thinking back to my hometown gym, which was poorly ventilated and half the size of the rec locker room we have here at UGA," Proctor says. "Spacing is important, but so is air circulation. So, we can lower risk by keeping individuals spaced out in facilities, as well as opening doors and windows, and making sure fans are operating properly and air filters stay clean."
Most important, she says, is making sure that those safety precautions are all being practiced. The combined efforts of mask, social distancing, sanitation and ventilation are shown to make the most difference in spreading or contracting COVID-19.
For Athens resident Lindsey Lovette, the pandemic has provided an opportunity to refocus on her fitness goals. Through a combination of at-home online workouts at first, then going back to in-person workouts when gyms were allowed to reopen, Lovette has lost more than 70 pounds in 2020 so far. Going back to the gym took some time to get comfortable with again, she says. But just as so many of us have had to adjust to wearing masks, taking extra precautions and learning to deal with any associated anxiety that comes with being out and about again, she eventually learned to adjust and become comfortable with going back to the gym.
"You have to decide if you're comfortable with it. I tested it out first," Lovette says. "I have become comfortable with it. I think that everybody that goes to any gym, we all know that we're taking a risk. But at the gym I go to, they're really doing everything that they can to keep everyone safe."
Her gym limits class sizes to 8–12 people, depending on the type of class. It also requires more than six feet of space between equipment stations; temperature checks are mandatory, and masks are required for entry and while walking around. Staff deep-cleans, and both staff and clients are cleaning constantly.
Beyond the physical benefits, being able to go to a smaller gym every day—where you often see the same eight people, even from a distance— helps get in a little bit of socializing outside of work. Having such a small, consistent group there also creates an atmosphere where everyone is responsible for each other's health, and that creates a safer workout environment, says Lovette.
Outdoor Options
One group of people who should avoid the gym altogether, however, is those with pre-existing conditions that would increase risk of complications caused by COVID-19. People in this group should opt for outdoor exercise, if possible, or find a gym that's following guidelines strictly, said Proctor. Luckily, there are a bevy of outdoor options, plenty of local businesses that can help you find gear to prepare for changing weather and lots of online, at-home workout options provided by local businesses.
"I've been running for over 21 years, and I can tell you that there really is no bad weather for running," says Proctor. "It is all about your gear and clothing. I love running in the winter months, and the running/cycling industry has developed great gear to keep you warm and safe during the cold, dark winter months. People who have picked up running, hiking or biking outdoors during the pandemic can continue those same activities throughout the winter with proper gear."
Local businesses that sell jogging and biking gear include Fleet Feet Athens, Athens Running Co., The Hub, Georgia Cycle Sports, Sunshine Cycles and Ben's Bikes. The nonprofit BikeAthens also sells refurbished donated bikes and does repairs.
Athens also has many wonderful outdoor recreation spaces. Socially distanced sports like tennis and golf are relatively safe options, and the North Oconee River Greenway and other public trails remain open. Basketball and volleyball courts at ACC parks also recently reopened.
"Walker Park, formerly Trail Creek Park, has outdoor fitness equipment, a greenway, mountain bike and walking trails, and two tracks," says Proctor. "The UGA Intramural Fields has a fitness path and great trails for hiking and running. Individuals can spread out their yoga mat or do Pilates on an open field at any of the parks. I know there are personal trainers in Athens meeting people in outdoor fields with free weights and equipment and leading workouts. If you need the external motivation, online classes are a good option."
If the thought of leaving the house to brave the gym is too much, and you'd rather work out from the comfort of your own living room or back porch, you can still support local businesses by looking for local online class options. For example, Revolution Therapy & Yoga, formerly Rubber Soul, pivoted when gyms closed this spring and now offers a variety of online-only, donation-based classes.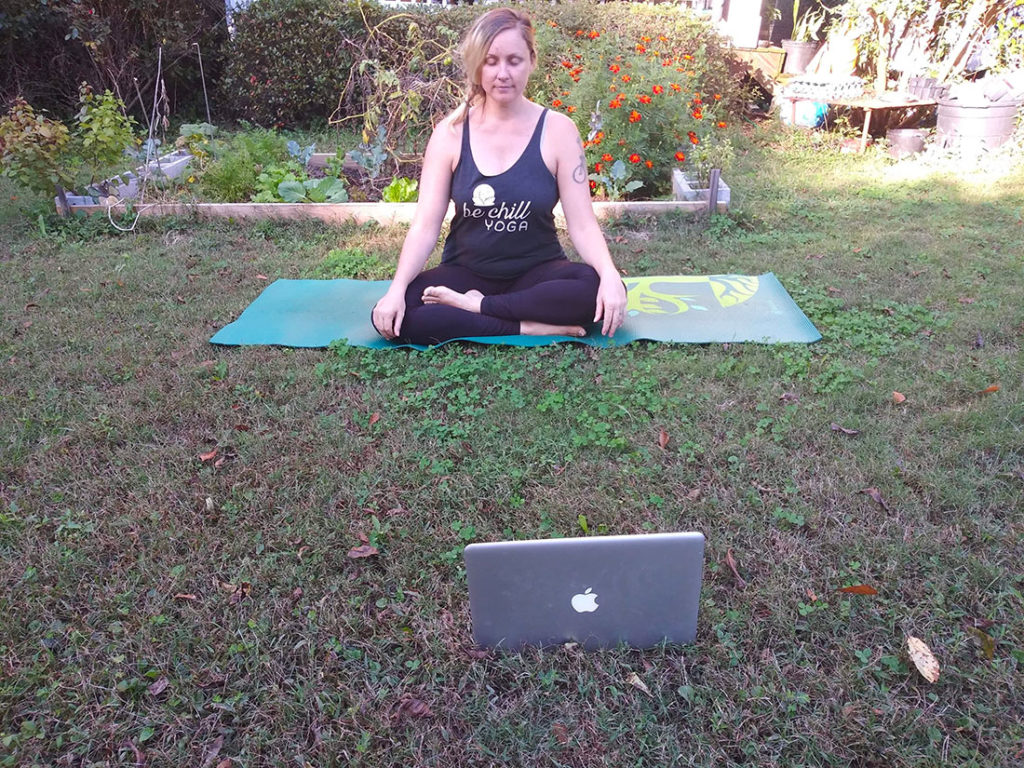 The pandemic, says yoga instructor Nicole Bechill, offered a chance to explore things like trauma-conscious yoga, and focused their collective vision for the business in a direction that would help the community come to terms with the trauma we're all experiencing right now in living through a pandemic. She currently teaches an online class from her own outdoor space at home and says the social aspect has been a positive experience.
"I'm feeling good about connecting with people on the Zoom classes, and it's nice to socialize," Bechill says. "It's also given me an excuse to check in with people that I haven't seen in a while and invite them to join my online class."
Outside of online classes, Revolution also offers one in-person yoga class, limited to just three people, and has a variety of available therapy options available for anyone who's struggling with the mental health side of wellbeing.
Like what you just read? Support Flagpole by making a donation today. Every dollar you give helps fund our ongoing mission to provide Athens with quality, independent journalism.