The race for Athens-Clarke County Commission District 4, covering the University of Georgia/Five Points area, pits a two-term commissioner against a 22-year-old UGA graduate student.
Michael Stapor, a Riverbend Parkway resident and International Affairs student who has served as vice president of Students for Sensible Drug Policy, is taking on incumbent Allison Wright, a Hampton Court resident and medical illustrator who, prior to winning the commission seat in 2012, served two terms on the Clarke County Board of Education. Both agreed to answer questions from Flagpole. Local elections are currently scheduled for June 9, with early voting starting May 18.
Flagpole: How would you rate ACC's response to the coronavirus pandemic?
Michael Stapor: I would give Athens-Clarke County's response to the coronavirus pandemic a B+. I commend the commission on working proactively to solve the problem, rather than wait on state guidance, which came very late. I also support the mortgage and rent leniency resolution passed by the commission. I would like to see the commission continue this good trend and pass the Athens Resiliency Package suggested by County Manager Blaine Williams to fully ensure Athens' at-risk citizens and businesses are protected from any economic impact due to the pandemic.
Allison Wright: We were the first Georgia community to approve shelter in place. I say we'd get an A for "ahead of the curve." This was evident during the Mar. 16 meeting, when we moved forward in shutting down what would have been a St. Patrick's Day social disaster, in terms of spreading of coronavirus.
Once we got through the initial response, we were able to effectively craft our shelter-in-place ordinance on Mar. 19 after reviewing medical data and hearing from public health professionals. This ordinance has been replicated throughout the state. When crises arise, solutions must be found, and they aren't always comfortable, nor do they always come swiftly, as we have to deal with ACC government logistics, legal and community partnerships, collaborations and more. Yet, in this time of crisis, I along with my fellow commissioners, the mayor and the manager's teams, were able to get things done—and we're not finished.
FP: What is your plan to reduce Athens' persistently high poverty rate?
MS: As soon as I am in office, I will look to have the city commit to solving the decade-long poverty problem by proposing a Poverty Reduction Coalition to be introduced. Similar to the Athens Civil Rights Committee, the coalition would bring city officials and citizens together to study the poverty situation in Athens, as well as actively looking for solutions. I will also look to introduce a Tenants' Bill of Rights for the city of Athens to protect the rights of tenants and, more importantly, to try and tackle the issue of extremely high rent hikes in the last few years. Zoning is another step we can take in addressing Athens' poverty, and I will look to eliminate the single-family ordinance to increase the renting options of our low-income residents, as well as ensuring all future residential developments or redevelopments include inclusionary zoning to increase affordable housing in Athens.
AW: Poverty is an issue that continues to impact Athenians and people in District 4. I will work hard to continue to improve connectivity with those in poverty and those agencies that provide supportive services and opportunities for improved livelihood. The work cannot stop there, though. We must break the intergenerational cycles of poverty that plague Athens by ensuring that our county is investing in our local workforce, providing jobs that pay a living wage, and making sure we are giving people in our community a hand up when it comes to quality affordable housing, a career path and outreach initiatives.
Improvements to our outreach include our new initiative of neighborhood leaders and mailing bilingual community information to each ACC address, as mailing water bill inserts reaches only a fraction of the community. Finally, we must work hard to ensure broadband internet access for the entire community, as the internet is more than a luxury, it is an essential tool in the 21st century, both when it comes to education and employment, particularly in times of crisis.
When it comes to affordable housing, particularly in single-family residential neighborhoods, we will see improvements as we work to remove the outdated ordinance on not allowing more than two unrelated residents in the same house. We must make sure that we have more than just affordable housing here in ACC; we need quality affordable housing.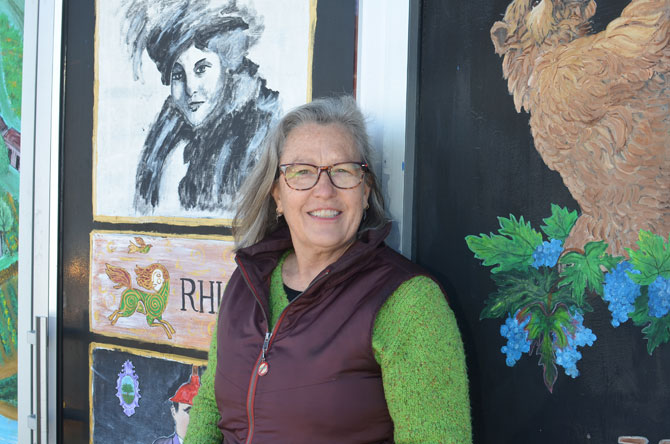 FP: What would you do to protect the arts and music scene and assist the local businesses that make Athens unique?
MS: If elected, I would like to work closely with our local businesses to seek community-led solutions to keeping Athens unique. I'd also like to see the city increase its commitment to Athens' music and art scene by hosting festivals celebrating Athens' unique local scene. I'd like to try and work with local music venues and stores to see how we can support the music scene in Athens. Possibilities for this could be actively tapping Athens' music talent for city events, as well as youth development programs run through local businesses for Athens' K-12 residents that may be interested in music.
AW: As an illustrator myself and an art professor's wife, Athens' creative spirit is always in my world. Like many, it is what keeps me here. I'm proud to support the Athens Cultural Arts Council, Lyndon House, the historic Morton Theatre and SPLOST art budgets. Outside of ACC government, we need to continue to support AthFest Educates, Nuçi's Space, Town and Gown and Ciné. I also proudly worked with leaders of the local LGBTQ community to help present their request, which is ongoing, to have a rainbow crosswalk installed to bring further beautification to our downtown area.
We should replicate the Athens Downtown Development Authority for Five Points and Normaltown by establishing business districts (other unique business clusters as well). This would allow for protections, improvements and shared amenities for the small businesses within this designated district scenario. We should also make clear the legal definitions of what it means to be a local business so that specific incentives can be channeled to them. This will help with Request For Proposal (RFP) processes to give extra points for local businesses, especially after we get to the recovery phase of this pandemic.
Finally, we must also work with our new economic development director to give specific attention to our current businesses for their longevity and prosperity in our community, so that we will continue to have the funky music, shopping, eating and drinking opportunities Athens is famous for worldwide.
FP: If and when people start driving again, what would you propose to solve the parking challenges in Five Points?
MS: The main solution to help solve the parking issue in Five Points is to increase access to the area by upgrading our public transportation system. This means adding more dedicated bike lanes throughout the city, especially in the surrounding area of Five Points, such as on Milledge Avenue. I would also call for the city to introduce fare-free public transportation, which will increase many residents' access to areas like Five Points. Similarly, we need to expand the city's routes to provide better coverage to residents. I'd also look to increase parking enforcement in the area to make sure students are not parking there while going to campus.
AW: Let's start with what I can legislatively accomplish here. ACC does have direct jurisdiction over the fire station in Five Points. I have been working hard to have parking meters there to deter the all-day parking that occurs as a result of being so close to campus. Our ADDA meter readers have an electric vehicle now, so they could branch out of downtown to enforce meters in this area.
We may have more of a walking problem than a parking problem. In 2016, we had a parking study done that charted over 500 business parking spots and their occupancy for each hour of a Friday and Saturday. There were a lot of available spots; they just weren't necessarily in desirable locations for patrons. I encourage neighbors to walk from home more often, carpool, and be amenable to walking from a further parking spot. Let's leave the closest spots for the elderly and disabled.
A solution that has begun—and can be expanded through the Five Points Business Association—is to have "park here" signs at businesses when they are closed for others to use their parking spaces. Collaboration of businesses teaming up to help solve the problem is something I not only commend, but am happy to help facilitate.
FP: Please list any other issue(s) you feel are important and your solution(s).
MS: Poverty and inequity in Athens are two of our most glaring issues. Many of the solutions I have proposed in the earlier questions will work to solve these issues. To add on, I'd seek an increase in youth development and job training programs that work with local businesses and organizations to provide valuable skills to our K-12 and adult residents, as well as helping to end the school-to-prison pipeline.
AW: Improved quality of non-student multifamily residential neighbors in District 4, like Clarke Gardens, Town View and Parkview.
Alcohol abuse and substance addictions have no socio-economic boundaries. I will continue my support of our diversion courts and all available community resources to help combat this issue by not only providing treatment, but by making sure we prepare people to be productive members of our community.
Anti-discrimination is a pressing issue that has been prioritized by our Legislative Review Committee. We still have work to do, and I am thrilled to be the chair of the committee that will address discrimination throughout the county, not just bars, and improve ways to successfully report these bad apples.
Like what you just read? Support Flagpole by making a donation today. Every dollar you give helps fund our ongoing mission to provide Athens with quality, independent journalism.