Some of them are hidden from view, and some you might pass by regularly. But all of them are under threat from development or decay.
The Athens-Clarke Heritage Foundation recently released its first list of six local "Places in Peril," inspired by the Georgia Trust for Historic Preservation's program of the same name. (The statewide list includes the Madison Theatre in Atlanta, the Juliette Gordon Low Birthplace Garden in Savannah and The Cedars, a Victorian mansion in Wilkes County, among others.)
The sites were chosen from nominations made by individuals and community groups that ACHF Executive Director Tommy Valentine hopes to partner with to preserve. Nominees must be at least 50 years old, largely unchanged from the time they were built and listed on or eligible for the National Register of Historic Places.
"These are ongoing preservation efforts that are kind of orphaned, and this gives us a chance to get behind them," Valentine says.
Beech Haven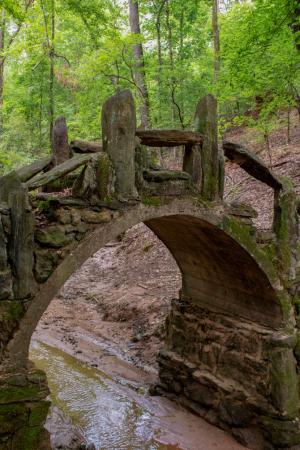 Photo Credit: Whitley Carpenter
In the midst of Atlanta Highway's apartments and strip malls sits Beech Haven, a 149-acre wooded retreat along the Middle Oconee River that the Rowland family sold to Athens-Clarke County in 2014.
The house on the property—designed and built by two local African-American master craftsmen, Ike Osbourne and Jim Glenn—is a significant example of Arts and Crafts architecture. It's surrounded by gardens, bridges and stone sculptures influenced by Charles Rowland's travels to Asia. Those structures need maintenance.
Eventually, the ACHF wants to create a park on the property, with access from neighborhoods on Sycamore Drive, as well as from the Oglethorpe Avenue area via a greenway to Ben Burton Park. A scaled-back version of the plan is currently included in the SPLOST package that will be up for a vote in November, pending Athens-Clarke County Commission approval in July.
Beech Haven was nominated by Nat Kuykendall of the Oconee River Greenway Commission.
Frank C. Maddox Center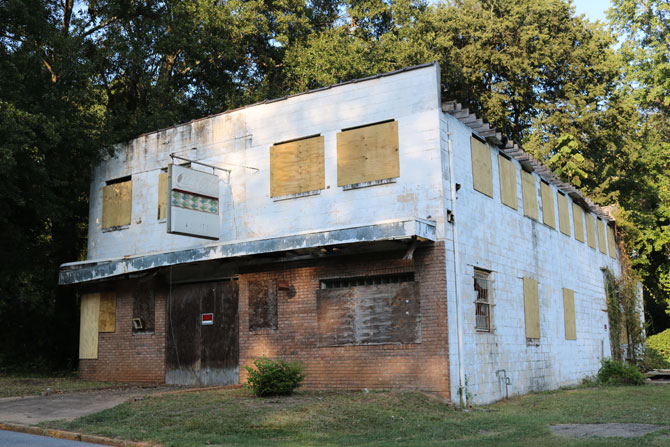 This Art Deco building on Magnolia Street has gone through many lives, and Greater Bethel AME Church and other supporters hope it survives to see a fourth act.
The building was a hub for the African-American community in the West Broad area for 50 years. First, it served as an American Legion post for World War II veterans, hosting dances, weddings and other celebrations, including performances by James Brown and B.B. King. In the early 1960s, Greater Bethel held services there after its original sanctuary burned down. (It's named for the pastor at the time.) In the mid-1960s, it became Athens' first daycare for black children, but the daycare closed in 1996.
Greater Bethel AME is currently working with the ACHF, architects Arcollab and Whitsel Construction to raise funds and develop a plan to restore the long-vacant building, most likely as some sort of community center.
The Maddox Center was nominated by Tommie Farmer of Greater Bethel AME.
Central Baptist Church Cemetery
Kim Burch already knew there had once been a black church and cemetery off Robert Hardeman Road, but she became alarmed when she saw a "for sale" sign on the parcel next door. After some research, she discovered that the church property had been subdivided at some point, and tax records indicate no one owns the church portion. The part that's for sale can't be developed, because it's too small for a septic tank, but the possibility remains that, at some point, city water and sewer could be run through the church property.
On the property are the church's foundation, the remnants of a house that burned down and three gravesites, one a small metal marker for a 2-year-old. Burch believes more gravesites are probably there, as well. The Winterville HPC is taking steps to deed the land over to the city so that archaeological and preservation work can begin.
The Central Baptist Church cemetery was nominated by Burch.
Billups Grove School Building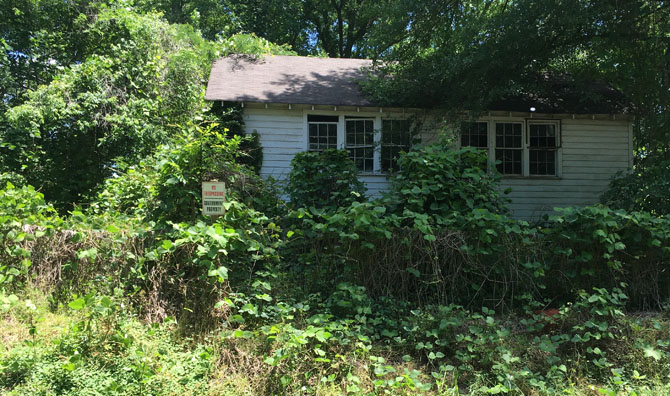 Behind Billups Grove Baptist Church near the county landfill off Lexington Road sits a one-room wooden schoolhouse where African-American children were educated during the Jim Crow era. According to local historian Fred Smith, the school closed in the 1950s, when Athens started to build better brick schools for black students in response to desegregation. At one point, an effort was made to move the structure to Hilsman Middle School, where it would have been used for experiential learning, Valentine said, but that never came to fruition. Now, it is deteriorating and needs to be stabilized.
The Billups Grove school building was nominated by Smith and the East Athens Development Corp.
Whitehall Village
While now part of Athens-Clarke County, Whitehall was once its own incorporated town. The community, a collection of mill houses along Whitehall Road, runs from "the mill to the mansion," Valentine says. The textile mill on the North Oconee River, built in 1832, was renovated into lofts. Whitehall Mansion, an impressive brick home completed 60 years later, sits on forest land owned by UGA and is maintained by the university. Both are on the National Register of Historic Places. But everything in between—including two churches and the remaining mill houses—is threatened by unrestricted development and demolition requests. They could be torn down unless a historic district is established.
Whitehall Village was nominated by Suzanne C. Tate and Dorothy O'Niell.
Reese Street School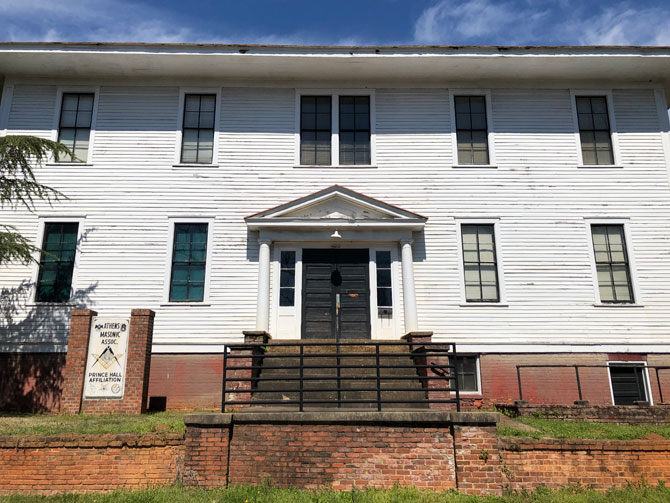 When it was built in 1914, Athens High and Industrial, helmed by renowned principal Samuel Harris, was the only high school for black students in the state of Georgia. Generations of black Athens youth were educated there. Athens High moved to what's now the H.T. Edwards complex in 1956, and the Reese Street School stopped operating as a school in 1960. The Athens Masonic Lodge bought the building in 1968.
Although the gym and other outbuildings are gone, the main building remains much the same as it was 105 years ago, with eight large rooms, tall windows, steam heating and several majestic cedars outside. Led by Marvin Nunnally, the group of Masons is working to raise $250,000 to restore the building.
The Reese Street School was nominated by Rosemary Goodrum and the Athens Masonic Association.
A Places in Peril kickoff event/potluck dinner is scheduled for 6 p.m. Aug. 22 at the ACHF's offices in the old Prince Avenue firehall.
Like what you just read? Support Flagpole by making a donation today. Every dollar you give helps fund our ongoing mission to provide Athens with quality, independent journalism.