Three Democrats are setting their sights on the 10th Congressional District, competing in a May 22 primary to determine which candidate will take on their Republican counterpart—most likely incumbent Rep. Jody Hice. Whoever comes out on top among Chalis Montgomery, Richard Dien Winfield or Tabitha Johnson-Green has a lot of work ahead in a deeply red district that Donald Trump won by over 20 points.
Winfield, a UGA philosophy professor, believes his recipe for economic stimulus will push him over the finish line. "Wages have become a smaller and smaller fraction of the national income," Winfield says. He plans to counteract this by proposing a $20 minimum wage combined with a federal job guarantee. Winfield came to this number by converting what he considers the fair wages of the 1960s for inflation and economic productivity, which adjusts to $41,600 annually.
This major platform plank is the cornerstone of his push towards social and economic justice for all Americans. Winfield says this increase in wages, combined with a guaranteed federal job, would eliminate poverty and unemployment, increase economic productivity and competition, and increase infrastructure and green investments.
Winfield was inspired by the string of anti-democratic movements sweeping the globe and embodied by Trump in the U.S. "Our failure as a whole to tackle these problems has created a situation that all of our rights are under threat," he says.
He based his platform on the social and economic Bill of Rights first envisioned by President Franklin D. Roosevelt and later championed by Martin Luther King Jr. It isn't just limited to fair wages; this new Bill of Rights would include access to housing, health care, education and culture.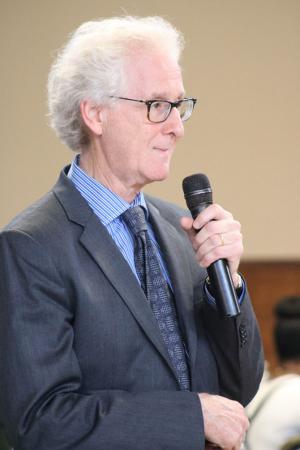 Photo Credit: Jessica Silverman
Winfield plans on achieving these goals by levying a heavier tax burden on more wealthy individuals, and by eliminating the welfare programs that would no longer be needed. These measures are going to be what is needed to overcome the racial and gender disadvantages that still exist in this country, he says.
While Winfield is focused on a job guarantee, Barrow County educator Montgomery believes the pivotal issue is health care. "People make a critical mistake when they think that health care is only about your physical well-being," she says. "It's about your economic well-being, as well." Jobs, infrastructure and economic development are all related to health care, she says.
Montgomery has had firsthand experience dealing with the problems in the American health-care system. At age 2, her daughter was diagnosed with juvenile rheumatoid arthritis. With their employer-based coverage about to end, Hice voted for the Affordable Care Act repeal that, if successful, would have left millions of Americans like Montgomery's family uninsured or paying higher premiums and deductibles.
Hice "has voted against the citizens of the 10th District over and over again," Montgomery says. "I'm running for Congress because lives are at stake."
Montgomery has worked as an advocate on behalf of families and children across the district. She believes that she can give a voice to those who are being ignored by Hice and whose rights have been under attack by federal and state lawmakers.
Montgomery also supports more funding for education. "This is not a contest between left and right," Montgomery says. "It's a contest between right and wrong."
Though these candidates seem to have many similar goals when it comes to eliminating poverty and expanding health coverage, they are critical of one another's strategy. "If your tactic is to set yourself a bit apart… you're not going to be able to work legislatively to accomplish the goal," Montgomery says, referring to Winfield's $20 minimum wage proposal. Winfield disagrees, saying that Montgomery supports "half-measures… I don't think they will lead towards electoral success."
The last candidate in the race is Johnson-Green, a surprise qualifier who put her name on the ballot last month. She has no website and could not be reached for comment.
Despite their differences, the candidates will face the same issue after the primary—pivoting towards the general election in November. The district hasn't seen a Democrat win in over 20 years, but both believe they can win over voters without pandering to the GOP base. Montgomery boasts, "When we turn out Democrats, we win." Winfield has a similar sentiment: "You're not going to beat the Republican candidate by trying to be more like a Republican."
Like what you just read? Support Flagpole by making a donation today. Every dollar you give helps fund our ongoing mission to provide Athens with quality, independent journalism.