As unbelievable as it sounds, every once in a while, people get tired of Athens and want to go somewhere else for a day or two. Here are some of Flagpole writers' favorite (and one not-so-favorite) spots for a quick summer getaway.
Total Eclipse: An hour and a half north of Athens up Highway 441, historically isolated Rabun County is enjoying a food and wine renaissance. Popular dining options include Fortify, a farm-to-table restaurant, and its sister pizza joint next door, Fortify Pi. Tiger Mountain Vineyard, one of several wineries in the county, is home to a popular weekend restaurant, Red Barn Cafe (wine tastings are offered seven days a week). Also offering weekend fare is Farmhouse Restaurant, located in the majestic Persimmon Valley.
The total solar eclipse Aug. 21—the first we have seen in 38 years—is most visible in the U.S. along a narrow stripe of land that includes the northeast corner of Georgia. Rabun is hosting a county-wide party to celebrate, and festivities will include an Elvis impersonator at the Tiger Drive-In movie theater ($10 includes your ticket to the show and a double feature), a public square dance and fish fry at Andy's Trout Farm, a tasting of six wines grown in the path of the eclipse Stonewall Creek Vineyards (admission is free and the tasting is $10) and bluegrass performances at the gorgeous Tallulah Falls. For campsite information and more events, visit explorerabun.com/total-eclipse. [Prosper Hedges]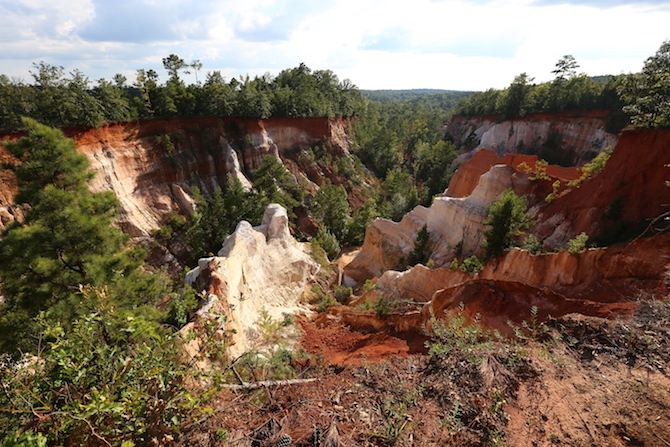 Photo Credit: Stephen Rahn / Flickr
Small Towns and a Little Canyon: As someone who grew up in Southwest Georgia, I freely admit that it's not the most happening area of the state. However, it boasts a few excursion-worthy gems. There's the tiny town of Plains, where you can pay tribute to the peanut while immersing yourself in all things Jimmy Carter; the quirky Georgia Rural Telephone Museum, in somehow-even-tinier Leslie; and historic Warm Springs, where Franklin Roosevelt sought relief from polio during his presidency. (It's also where the four-term prez died in 1945, in his "Little White House" that's now a popular tourist destination.)
But the hidden gem of the region, perhaps, is Providence Canyon, the improbable Stewart County landmark known (somewhat ironically) as the "Little Grand Canyon." Visitors can Instagram the park's awe-inspiring red-dirt gullies—created not by natural forces but by hapless 19th Century farmers—from the leisurely Rim Trail, or get down to business with a seven-mile hike on the craggy Backcountry Trail. Camping is also available, if you're that kind of explorer. [Gabe Vodicka]
Take a Hike: While summer in Georgia may tempt you to stay indoors until fall, you'd be making a huge mistake. Hiking in the mountains of North Georgia can give you a relaxing respite in a dense, cool forest where the temperature drops a little in severity in relation to Athens. Just a little over an hour north on U.S. 441, there are hiking trails, waterfalls and quaint roadside stops boasting boiled peanuts or peach ice cream, but by far the best place to spend a day kicking it in nature is at Panther Creek Falls.
With a campground and picnic area by the trailhead, you don't have to lug your camp gear on your hike, but if you can muster the strength and some comfortable gear, you'll be happy you stuck it out for some wilderness-like camping. There are camp sites tucked in the woods along the trail for the entire seven-mile (round trip) hike, so you can choose to sleep next to the river or in a quiet grove of trees. If you feel more comfortable around other people, there are larger camping areas perfect for groups or for being within yelling distance from a neighbor. These are found both around the halfway point and at Panther Creek Falls, the majestic end to your hike.
Bring a swimsuit, as there are several good places to take a dip, and extra batteries for your devices, because it's totally primitive here—although without service, you'll only need your phone for pictures. Even if you're just staying for the day, wear good hiking shoes and bring plenty of water, along with a snack. Pro tip: You can leave your car by the roadside while you hike in for the day or even to camp; just be sure your wheels don't touch the road, or you might be towed. [Kat Khoury]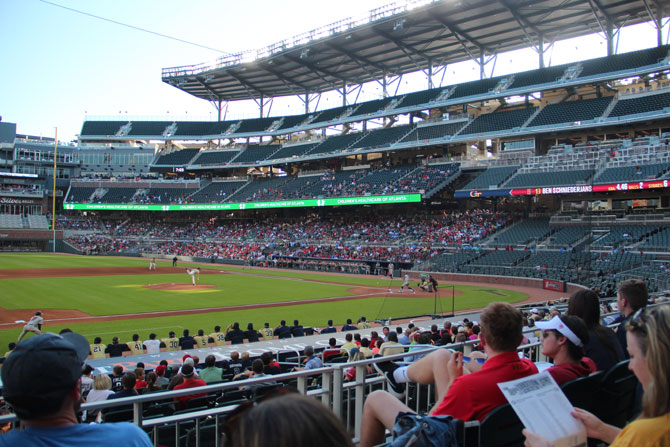 Take Me Out: If you're anything like me, you felt ambivalent at best about the Braves fleeing the perfectly good Turner Field and fleecing Cobb County taxpayers to build SunTrust Park in the suburbs. Locating a 40,000-seat stadium in an area that lacks transit is dumb, even in the car-addiction capitol of the world, but traffic wasn't the nightmare I expected. (Caveat: It was a Sunday.) Waze got us there in plenty of time. We had prepaid to park in some office building's deck, and a shuttle took us to the ballpark. Easy.
SunTrust corrects Turner's biggest flaw—the lack of anything to do around it—with The Battery, a mixed-use development next door full of bars, restaurants and a Terrapin tap room. Unfortunately, it looks like somebody plopped The Mark down next to I-285. The stadium itself is equally soulless, with warehouse-chic architecture that looks somehow cheap, and nary a scalper, T-shirt vendor or peanut hawker in sight outside.
But once inside, it's a good place to see a ballgame. Smaller than Turner, with not much foul territory and decks stacked on top of each other, even the nosebleeds feel close to the action. Just make sure to eat beforehand or bring your own food. The concourses are narrow and clogged. I got in line for hot dogs at the end of the first, and by the time I got back to my seat, it was the seventh-inning stretch. To put that in perspective, it took me as long to move 20 feet as it did to drive 70 miles. Luckily, the game went 14 innings, so I almost got to see nine innings of baseball. And the hot dogs, to be fair, were delicious. [Blake Aued]
Asia in ATL: Just an hour or so down the road, Buford Highway and its surrounding tributaries offer days' worth of culinary explorations within its densely packed shopping centers, bakeries and Hangul-plastered edifices. Mostly known for its Asian eateries, BuHi boasts an uncommonly concentrated selection of Latin grub as well, including Marisqueria el Veneno's spicy seafood selections à la Mexico's Pacific Coast (shrimp empanadas! Whole fish served family style!).
At Canton House, tuck into an embarrassment of dim sum riches, and enjoy the opportunity to watch and listen as the big dining room fills with Chinese-American families, conversation and culture. Nothing, however, beats Pho Dai Lo #2, where several enormous stock pots roil nearly constantly with bones, star anise and other makings of Vietnamese broth. The restaurant's long tables are typically packed with The Youth—boisterous young men in expensive-looking jeans; beautiful, dolled up twentysomethings delicately plucking away with chopsticks and miraculously keeping their long hair out from falling into their big bowls of soup—slurping rice noodles and chewing rubbery boba under ostentatious crystal chandeliers that look better suited to Liberace's living room than they do to a pho spot.
Not far away in Kennesaw, Sweet Hut Bakery & Cafe offers—among dozens and dozens of other South Korean treats—criminally pillowy Hokkaido cupcakes, as well as red bean mochi and buns, polo pork sung, various whipped cream vehicles and a smattering of savory pastries studded with hot dog slices that, as I discovered during a 13-month stint teaching English in the ROK some years back, are, oddly, "authentically" Korean (whatever that means).
The number of foods and places to buy them along BuHi more than exhaust the word count available here. But one last shoutout to the Tofu House, just off 285, where for just a buck or two you can, and should, add a whole grilled mackerel to the banchan that comes with your Korean meal.

No trip down this flavor boulevard is complete without a leisurely meander through the aisles of Buford Highway Farmers Market, which are conveniently arranged according to the countries or regions that the foods contained therein originate from. The produce section alone is staggeringly expansive, especially in its selection of Latin fruits and vegetables, as well as spicy peppers from around the world. [Rachel Bailey]
Like what you just read? Support Flagpole by making a donation today. Every dollar you give helps fund our ongoing mission to provide Athens with quality, independent journalism.