A proposed high-rise condo development just south of downtown would be—from at least one perspective—one of the tallest in Athens.
Developers Carl Nichols of Athens and Steven Hill of Gainesville are seeking a rezoning to build the 10-story tower at 155 Mitchell St., a 1.7-acre lot between downtown, the UGA campus and the Carr's Hill neighborhood, behind the St. Mary's steeple and Steeplechase Condominiums.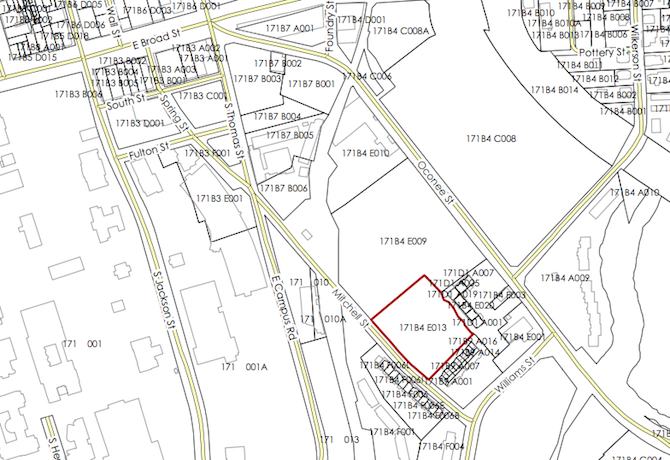 The development would consist of three stories of parking (underground, from the front of the building), topped by 25,000 square feet of restaurant and office space on the ground floor and six stories of mostly two-bedroom condos, a total of 238 bedrooms.
Originally, Hill and Nichols had sought a waiver from a county law requiring commercial space on the ground floor of downtown developments, but they've dropped that request.
They also wanted to exceed the county's maximum 100-foot height limit. Under county law, building heights are measured from the midpoint on sloped lots, and the Mitchell Street tower would be 119 feet tall on its tallest side and 86 feet on its shortest, according to Athens-Clarke County planner Bryce Hix. But Nichols and Hill said at a planning commission meeting Thursday night that they have adjusted the plans so the building will average 100 feet tall exactly.
The height will be mitigated somewhat by the topography of the lot, which is situated downhill from campus and downtown, Nichols said.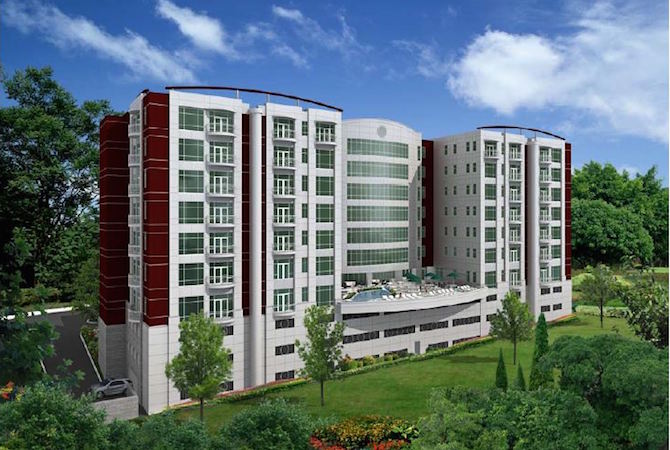 Nichols said the condos are intended for empty-nesters and retirees.
"We're looking at people who already have a mountain house, already have a beach house, already have an Atlanta house, but want to come to Athens," he said.
Pressed by planning commissioner Sara Beresford on whether the building will wind up as student housing, the developers were adamant. Hill said he plans to live there himself.
"This is not student housing," Nichols said. "We have enough student housing in this community. We don't need any more."
He also pointed to the "tremendous increase" in tech workers downtown, citing Voxpro, the Irish call center that moved into One Press Place (which Nichols renovated) and is said to employ 500 people. "Those people make lots of money," he said, although the average wages are about $12–$15 an hour.
When asked about prices, "we haven't gotten to that yet," Nichols said, but he later threw out a range of $250,000–$325,000 for the 1,100–1,350 square-foot units.
Whether it's student housing or not is outside of county officials' control, planning commissioner David Finkel said, but there is an untapped market for senior housing downtown.
"Everybody complains about students dominating downtown," he said. "Without getting into the design, we need something like this."
Other planning commissioners raised concerns about traffic on narrow Mitchell Street, but Hill said residents are likely to walk the block or two to downtown or campus.
The developers are seeking a rezoning from multi-family residential to commercial-downtown, which allows for a much higher residential density. Planning commissioners only offered comments Thursday, and will likely make a formal recommendation next month. The ACC Commission has final say, and could vote on the project as early as August.
If approved, the developers couldn't pull a building permit until February, when a one-year moratorium on new residential development downtown expires, unless commissioners lift the moratorium early or grant an exception, ACC Planning Director Brad Griffin said.
Like what you just read? Support Flagpole by making a donation today. Every dollar you give helps fund our ongoing mission to provide Athens with quality, independent journalism.