In one incident, an officer smelled marijuana after he stopped a car for running a stop sign. When he searcher the car, the officer found "a small bag of a green leafy substance" and arrested the drive for possession.
In another, two officers patrolling in an unmarked car noticed another car "attempting to avoid law enforcement." After frisking the driver and chasing down a passenger who fled, the officers found a glass jar of marijuana on the passenger seat and a digital scale in the driver's-side door pocket. The two men were arrested for possession with intent to distribute—a felony that carries a mandatory minimum of one year under Georgia law.
This is just a small window into over 1,400 arrests on marijuana charges by the Athens-Clarke County police detailed in documents obtained by Flagpole. An analysis of this data found a large racial divide in how Athens-Clarke County enforces state marijuana laws. African Americans are nearly five times more likely to be arrested on a marijuana charge, this investigation found. That gap was even larger for one of the most serious possession charges. The overall disparity has persisted for decades.
This racial divide is part of a national trend, according to Art Way, senior director for national criminal justice reform strategy at the Drug Policy Alliance. That's despite research showing that blacks and whites in the U.S. use marijuana at about the same rate.
"This is a small slice of a widespread problem," Way told Flagpole in an email. "Racial disparities exist nationwide at every step in the criminal justice system—stops, searches, arrests, convictions and sentencing. The drug war in general, and marijuana prohibition more specifically, is a veneer to continue the historic disenfranchisement of the poor and people of color."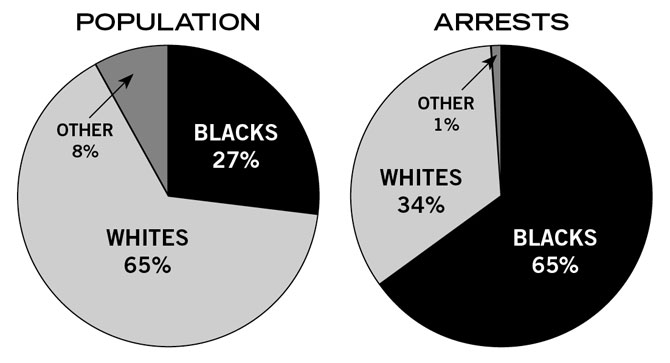 Photo Credit: Larry Tenner
Only about 27 percent of Athens residents are black, according to U.S. Census data. However, nearly 65 percent of people the Athens-Clarke County Police Department charged with a marijuana violation between 2012 and 2015 were black, according to data provided by the department. Meanwhile, just 34 percent of those arrested on marijuana charges were white, even though whites make up 65 percent of Athens' population.
The year 2014 was a high water mark for the disparity. Of the 334 arrests Athens police made that year involving marijuana charges, 70 percent of those arrested were black. That number was up 10 points from 2012, even as the percentage of whites arrested on marijuana charges dropped 9 points.
Taken together, these statistics show that blacks are 4.7 times more likely to be charged with a marijuana violation in Athens, whether alone or in the course of an arrest for another charge. "My gut reaction is, that's messed up. That's ugly," local community activist and artist Lemuel "Life" LaRoche said when presented with these statistics.
Those arrested on marijuana charges by ACC police have been at least 54 percent black since at least 2000, according to a separate set of jail booking data provided by the Clarke County Sheriff's Office. That data also shows that Athens police were responsible for about 66 percent of Clarke County jail bookings on marijuana charges in 2014 and 2015. However, the large racial disparity in marijuana arrests is present even when arrests by other agencies, like the sheriff's office and University of Georgia police, are included.
Both sets of data count arrests, rather than people. It's likely the same individuals show up more than once. However, that does little to account for the disproportionate number of charges against blacks versus whites.
Nearly three-fourths of marijuana charges were for possession of 1 ounce or less—a misdemeanor that can be punished by up to a year in prison or a $1,000 fine, but usually carries a penalty of probation and community service for first-time offenders. Another quarter of the charges were for possession with intent to distribute, a serious felony that carries up to five years in prison and a one-year mandatory minimum. Possession of less than an ounce can also become a felony when officers suspect intent to distribute. That determination is up to the officer's discretion, according to experts. Often, it hinges on how the marijuana is packaged or whether the subject is carrying other items associated with drug dealing, like cash, a scale or small plastic bags.
The largest racial disparity, by far, was in arrests for possession of marijuana with intent to distribute. Nearly 77 percent of those ACC police charged with intent to distribute between 2012 and 2015 were black, while only 21 percent were white, and less than 2 percent were either Asian or did not have their race recorded by police.
The disparity in marijuana arrests has been growing across the state and the country in recent years, according to Maya Dillard Smith, executive director of the ACLU of Georgia. African Americans make up 87 percent of arrests for marijuana possession in Fulton County, Smith said, while African Americans in rural Gordon County are 14.1 times more likely than whites to be arrested on a marijuana charge, for example.
"Given Gov. Deal's commitment to criminal justice reform and reducing jail and prison populations to save taxpayers money, we believe decriminalizing low-quantity marijuana possession is a smart public policy that advances the Governor's goals," Smith told Flagpole by email. "Doing so would necessarily reduce racial disparities in such arrests."
A 2013 report by the American Civil Liberties Union found that blacks and whites use marijuana at roughly the same rate. However, nationally, African Americans are nearly four times more likely to be arrested for marijuana possession than whites, according to the report. And that rate has grown dramatically since 2001.
In Athens, activists are pushing for local solutions. The issue came up when Tim Denson, president of the advocacy group Athens for Everyone, was campaigning for mayor in 2014. "There was a lot of fear based around it," Denson said. "There were definitely many, many people we spoke to who felt like there was intentional bias being put into place."
Dustin Kirby, a local lawyer who was running for the ACC Commission, proposed a stop-gap solution—a city ordinance that would give police the option of issuing people caught with marijuana a civil fine, similar to a parking ticket, rather than arresting the person on criminal charges.
The commission initially rejected that idea after the county's attorney said it would conflict with state law. However, Athens for Everyone plans to continue pursuing the ordinance, Denson said. Both Kirby and Denson see it as a temporary solution until marijuana can be decriminalized, or even legalized, on the state level. "I definitely think it's something that Athens should lead on. I think people here in Athens-Clarke County expect us to," Denson said of the ordinance.
For his part, LaRoche is tackling the issue from the ground up. The youth organization he founded, Chess and Community, sponsored a chess tournament between police officers and young members of Athens' black community this past summer. He's optimistic about the impact those kinds of initiatives can have. "The solution is becoming a lot more integrated with the police force," LaRoche said. "And I think a lot of those steps are being taken right now—especially with the new chief, Chief Scott Freeman."
In response to queries from Flagpole, Athens police provided release data on marijuana arrests going back to 2012, the last year for which consistent data was available. The department also released over 2,000 pages of incident reports that cover marijuana arrests for 2014 and 2015, as well as information on its procedures and demographics.
Pressed on what could account for the wide disparity in his department's marijuana arrests, Freeman said it would be best for Flagpole to draw its own conclusions from the documents his department provided.
Freeman took over as chief of the Athens-Clarke County Police Department in June of last year, after 24 years in law enforcement in Rockdale County. "I've undertaken a major reorganization of the ACCPD, plan on implementing all new policies this year that focus on and support Constitutional Community Policing, and have launched an assessment of the ACCPD based on President Obama's Task Force on 21st Century Policing," he told Flagpole.
The department's current bias policy bans profiling on the basis of race, ethnicity, gender, sexual orientation, religion age and economic status. "A primary value of the ACCPD is to respect the dignity and worth of each individual," the policy states.
Like what you just read? Support Flagpole by making a donation today. Every dollar you give helps fund our ongoing mission to provide Athens with quality, independent journalism.