World leaders from more than 190 countries have convened in Paris during the first two weeks of December for the long-awaited United Nations Climate Change Conference. Will the governments of the world finally pass a binding global treaty aimed at reducing the most dangerous impacts of global warming… or will they fail in this task?
Letters to the Future, a national project involving more than 40 alternative weeklies across the United States, set out to find activists, authors, artists, scientists and others willing to get creative and draft letters to future generations predicting the success or failure of the Paris talks—and what came after. Some participants were optimistic about what is to come; some not so much. We hereby present some of their visions of the future.
As a young boy growing up in Searchlight, the unique beauty of the Nevada desert was my home. Our family didn't travel or take vacations, but we were able to visit Fort Piute Springs, which was just 15 miles from our home. Fort Piute Springs was a starkly beautiful place. From the gushing ponds of water to the beautiful lily pads and cattails, Fort Piute's beauty was magical. Decades later, I returned to visit Fort Piute Springs and found the magical place of my childhood in ruins. I remember thinking how sad it was that my descendants would never get to appreciate the stark beauty of the desert I cherished as a child. It was in that moment that I decided to fight to protect our environment.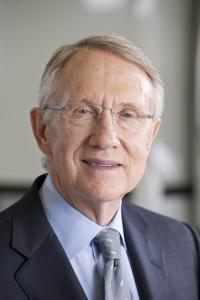 Throughout my career, I fought to protect my home and my country from the permanent damage of climate change. I thought about the world you would live in, the burdens you would face and the health issues that could one day challenge your very existence. You deserve a chance to experience the beautiful world that I grew up in. We all need clean air, clean water and natural resources to lead healthy lives. The idea that our actions could jeopardize your future was simply unbearable.
The only way to solve this problem was if we all worked together to save the planet for you and future generations. During my lifetime, the overwhelming majority of scientists across the world concluded that pollution from burning fossil fuels was beginning to raise temperatures and alter our climate. These scientists predicted that if countries failed to work together to replace fossil fuels with cleaner energy sources, the world would face uncontrollable rising temperatures and sea levels, water shortages, climate-fueled migration crises and landscape-altering wildfire, drought and extreme weather.
At the close of 2015, the world finally did something about it. Everybody knew we needed to address climate change, and that a failure to lead could destroy the progress we fought so hard to achieve and endanger your future. In the face of this reality, the United States pressed on and led a historic global agreement to change the course of climate change worldwide. We had already done so many things to make Nevada a cleaner, greener place—but now the entire world was ready to join us.
I'm proud of the work we did to protect our environment for you. I hope by now you can run just about everything on renewable energy and you no longer have to worry about if your children will suffer from asthma because of smog.
Today you may face a number of issues I could have never imagined. My hope has always been that the United States' efforts to combat climate change would create a cleaner future for my descendants and future Nevadans. I hope that you are no longer burdened with the issue of climate change and can enjoy more of the Nevada I have always known. But if you face similar challenges, draw strength from my experiences and continue to fight for a cleaner environment.
Read more letters to the future here.
Like what you just read? Support Flagpole by making a donation today. Every dollar you give helps fund our ongoing mission to provide Athens with quality, independent journalism.