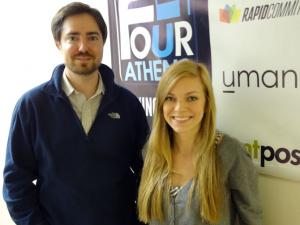 Athens is known for a lot of things—its music scene, fine dining, health care, historic architecture and, of course, football. Tech startups aren't one of them.
In a no-frills office building on the outskirts of downtown, a small group of entrepreneurs is hard at work trying to change that. They're designing video games, creating apps and writing software under the tutelage of Jim Flannery, a San Francisco transplant who wants to combine the digital savvy of his old hometown with Athens' idealistic, DIY attitude.
Flannery co-founded Four Athens, an incubator that offers tech startups cheap rent downtown, technical expertise and access to investment capital in exchange for small ownership stakes. Flannery's own story is a common one: A relationship brought him to Athens. It didn't work out, but he loved the town and wanted to stay. The problem was, he couldn't find a job.
Out West, the Princeton graduate had worked as an analyst for an investment bank specializing in environmental startups. After moving to Athens, he put his financial background to use starting Dealmobs, an online coupon company, then sold it and decided to use his experience to help others in his position.
In a little over a year, Four Athens has grown to include 17 companies making everything from property management programs to apps that turn bar stereos into jukeboxes. "It's young people who don't need a lot of money and want to change the world," he says.
An Entrepreneurial Spirit
It's not necessarily going to change the world, but one night out on the town, Bjorn Barja had a realization: Few of the bars he went to in Athens had jukeboxes. "That just blew my mind," he says.
Instead, many local bars simply play music from a laptop. Barja noticed that patrons would ask bartenders to play certain songs, but unless they were friends or slipped him a $5 bill, they were out of luck. So, he and partner, Matt McClure, invented an app called Tunewolf, that, for 99 cents, will let people use their phones to play a song on a bar's stereo. He tested it recently at the Green Room, a new Lumpkin Street club.
"I was really impressed," Green Room and Georgia Theatre owner Wilmot Green says. "The app worked really well and looked cool and everything. I would use it for the rooftop of Georgia Theatre. It's like a modern social alternative to the jukebox."
Other startups at Four Athens are trying to fill other niches. Miracle Ticket gives music fans a safer and more transparent option than sites like Craigslist to trade tickets. RentPost, started by Athens native Jacob Thomason, is developing property management software that lets tenants pay their rent online and file work orders. Wagglez, founded by Chris Bell, who holds a PhD from the University of Georgia, is launching an app that lets users find local deals.
RapidCommittee was founded by Chris Kwiatkowski, an MBA student at UGA who spent "a ridiculous amount of time" keeping track of committee members, bylaws, minutes and decisions. He started a company to make software to manage all that information and was named UGA's entrepreneur of the year in 2012.
On a less ephemeral note, Magnum Data Center is addressing a shortage of server space locally—a need founders Cody Murray and Mark Acosta say will increase 44-fold by 2020. "To put it in layman's terms, we say data is the new water," Murray says. "It's something you can't live without."
Like Flannery, Brent Chandler of AccountChek—an automated credit-check website for loan-seekers—is a relative newcomer. His wife is from Athens, and he left his job on Wall Street 15 years ago to move back with her. The city kind of reminds Chandler of Greenwich Village. "We're growing, and we want to tap into the entrepreneurial development spirit here," he says.
Products for Robots' John Posey has a project that is just a bit more elaborate—a hard sci-fi epic sprawled over five video games with plans for books, movies and music by the band Space Vikings, too. In an alternate Year (2272) where a medieval king embraced science and conquered the world, the Imperium, the utopian society that resulted, discovers another universe filled with chaos. An attempt to combine matter from the two universes turns into the Metacell, a star-size tentacled creature (see this week's cover) that High Paladin Dominic Moore and his crew must contain. (Flagpole.com has links to a beta version of the game and the Products for Robots' Kickstarter.)
Posey could make video games anywhere, but "Athens just happens to be where I want to be," he says. "It's my muse, my home, and I couldn't see myself or my company flourishing anywhere else."
Keeping Homegrown Talent
Posey approached Four Athens at the suggestion of his former boss, Pete Dugas, a former Athens-Clarke Economic Development Foundation board member who owns the audio/visual firm TSAV. "Those Four Athens guys are filling a need by having this low-cost space and exposing them to business principles," Dugas says. "It also creates some critical mass in attracting some venture capital."
As the Athens community reevaluates our strategy to create jobs, one question is, how do we keep educated, creative people from leaving? Flannery looks to coworker LoriAnne Carpenter, a recent UGA grad who was on the verge of moving to Hattiesburg, MS, when she landed a job at Four Athens. "I think we need to figure out a way to retain the talent that wants to stay here," he says.
"We're hoping to convince five, 10, 15 UGA students to stay in this town, the ones who are really passionate but can't find a job," Flannery says.
Traditionally, local economic development officials have focused on big industrial employers like Caterpillar, but that's only one piece of the immersive 2D twitch puzzle shooter, as Posey would say. "All of these have to blend together," says Peggy Chapman, president of the nonprofit Athens-Clarke Economic Development Foundation. "The larger companies, the industrial jobs, are the ones that bring your tax base. Commercial does the same thing. [Technology and creative firms] bring the skilled jobs, the high-paying jobs. All of these are what makes Athens-Clarke County so special."
The key, according to Chapman, is cooperation among government agencies and the private sector. In addition to renting the former Georgia Power building on Dougherty Street, Four Athens has office space in the Georgian Hotel, funded in part by a deal with the Athens Downtown Development Authority to subsidize rents for companies that are less than three years old, employ three or fewer people and generate less than $150,000 in revenue in hopes that they'll stay downtown after they grow. Flannery also signed a partnership in October with the Georgia BioBusiness Center, UGA's biobusiness incubator. Future plans could include a medical incubator near the UGA health sciences campus to complement Four Athens and GBBC, Athens-Clarke Commissioner Andy Herod says.
Athens' competitors for talented young entrepreneurs already have stronger partnerships in place. Innovation Depot in Birmingham, AL, houses 83 startups with 460 employees and an economic impact of $1 billion over the last four years, according to The Birmingham News. NEXT Innovation Center—started by the City of Greenville, SC, the Greenville Chamber of Commerce, an incubator similar to Four Athens and a private developer—has 60,000 square feet of formerly vacant office space along the Reedy River.
Next year, ACC officials hope to bring Liverpool, England's Sound City conference to Athens. The event would showcase Athens artists and musicians while bringing in tech startups and investors from around the world. "It seems that one of the issues we have here in terms of the tech sector is that we have a lot of talent, but that firms get to a certain size and need venture capital and have few places locally to go to get it and so go somewhere else like San Francisco," Herod says. "So, the idea of the conference was to bring the venture capitalists to Athens. I think this is an important thing to do to really put us on the map and, hopefully, keep some of those startups here."
As Herod notes, in the age of Skype, physical proximity isn't as important as it once ways. And as author Richard Florida has pointed out, a creative class that can go anywhere in the world is looking for cultural vibrancy when deciding where to make a living. "We'd like to think [we've] played a role in creating just such a good quality of life," Herod says.
Like what you just read? Support Flagpole by making a donation today. Every dollar you give helps fund our ongoing mission to provide Athens with quality, independent journalism.