1:05 a.m.: Last post, for real. Here are some of the candidates' reactions (at least, the extremely online candidates' reactions) to the election results.
District attorney candidate Deborah Gonzalez, who nearly won her race outright but will face prosecutor James Chafin in a runoff, ended her evening with a fundraising plea.
From state Rep. Houston Gaines:
From Mokah Jasmine Johnson, who seems to have let bygones be bygones after Republicans dredged up a 20-year-old minor marijuana charge that was later expunged:
And more forceful words from Democrat Zachary Perry, who lost his race to state Sen. Bill Cowsert (R-Athens):
12:19 a.m.: One last look at the situation statewide before we call it a night.
Although President Trump currently holds a 7-point lead over Joe Biden in Georgia, that lead may not hold. Only a fraction of the vote in DeKalb County has been reported, though, and it will eventually net Biden a couple hundred thousand votes. Likewise, there are still a substantial number of votes left to be counted in Fulton, the state's largest county and another treasure trove of Democratic votes. Newly blue Gwinnett and Cobb counties are also not done counting. With absentee scanning halted for the night in Fulton due to a burst pipe at State Farm Arena, we won't know tonight who won Georgia.
Jon Ossoff, Sen. David Perdue's Democratic challenger, is running 1.4 points behind Biden, so even if the former vice president ekes out a win in Georgia, the best Ossoff can hope for is a runoff. Libertarian Shane Hazel is getting 2.3% of the vote.
In the other Senate race—the "jungle primary" to replace Johnny Isakson, who resigned in January—Republican Rep. Doug Collins has bowed out and endorsed Sen. Kelly Loeffler, Gov. Brian Kemp's appointee.
Warnock emerged as by far the strongest Democrat in the field of 21 and currently has 30% of the vote. Loeffler is clocking in at 28%, well ahead of Collins' 22% with most of his Northeast Georgia base already counted. UGA professor Richard Dien Winfield has 0.56% of the vote.
In two closely watched metro Atlanta congressional races, District 6 Rep. Lucy McBath is cruising in her rematch with Republican Karen Handel, from whom she won the seat in 2018. In the open District 7, Democrat Carolyn Bordeaux trails Republican Rich McCormick by 5,000 votes, but may pass him once all the results from Gwinnett are in.
10:55 p.m.: Final results for Clarke County are in, and Republican state Reps. Houston Gaines and Marcus Wiedower easily held on to two seats Democrats had hoped to flip.
Gaines (R-Athens) defeated activist and educator Mokah Jasmine Johnson 56% to 44%, while Wiedower (R-Watkinsville) won his second rematch with software engineer Jonathan Wallace 55% to 45%.
Both seats straddle Clarke and Oconee counties, and Democrats flipped them in a 2017 special election before the GOP won them back in 2018. Turnout was far higher in conservative Oconee (84%) than liberal Clarke (64%), propelling Gaines and Wiedower to victories that were not nearly as close as expected.
In another race that included both Clarke and Oconee, progressive candidate Deborah Gonzalez narrowly missed winning outright in a three-way race for Western Circuit district attorney with 49% of the vote. She'll face independent James Chafin, who won 35%, in a runoff. Acting DA Brian Patterson, a moderate Democrat, won just 16% of the vote.
As expected, ACCPD Sgt. John Q. Williams easily won the sheriff's race with 71% of the vote over Republican Robert Hare. Williams narrowly defeated incumbent Sheriff Ira Edwards in the June Democratic primary.
Also as expected, both of Athens' Republican state senators retained their seats in landslides. Sen. Bill Cowsert (R-Athens) defeated Zachary Perry, a UGA law student, with 61% of the vote, and Sen. Frank Ginn (R-Danielsville) beat Democrat Dawn Johnson 66% to 34%. The majority of both districts are made up of the heavily Republican areas surrounding Athens.
It also came as no surprise that Democratic challengers lost overwhelmingly in two local congressional races that are likewise dominated by rural Republican areas. Rep. Jody Hice of Lake Oconee kept his seat by winning 64% of the vote against Democrat Tabitha Johnson-Green in the 10th District, and Andrew Clyde, owner of a Bogart gun store, defeated Democrat Devin Pandy with 80% in the 9th District.
In a special election to fill the last two months of the late District 6Commissioner Jerry NeSmith's term, Jesse Houle won over Chad Lowery 57% to 43%. Houle lost to NeSmith in June but was awarded the seat starting in January because NeSmith died shortly before the election. With tonight's victory, Houle will take his seat immediately.
10:01 p.m.: Sixteen of Clarke County's 24 precincts are now reporting, and so far Jonathan Wallace and Mokah Jasmine Johnson are not doing as well as Democrats did in two local Georgia House races two years.
Wallace has 64% of the Clarke County vote, compared to 70% in 2018, and Johnson has 60%, compared to the 62% Deborah Gonzalez received.
This comes with a caveat that a huge batch of absentee ballots in Clarke County has yet to be reported. Board of Elections Chairman Jesse Evans told Flagpole all of those votes will be released at once when they're all counted.
In the Western Circuit district attorney's race, Gonzalez has 61% of the vote in Clarke County. She currently trails independent James Chafin, who won Oconee County handily, 44% to 40% circuit-wide. But Chafin is only getting 24% in Clarke, so depending on how many votes are left to be counted, Gonzalez could still win without a runoff. Otherwise, she's set to face Chafin, because acting DA Brian Patterson only has 15%.
9:23 p.m.: Full results from Oconee County are in, and they look good for Athens' two Republican state representatives, Houston Gaines and Marcus Wiedower.
Both represent districts that are roughly evenly split between Clarke and Oconee Counties (with, in Gaines' case, a handful of voters in Barrow and Jackson counties). And both won back Republican-held seats that Democrats had flipped in a 2017 special election.
Gaines and Wiedower each received 72% of the vote in Oconee County, which means they're running slightly ahead of 2018. And turnout was sky-high in the conservative bastion at 84% of registered voters.
Independent James Chafin won 60% of Oconee County's vote for district attorney, with progressive Democrat Deborah Gonzalez at 24% and moderate Democrat Brian Patterson, the acting DA, at 16%, which doesn't bode well for Patterson's chances at making a runoff with Gonzalez.
John Daniell won re-election as Oconee County Commission chairman with 72% of the vote. Amrey Harden won a three-way race for Post 3. Tim Burgess and Michael Ransom won their school board races.
In Watkinsville, the city council winners are Brett Thomas, Christine Tucker and Jeff Campbell. It was a rebuke to controversial Mayor Bob Smith, who endorsed their opponents, Peter Steckel and Carolyn Maultsby.
Meanwhile, ACC commissioners Tim Denson and Russell Edwards, both longtime political organizers, are discussing the election on the Athens-Clarke County Democrats' Facebook page.
Correction: This post originally incorrectly stated the winner of the Campbell-Maultsby race.
7:35 p.m.: The first results are starting to trickle in, though none from Athens yet.
Joe Biden leads President Trump with 53% of 213,000 votes counted so far.
Democrat Jon Ossoff is running slightly behind Biden but still leads Sen. David Perdue 50% to 49%.
In Georgia's other Senate race, Democrat Raphael Warnock has 36% of the vote, giving him the inside track for a spot in a runoff against Sen. Kelly Loeffler (26%) or Rep. Doug Collins (19%).
Nationally, CNN has called Indiana for Trump (no surprise there). The New York Times has called Kentucky and West Virginia for Trump, and Virginia and Vermont for Biden.
6:14 p.m.: From Flagpole intern Tyler Wilkins:
Mark Murphy voted at the Howard B. Stroud Elementary School polling location on Fourth Street. As a self-proclaimed independent, he voted for Biden but is against the Democratic candidates calling for defunding the police.
"I'm sick and tired of the way the country is going," Murphy said. "Trump has done some good things, but c'mon man. He needs to shut up. Every time he opens his mouth, something stupid comes out of it."
While President Trump tries to reopen the economy, Murphy said it won't work until the COVID-19 pandemic is under control. "The pandemic caught everybody off guard," Murphy said. "I don't blame Trump for it. I blame his response, though."
In terms of local candidates, Murphy said Athens needs elected officials who will help the homeless and people with mental health issues. His sister committed suicide before she could get the help she needed, Murphy said.
"We can't spend millions of dollars on the [Firefly Trail] while we've got people dropping here in the streets," Murphy said. "And it's not their fault, it's just they were born that way. I'm not saying lock them up in mental institutions for the rest of their lives, but get them help."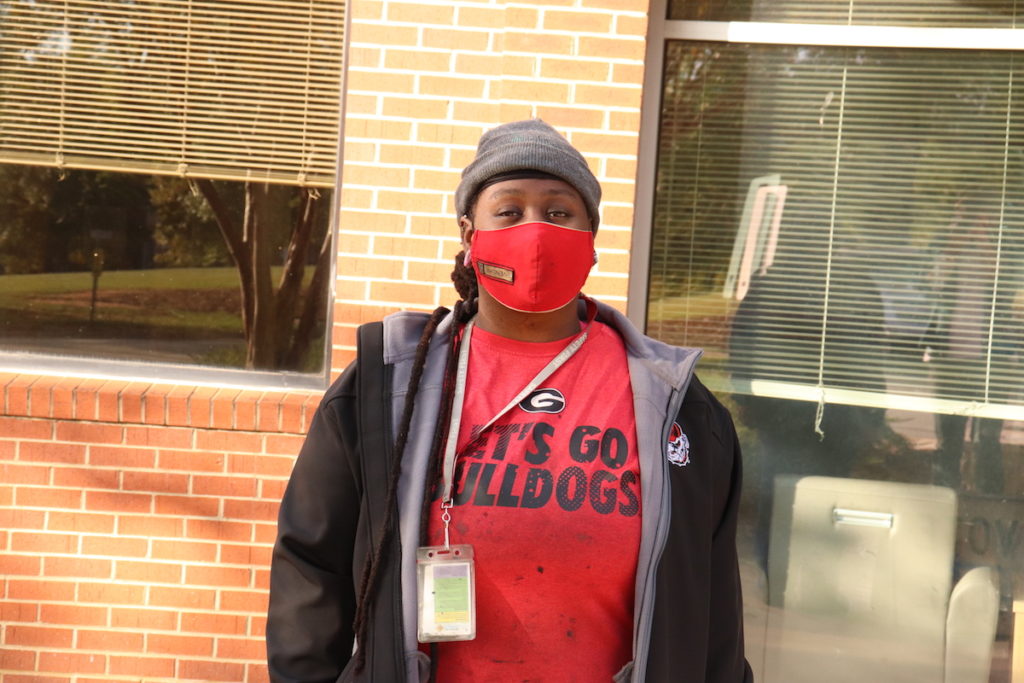 Sundra Gartrell also voted at Stroud. With police brutality against the Black community at the top of her priority list, Gartrell voted for Biden.
"We've been living through four years of hate, and I think it's time for a change," Gartrell said. "A lot of the things Trump says is unclear. When he said, 'Proud Boys, stand by,' I was like, "Really?'"
At Fire Station 7 on Barnett Shoals Road, a man who goes by JG said he chose to spend his day off imploring drivers to vote for Joe Biden.
"I'm concerned with the outlook of the election," said JG, who declined to share his full name. "Four more years of Trump would be terrible. He's done a lot to chip away at the fundamental rights of minorities."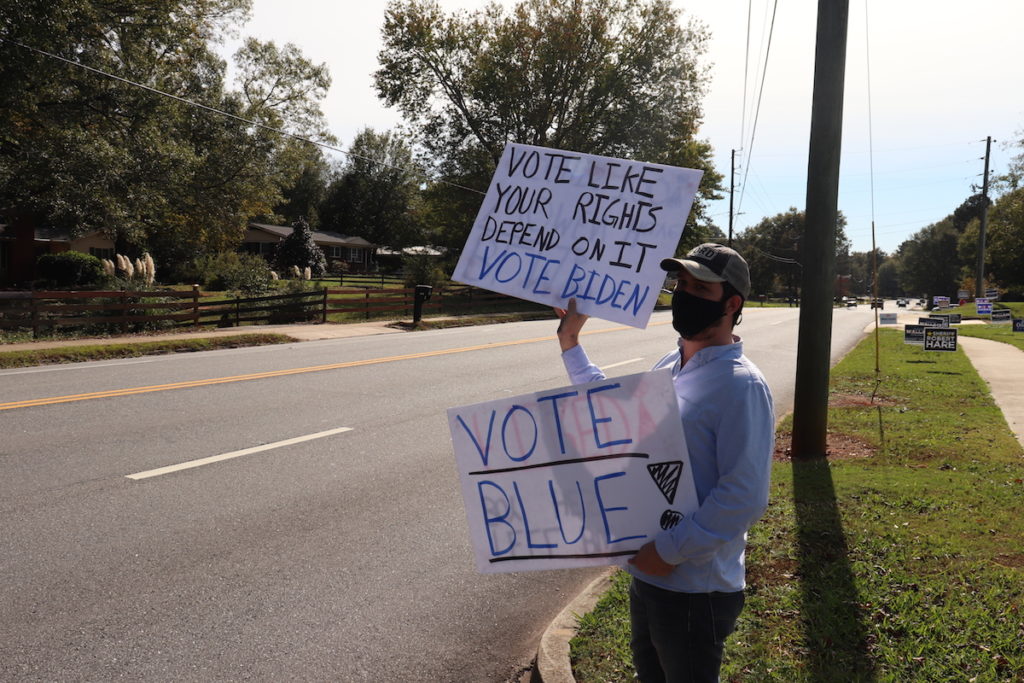 As a proponent of legislation that would help support victims of human trafficking, domestic abuse and sexual assault, JG said he believes most Republicans only voice "detrimental" rhetoric around these causes, hurting victims in the process.
While he normally chose to support whichever president took office, JG said the "cult-like following" of President Trump changed his tune this election season. "This whole mentality is disgusting, and it needs to stop before it spirals out of control," JG said. "I've never seen this kind of hate, from both sides, as I have when he wasn't president."
4:59 p.m.: As might be expected after more than 41,000 Athens residents voted early or by mail, turnout has been low today.
As of 2 p.m., turnout had ranged from 43% in Precinct 3A (Lay Park) to 74% in 1D (Whit Davis Elementary). Overall, about 6,000 people had voted today by mid-afternoon. But there are still two hours left, and turnout could pick up after people get off work.
At Whitehead Road Elementary School (5B), 293 people had voted as of 3 p.m.
"That first hour was busy," poll manager Carol Brannon said. "Since then, it's been slow, but I'd say steady."
At an intersection a couple hundred yards away, Dawn Dalton waived a sign at drivers.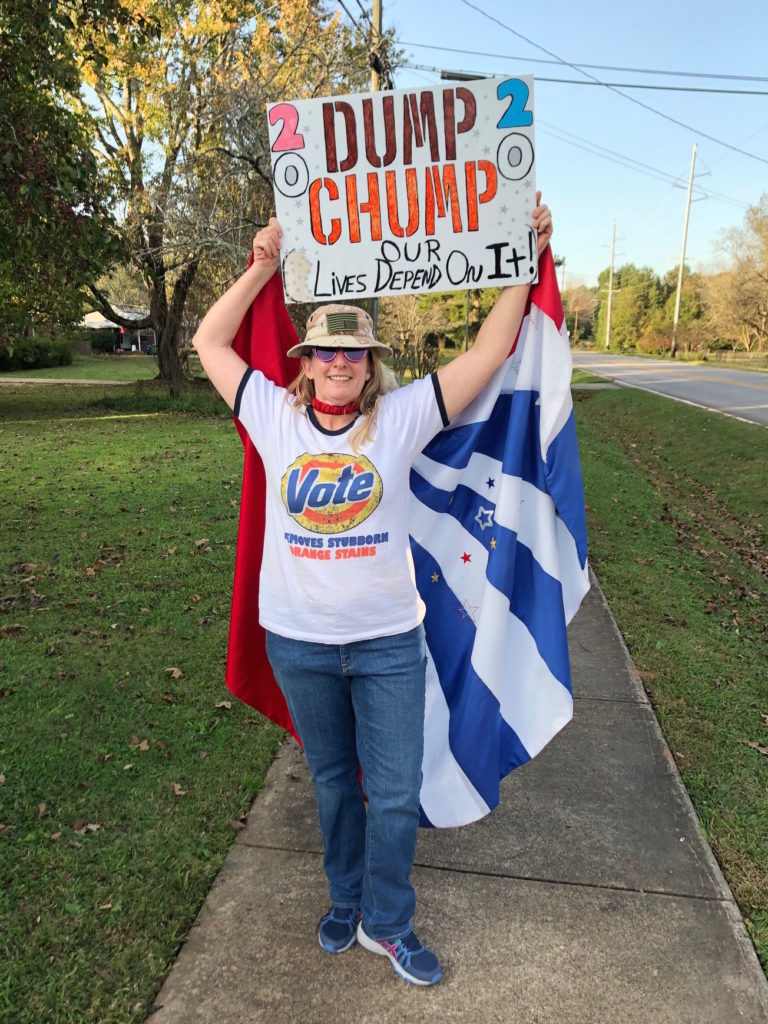 Dalton called President Trump a "wannabe monarch" and said this election is so important that her parents, who are in their 70s, voted for the first time ever.
"We have to show [Trump] who's boss," Dalton said. "We're the boss."
12:44 p.m.: Everything seems to be going smoothly. There have been no lines at polling places Flagpole staffers have visited, including Gaines Elementary and Chase Street Elementary.
We also had a celebrity sighting:
Kemp is currently in quarantine—presumably at his family home in Athens rather than the governor's mansion—after being exposed to someone with COVID-19.
7 a.m.: What to Expect Today
Polls are now open. If you haven't voted already and don't know where to go, click here to find out.
But you probably have voted already. More than 40,000 Clarke County voters have, which is more than half the 76,000 registered voters in the county and nearly the same as the total number of people who voted in 2016.
This is not some kind of blue wave, though. About two-thirds of the 30,000 registered voters in heavily Republican Oconee County have already cast their ballots. Where Democrats have the advantage is in registration—Clarke has added 10,000 new voters since 2016, while Oconee has added 6,000. These numbers indicate a very tight race for two local Georgia House of Representatives seats, and progressive district attorney candidate Deborah Gonzalez may be able to escape a three-way race without a runoff.
Despite the massive turnout for early and absentee voting, Secretary of State Brad Raffensperger expects 2 million Georgians to show up at the polls today, and he's warned that lines are possible, especially in the morning.
Potential holdups include COVID-19 precautions and unfamiliarity with Georgia's new voting equipment. The new system requires voters to use a touchscreen to select their choices, print out a ballot, then have the paper ballot scanned to be officially counted. As always, photo ID is required.
For the June primary, poll workers were allowed to open but not scan absentee ballots before voting ended at 7 p.m., leading to long waits for final results. Counting didn't end in Athens until mid-afternoon the following day. But for the general election, poll workers are already tabulating absentee ballots, which means final results should come much sooner. ACC Director of Elections and Voter Registration Charlotte Sosebee said she hopes to be finished by midnight.
It could also lead to some big shifts as the night goes on. Results for a batch of absentees should go up shortly after 7 p.m. and are likely to trend Democratic. Then small, rural counties will start to report in-person votes, and Republicans will catch up. Finally, big urban counties like Fulton will finish reporting their results, which will favor Democrats.
Counting in other states could drag on for days (see FiveThirtyEight for more). But we should know the results from Georgia, Florida and other states that are already counting absentees tonight.
Just remember when results starting coming in that this is like watching a football game on tape delay—your team has already won or lost; you just don't know it yet.
Like what you just read? Support Flagpole by making a donation today. Every dollar you give helps fund our ongoing mission to provide Athens with quality, independent journalism.