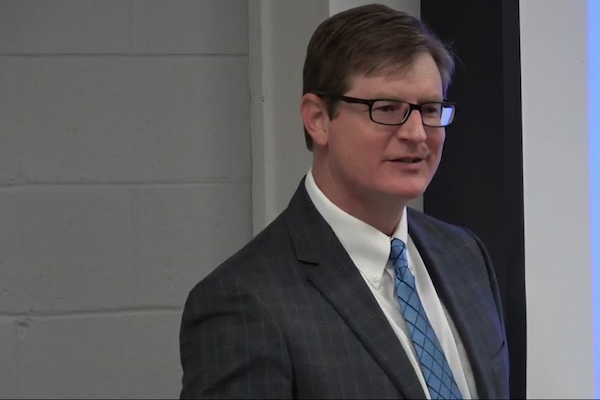 Brian Patterson, acting district attorney for Oconee and Clarke counties, told Oconee County Democrats last month that, if he becomes district attorney on a permanent basis, he will resurrect a number of unsolved murder cases in the two counties.
He also said he will increase the investigation of organized criminal activity and gang activity, continue to prioritize crimes against women and children, and promote alternative court programs to keep people from having a criminal records for lesser offenses.
At the time he spoke, Patterson was chief assistant district attorney for the Western Judicial Circuit serving the two counties, but he moved up to acting district attorney on Mar. 1 when Ken Mauldin resigned rather than complete his term.
Gov. Brian Kemp has yet to announce a replacement for Mauldin, whose term expires on Dec. 31 of this year.
If Kemp makes the appointment on or before May 3, a special election will be held on Nov. 3 to fill the district attorney office. If Kemp delays his decision until after May 3, the election will be pushed back to 2022.
Patterson said that "I share the concern" about the timing of the election, but he did not take a stand on what Kemp should do and said he has not communicated with Kemp other than to apply for the job.
The Oconee County Democrats have announced that Jon Ossoff, a candidate for the Democratic nomination for the U.S. Senate seat now held by Republican David Perdue, will speak before the group at 6:30 p.m. on Mar. 19 at the Oconee County Chamber of Commerce, 55 Nancy Drive in Watkinsville.
Tabitha Johnson-Green is the scheduled speaker for the Oconee Democratic meeting at 6:30 p.m. on Apr. 16, also at the Chamber of Commerce. Johnson-Green is seeking the Democratic nomination for the 10th Congressional District seat now held by Republican Jody Hice.
For more, visit Oconee County Observations.
Like what you just read? Support Flagpole by making a donation today. Every dollar you give helps fund our ongoing mission to provide Athens with quality, independent journalism.