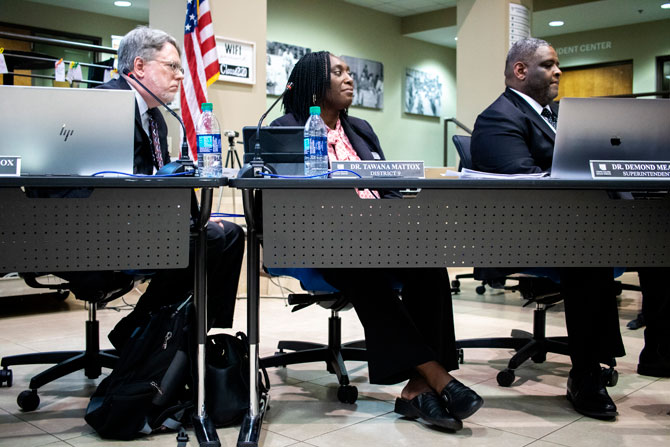 Photo Credit: Whitley Carpenter/file
Clarke County School Superintendent Demond Means said he is resigning during a Board of Education meeting tonight that quickly devolved from sedate to a spectacle.
Frustrations spilled over when the board discussed a letter to the state Professional Standards Commission, which certifies educators, informing the PSC that three allegations of unethical behavior made against Means in May don't warrant sanctions by the PSC.
The board voted 5–2 to send the letter, written by members Kara Dyckman and Greg Davis, and to add a phrase proposed by member Tawana Mattox to the end of the letter stating that, while Means should be cleared by the PSC, "we [the board] will determine the best measures for addressing these concerns."
Mattox said she wanted to add that phrasing because, "We have to begin holding the superintendent accountable for things. He's not perfect."
In both cases, Mattox, Greg Davis, Dyckman, Patricia Yager and John Knox were in the majority, with Linda Davis and Charles Worthy in opposition. President LaKeisha Gantt was not in attendance, and board member Frances Berry resigned last week.
"By virtue of that vote, you don't want me as superintendent, and we need to have a discussion about how I leave," Means said. He then asked to go behind closed doors.
Earlier in the evening, the board voted not to add an executive session to discuss personnel matters to the agenda. Linda Davis—serving as president in Gantt's absence—then wanted to go into executive session to discuss the letter, but the school district's attorney, Michael Pruett, said they didn't have to. The board had discussed the ethics complaint at length in open session earlier this month.
While still in open session, Means continued: "Your vote this evening, the amendment from Dr. Mattox, was political in nature. I don't think it's unbiased. It's extremely disappointing. You don't want me here…
"This vote solidifies the efforts of many to rid [the district of me]. You are successful."
Several people in the audience began to beg Means to stay and hurl insults at Mattox, who asked CCSD Police Chief Mark Sizemore to come to the front of the room.
"You don't need to be here. You can go back where you were," Means told him.
"I feel threatened," Mattox said. "I need [Sizemore] up here. People up front, heckling me. This is the last night."
Linda Davis announced she was skipping the last item on the agenda—the board's response to a complaint to accreditation group Cognia alleging micromanagement, an equally contentious issue—"because of the deterioration of the meeting." The board voted to adjourn.
As the meeting broke up, Sizemore escorted Mattox to her car as several people followed her, with one woman telling her, "You should feel threatened."
Mattox, who joined the board in January, has been at odds with Linda Davis and Means for some time. Means named her in his response to Cognia (formerly known as AdvancED and SACS) "imploring" investigators to come to Athens. Mattox also verbally sparred with Davis at tonight's meeting when Mattox tried to add her amendment to the letter to the PSC and Davis argued it was not germane.
But that there was drama over the PSC complaint came as a surprise, because the board and Means seemed to be in agreement about how to respond at a Nov. 7 work session, and it appeared then that the final vote would be a formality.
Instead, it appears CCSD will be looking for a new superintendent two and a half years after Means' controversial tenure began.
Like what you just read? Support Flagpole by making a donation today. Every dollar you give helps fund our ongoing mission to provide Athens with quality, independent journalism.