New Gaines Elementary School principal Luther McDaniel sending out an invitation to a prayer event at the school this weekend—since moved to a nearby church—raises "serious Constitutional concerns" because government resources can't be used to promote religion, and it could make non-Christian students feel unwelcome, according to the American Civil Liberties Union.
"In his personal capacity off school property, Dr. Luther McDaniel is, of course, free to invite Christians to pray for his school, and people of all faiths are free to pray for his school," Andrea Young, executive director of the ACLU of Georgia, said in a statement provided to Flagpole. "There are other ways to invite the community to show their heartfelt good wishes for a successful school year for all of the students, teachers and staff in the school without promoting one kind of religion."
The ACLU's full statement can be read here.
McDaniel invited "brothers and sisters in Christ" to "officially and collectively invite the Holy Spirit to permeate our school campus" this Saturday, signing the message with his official title. Steve Smith of the Athens Prayer Network posted the invitation on Facebook, commenting that he hoped 500 people would attend.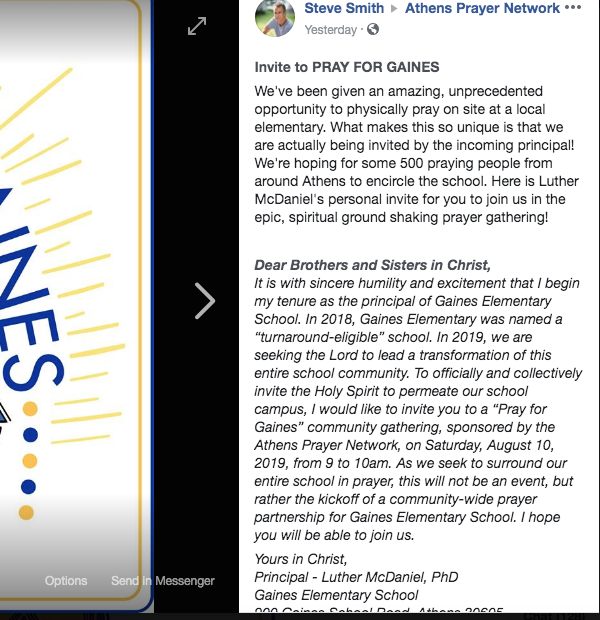 The post found its way to an online discussion group about local public schools, then quickly spread, with opinion sharply divided over whether the invitation was appropriate.
The event will no longer be held at Gaines, Clarke County School District communications director Mary Walsh Wickwire told Flagpole Wednesday afternoon.
Later, Smith posted that the vigil will now be held at Green Acres Baptist Church: "After much prayer and counsel it has been decided to shift our gathering this Saturday, down the street to Green Acres Baptist Church. Our heart's desire is to support, honor and bless Principal Luther, his staff and school. Please join us at 9am for a powerful time of focused prayer for Gaines. It's going to be amazing and effective! More details will be shared at the event. Can't wait to see you there."
McDaniel acknowledged that he overstepped in an email to parents Tuesday.
As the new principal of Gaines Elementary School, I am excited about our successful start to the school year and I am eager to work with our parents, teachers, and community to make progress toward meeting the ambitious goals we have set for our students.

As a longtime educator, I approached this new opportunity believing that my success at Gaines Elementary would be positively impacted by generating the support of people and organizations throughout the Clarke County community. Coupled with my own experiences, professional training, the value I place on education, and my full commitment to our students and families, I truly believe we can do great things for the Gaines School community.

I will also readily admit that a strong part of who I am is rooted in my personal faith. And my personal faith has led to my need to share with you today. Earlier this summer, I provided a letter of support to a community organization that had offered to sponsor a weekend prayer event for our school. This letter was intended solely for local pastors but yesterday was posted on Facebook without this important piece of contextual information. I sent the requested letter with the best intentions, but I must now admit that it reflected poor judgment.

While I cannot apologize for my faith, I do acknowledge that I have been an educational leader long enough to realize I pushed the boundaries as it relates to what is and is not an appropriate message from the principal of a public school. I regret the appearance of exclusion and the resulting disunity that has resulted from my letter.

Thank you for your support of the students of Gaines Elementary School.
This post has been updated to say that the prayer event has been moved, not canceled.
Like what you just read? Support Flagpole by making a donation today. Every dollar you give helps fund our ongoing mission to provide Athens with quality, independent journalism.