Is Brian Kemp really a Tennessee fan? Well, the Brian Kemp isn't, but a Brian Kemp is.
As Kemp and other Republican candidates were wrapping up a tailgate at Herty Field—where, we presume, everyone wore red—Georgia Democrats hired a plane to buzz Sanford Stadium with a banner reading "BRIANKEMP SAYS… GO VOLS."
Brian Kemp is running for governor. BrianKemp is a parody Twitter account filled with negative news stories about Kemp and Photoshopped images of the candidate wearing orange. (The actual Kemp's actual Twitter handle is @BrianKempGA.)
It's not the first online trick Democrats have played on Kemp. His opponent, Stacey Abrams, also managed to acquire the domain name briankemp.com, which redirects to Abrams' website. (Correction: According to Abrams' press secretary, Caitlin Highland, it wasn't them. Apparently it's a mystery who it was.)
Speaking of Kemp's fandom, the UGA alum is known for his red and black campaign signs—some featuring Bulldog imagery—and his adoption of Kirby Smart's catchphrase "keep choppin'."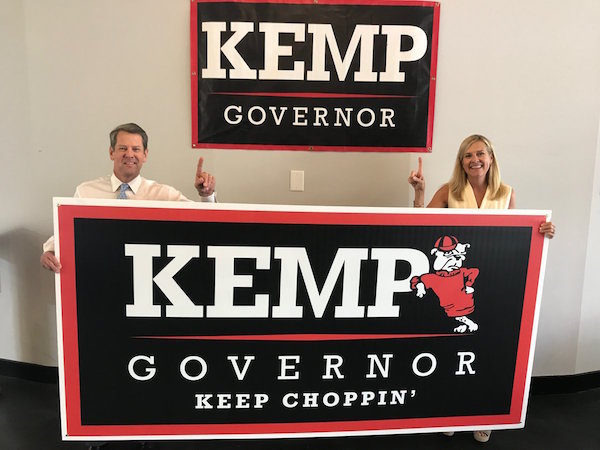 Photo Credit: Twitter @BrianKempGA
Flagpole asked UGA whether those are university trademarks and, if so, whether the Kemp campaign had permission to use them.
"Consistent with Board of Regents policy, the University does not approve the use of University or Athletic Association marks in connection with political campaigns," spokesman Greg Trevor responded. "The University routinely reviews matters of this nature and communicates directly with the parties involved."
If that seems clear as mud, it does to us, too. But Trevor declined to comment further.
Like what you just read? Support Flagpole by making a donation today. Every dollar you give helps fund our ongoing mission to provide Athens with quality, independent journalism.